Choosing a product to sell is one of the most important parts of running a successful business on Amazon.
You're going to put a huge amount of work into selling your product over the months and years ahead. You'll be investing in marketing, spending money on promotions, spending time on optimizing your repricing strategy, and lots more.
But you can make it all a lot easier by choosing the right product in the first place.
Perhaps you're trying to choose your first product, or maybe you already sell several products and now you're looking to expand your business.
Whatever situation you're in, you can take inspiration from the best sellers on Amazon in 2023.
These can help to give you some ideas about what's selling well right now, which you can use as your starting point.
In this guide, we'll look at some of the best-selling products this year, as well as how to be creative when choosing a product, and other factors that can help you to choose your next product.
So, if you're looking for inspiration, read on and take a look at these best-selling Amazon products in 2023.
TL;DR
Selling on Amazon involves a lot of work, and it's important to choose the right product to sell to make your job easier.
Check out Amazon's current best sellers to get lots of ideas to begin your search.
Many best sellers have several factors in common that can help you when coming up with your own ideas.
You can also explore the new releases and consider factors like search volume, price, competition, and even the chances a product has of winning the Buy Box to get inspiration.
Whatever you do, think carefully when considering your products because choosing the right product can save you a lot of time over the coming months.
Why Sell on Amazon?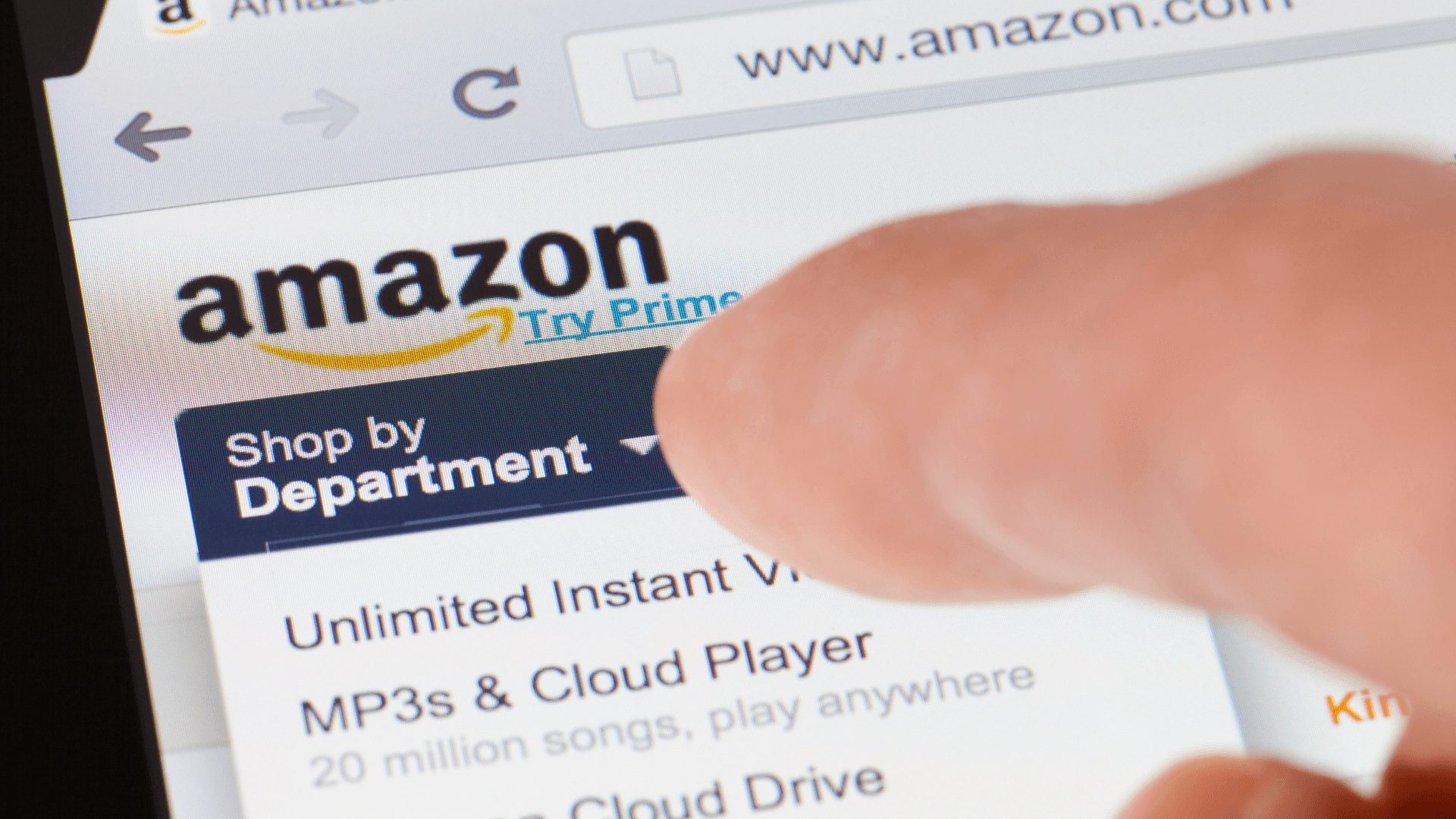 First of all, why should you be selling on Amazon in the first place?
People love online shopping and can buy almost anything on Amazon these days in almost any product market niche. Just head over to the website, search for anything you want, and there's a good chance you'll find it.
Amazon is the largest online retailer in the world. According to Amazon's own figures, selling partners in the United States sold over 3.9 billion products in 2021. That's 7,500 every single minute. They also averaged $200,000 in sales.
There's clearly money to be made on Amazon.
The problem for many sellers is that they don't know what to sell. With so many potential products to sell out there, how should you choose the right product at the beginning and avoid wasting time in the future trying to sell a product that's not getting any traction?
Let's start by taking a look at some of the current best sellers for inspiration.
Check Out the Best Sellers List
Amazon helpfully provides a Best Sellers List where you can go to see all the current best sellers.
This list changes regularly, so you may see different products on the list when you read this.
If you're looking for a new product to sell in 2023, these products could give you some ideas to begin with.
1. Mighty Patch
Mighty Patch is the number-one best seller in the Beauty & Personal Care product category.
Beauty products are popular on Amazon, and this product from Hero Cosmetics is an award-winning acne patch. It stays on all night and improves the appearance of pimples, and it's also vegan-friendly and is not tested on animals.
The Mighty Patch currently has just over 119,000 views and a rating of 4.5 stars. At the time of writing, it's selling for $12.99.
2. Mielle Organics Rosemary Mint Scalp & Hair Strengthening Oil
The Mielle Organics Rosemary Mint Scalp & Hair Strengthening Oil is the number-two best seller in the Beauty & Personal Care category.
It's a nourishing treatment for split ends and dry scalps. It contains essential oils and is suitable for all hair types, and it leads to stronger hair.
This product has just over 29,000 reviews and is rated 4.6 stars out of five. It has a current selling price of $8.89.
3. Crocs Unisex-Adult Classic Clogs
Moving onto the Clothing, Shoes & Jewelry category, the Crocs Unisex-Adult Classic Clogs are currently the number-one best-selling product.
Crocs is a well-known brand that's popular all over the world. These popular clogs are available in over 40 colors and a huge range of sizes.
They currently sell for $30.18, and they have over 422,000 ratings and 4.8 stars. In addition, the seller has so far answered over 1,000 questions.
4. Leggings Depot Women's Printed Solid Activewear Jogger Track Cuff Sweatpants
The number-two best seller in the Clothing, Shoes & Jewelry category is the Leggings Depot Women's Printed Solid Activewear Jogger Track Cuff Sweatpants.
These are available in a huge range of colors and sizes, and they cost $16.99 at the time of writing.
They're slim-fit sweatpants made using a soft fabric, and they're simple and straightforward with no obvious branding.
These are the sort of clothing item that most women want at least one of in their wardrobe. In addition, the wide variety of colors and designs means there's something for every taste. The listing also contains a useful size chart.
These currently have over 100,000 reviews and a rating of 4.4 stars. Nearly 500 questions have also been answered.
5. Stanley Quencher H2.0 FlowState Tumbler
Onto the Kitchen and Dining category, where the Stanley Quencher H2.0 FlowState Tumbler holds the top spot.
This $35 tumbler is designed to hold either hot or cold drinks. It has three lid positions, a lifetime warranty, and it's made from 90% recycled stainless steel.
It's the sort of thing you can take to work on the commute or when you go traveling. It's a solid everyday tumbler from a trusted brand.
It currently has 196 ratings and an average rating of 4.3 stars.
6. Swedish Dishcloths
The 10-pack of Swedish Dishcloths is the second best-selling product in the Kitchen & Dining category.
This product from Swedish Wholesale is reusable, biodegradable, absorbent, and multipurpose. It can be used wet or dry on a wide range of surfaces, and at $14.39, it's very good value.
It currently has over 49,000 reviews and an average rating of 4.6 stars. There are also several colors to choose from.
7. Rain-X Water Repellent Wiper Blades
Onto the Automotive category, and the number-one best seller is the Rain-X Water Repellent Wiper Blades.
It's a patented formula for cleaning and repelling water. It claims to have a universal fit that works with 96% of vehicles, and it performs in all weather conditions.
This product is Amazon's Choice, and it has over 107,000 reviews and an average rating of 4.6 stars. It sells for $17.55, and the seller has also answered over 900 questions.
8. Cleaning Gel
This Cleaning Gel is a special gel for cleaning car vents, console panels, door handles, and more.
It's a simple product but effective and it looks to be very useful. It costs $6.99, and it can also be used around the home as well as in the car where it gets into little cracks to pick up dust.
It's eco-friendly and reusable, and it currently has over 64,000 reviews.
9. Cats & Dogs ID Tags
In the Handmade Products category, this is the number-one best-selling product. The ID Tags for Cats and Dogs have over 14,000 reviews and an average rating of 4.7 stars.
They're available in four sizes and four styles, and they're also customizable. They're simple and stylish, and they're also affordable at just $5.99 each.
10. 14K Gold Filled Small Hoop Earrings
These earrings are the second best-selling product in the Handmade Products category.
They're simple and straightforward, but they're the sort of earrings most people want in their collection. They're also handmade in the USA, and they cost $14.98.
These are available in three colors and a wide range of styles. They currently have over 5,000 reviews, and the product description includes a useful fitting guide.
Key Factors Best Sellers Have in Common
By the time you read this, there's a chance the best sellers listed above may have changed. New items are constantly coming along, and new trends develop.
However, even if the best-selling products change, there are several factors that most of them seem to have in common, and these can help to give you some ideas for choosing your own product:
Almost all of the listings are fully optimized. Most have detailed listings complete with appealing designs. They make full use of the titles and bullet points to ensure they're optimized for Amazon SEO.
They all use lots of images in the listings. The images are professional and show the product being used as well as make the size clear. Most listings include a video too.
All of the best-selling items are affordable. This makes them more appealing to a mass audience.
They're primarily useful products that are likely to be popular with a large number of people. They're simple, easy to use, and not targeted at a specific niche audience.
The sellers answer lots of questions. There are often hundreds of answered questions, which shows the sellers put in a lot of effort into helping potential customers get the information they need.
They have lots of positive reviews. Many of the best sellers have thousands of reviews and they all have an average of about 4.5 or higher.
These are a few factors that they all have in common. When you're choosing a product, keep these in mind.
It also gives you an idea of the work you'll have to do to increase sales, like getting positive reviews, answering questions, and optimizing your listings.
Be Creative to Make Your Products Stand Out
You may have some ideas now for your next product to sell on Amazon after getting inspiration from the best sellers. But one of the problems is that you don't want to sell exactly the same thing: if you do that, the competition will be too tough.
Instead, you should get inspiration from others but then think about what you can do to make your products stand out.
This will involve being creative and putting your own spin on best-selling and trending products.
Start by choosing a category and a type of product that you're interested in selling. Then ask yourself how you can do better.
Can you improve the product for customers? Could you sell something similar but superior? Something of a higher quality? Something more interesting, more creative, or more affordable?
There are so many sellers out there to compete with, and the fact is that the idea you have for a product to sell may already be there. But your product doesn't have to be something completely unique; it just needs to stand out from the competition.
Don't Just Focus on Best Sellers
Looking at the current best sellers is a great way to get some ideas for products to sell on Amazon. But it's not the only thing you should be doing.
There are other ways to get ideas for the best products to target.
Products don't need to be based on best sellers in order to sell. The fact is, some current best sellers may be doing well because that's the current trend. But in a few months, they may go out of fashion and you may struggle to sell them.
One way to find good ideas for products is to find out how many searches a product receives each month. You can use third-party tools like Ahrefs to help you with this. This will give you a good idea about how much demand there is.
You can also look at other details like the average revenue that each listing receives every month. Tools like Helium10 can help with this.
Using these factors, you may be able to find some gems. Then pick out some winning products you can sell yourself, or just get some ideas for inspiration.
Check Out the New Releases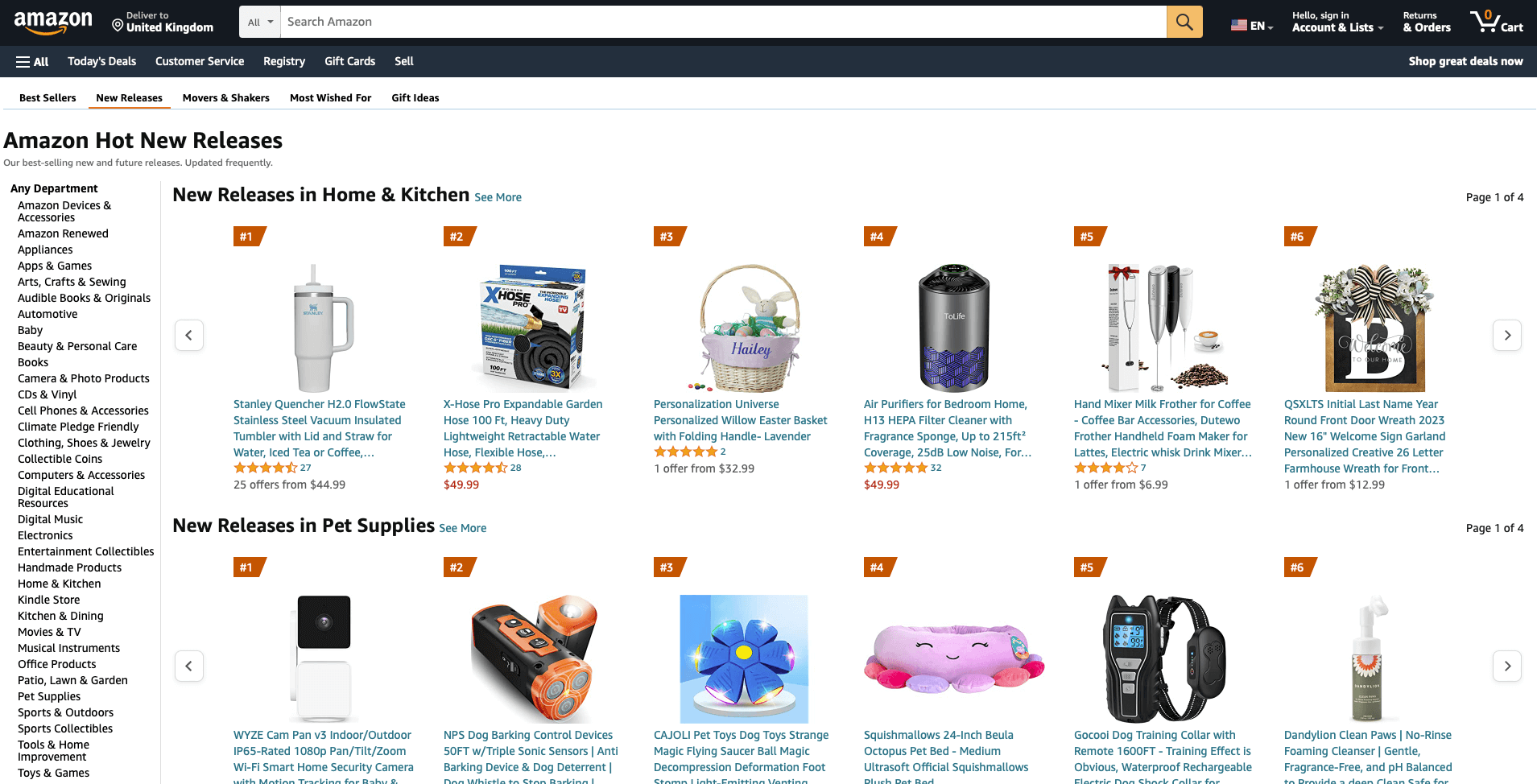 Another good idea is to check out new releases on Amazon for inspiration.
New products are constantly appearing on Amazon, and there's no guarantee that they're going to be best sellers. But they can be a good place to get inspiration.
For example, at the time of writing, the two top spots in the Home & Kitchen category are the Stanley Quencher Tumbler and the Hydrapeak Voyager Tumbler.
Both have received several positive reviews, which could suggest that tumblers are a popular product right now.
Go through the different product categories including:
Clothing, Shoes & Jewelry
Beauty & Personal Care
Office Products
Pet Supplies
Browse the best-selling categories and get ideas for which products might be a good fit for your online business and get some inspiration.
Other Top Factors when Choosing a Product
There are several other factors to consider when you're choosing a product to sell on Amazon. Here are some of the things to keep in mind to help you decide on the best product for your business.
Products with High Demand
Search for products where demand is high. You want to sell a product that people actually want to buy, after all.
As well as looking at the current best sellers, you can use various third-party tools to get a better idea of which products are in demand in terms of monthly sales volumes.
By targeting a product that you know people are buying, you can have confidence that there's an opportunity to make sales.
Products with Low Competition
Even if a product has a lot of demand, if the competition is too tough, you could be facing an uphill battle. Instead, try to find the products that are in demand but have lower competition.
How do you do this?
Product reviews can be a helpful starting point. If a product has hundreds or thousands of reviews, this suggests that the seller is doing a good job and that the product could be competitive.
Your goal is to start selling a product and quickly build up lots of five-star reviews to get a better position in the search results. If another seller already has thousands of reviews, that's going to be a difficult task.
On the other hand, if a product does not have many reviews, you stand a better chance of getting above the seller and getting more eyes on your product.
Get Inspiration from Reviews
While we're on the topic of reviews, they can also be very useful when it comes to brainstorming ideas.
If you're thinking about a product that's already sold on Amazon, read through the existing reviews and find out what customers think is lacking in the product.
What's missing that they would like to see?
You could then use this to provide a product that answers these issues. It could be improving on the quality or adding a useful feature that makes your product more appealing than the existing product.
Aim to find something different that will meet the needs of the buyers and help your product stand out.
Products That Can Be Sold All Year
Seasonal products can do well on Amazon or your own online store. But do you really want to choose a product that will only sell in quantity at Christmas or Halloween?
If you want a best seller on your hands, it may be a better option to choose a product that you can sell at any time of the year.
Think carefully before choosing a seasonal product. If you want to sell a product all year rather than just a specific time of year, aim for something that's not seasonal.
Products that Have a Better Chance of Winning the Buy Box
Winning the Buy Box is something that all sellers on Amazon want to do. When you win the Buy Box, your sales are likely to go up significantly.
After all, this is where the vast majority of sales are made on Amazon.
There are various factors that go into winning the Buy Box, and price is one of the most important of these.
But how can you improve your chances of winning the Buy Box before you even choose a product?
One of the ways to do this is to use a tool like Repricer.
One of its features is the Buy Box Predictor. With this, you can identify products that have a high chance of winning the Buy Box and then take action.
This could potentially help you to make the right decision when choosing a product that can save you hours of wasted time in the future.
Affordable Products
Very expensive products are often not the best choice when you want to pick a best seller. But that doesn't mean you should always choose cheap products. Instead, you want to find something in between that's not expensive but not cheap either.
If the price is too high, people are more likely to be careful about parting with their money. They also make it more expensive for you to get going, and you'll have to spend more money when you get started.
On the other hand, if a product is too cheap, shoppers may be suspicious about the quality, which could backfire.
So keep the price in mind when choosing your product and try to aim for something that's not too expensive or too cheap.
Small, Light, and Durable Products
Very large and heavy products can be harder to sell, especially online. They tend to be more expensive, they cost more to ship, they're awkward, and they reduce profit margins.
Choosing something smaller and lighter can be a better option because it can reduce FBA and shipping fees.
At the same time, try to choose something sturdy that will travel well instead of a fragile product that might arrive broken.
High Keyword Search Volume
Another thing you can do is check the keyword search volume for products.
Find out how many people are searching for keywords related to the product. If there are tens of thousands of searches each month for the main keywords, this is a good sign that your product has enough demand.
You have to use your judgment, however. Niche categories will have fewer keyword searches but they could still have a good amount of demand compared to the competition you'll face.
Follow Your Interests
Finally, one thing you should focus on is what you're actually interested in.
Even if you use all of these factors to pick out a product that you think has a lot of potential, selling a product you're genuinely interested in can be a huge advantage.
You'll be more engaged.
You know more about it.
You have a better understanding of what your customers want.
Do you have any passions and hobbies? What do other people with the same interests lack that you could help provide?
When you're enthusiastic about the product you're selling, this gives you an advantage. That doesn't mean you should only sell what you're interested in yourself, but if you're stuck for ideas, it can be a good starting point.
Focus on Strategy Before Choosing a Product
These factors should all help you to find a product that you can sell on Amazon to get inspiration and ideas so you can give it everything you've got in 2023 and beyond.
But as well as considering the best sellers, the trending products, and using the above factors to choose a product to sell, think about your strategy at this early stage.
How will you promote your product to get more eyes on it?
This is well worth considering before you actually invest in a product to sell and start working on it.
Can you optimize the Amazon listing for the right keywords? This is the basic starting point, but consider other ways you'll promote it in your overall strategy.
Will you market the product using Amazon ads?
If so, how much competition will you face?
How expensive are the keywords to bid on?
How much can you put aside for your marketing budget?
Will you promote the product on other websites and on social media? If so, how?
You could create videos of you or someone else using the product, showing its strengths and making it a compelling proposition.
What about promotions? You should think about the discounts you could run and how much you can cut the price and still make a profit.
There may be upcoming events that are related to your product, like sporting events that somehow relate to it or seasonal events like Christmas.
Come up with a plan before you dive in. When you're happy that you have enough of a strategy to get started, go for it.
Conclusion
Choosing the right product to sell on Amazon can be a challenge, but making the right decision can give a serious boost to your eCommerce business.
There are so many possibilities that it can sometimes be overwhelming, but don't let that dissuade you from getting started.
Use the information in this guide to start researching potential products that you can sell on Amazon. Look at the current best sellers on Amazon to get inspiration for your own products, and explore the most profitable product categories.
Consider the factors that they have in common, explore new releases, and focus on other factors like pricing, low competition, size, search volume, and more.
When you have an idea, be creative and think of ways you can make it better than your competition to make your product stand out.
If you're short on ideas, don't forget that you can always follow your interests. Do you have any hobbies or passions? If you have a genuine interest in something, it can make it a lot easier to sell the product because you know what customers want.
However you go about your product research, take time over it and don't rush into selling something that you might regret.
You'll be spending many hours working on selling your product over the months and years ahead. Choosing your product wisely right at the beginning can help you to save a lot of time and effort in the future.