If you have an online store, then you know that advertising is a necessary part of the process. Let's take a look at different platforms out there that you can use to advertise your store, but what are the best ways to do it? And which platforms work best?
In this blog post, we will discuss the most popular advertising platforms and how you can use them to promote your e-commerce store. We will also provide tips on how to make the most of each platform. So read on to learn more.
Google Ads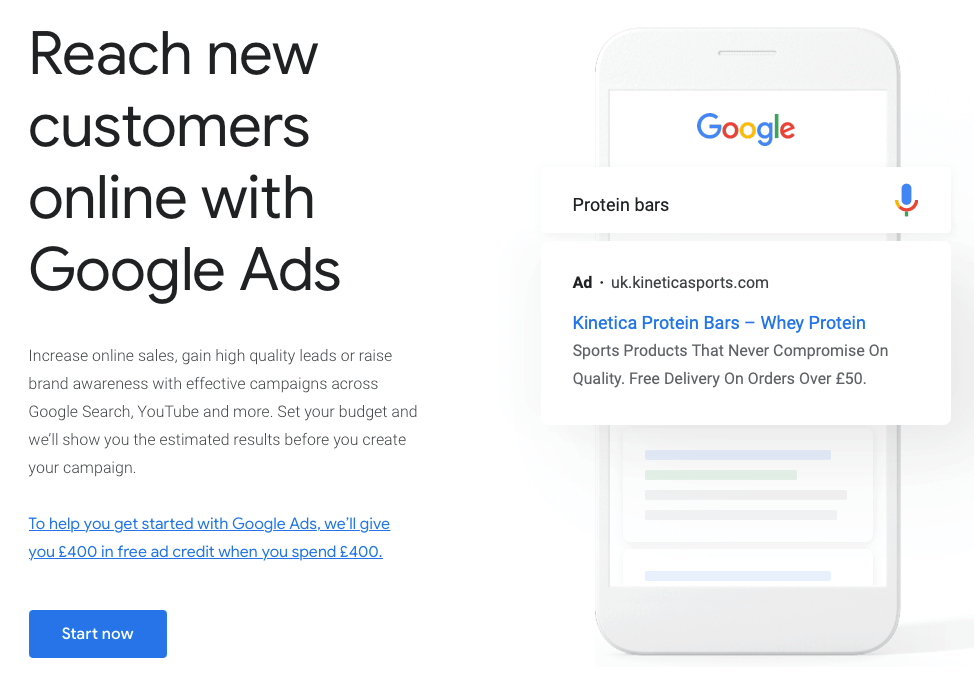 Google is the number one search engine in the world and its advertising platform, Google Ads,
allows businesses to display ads on Google Search and other Google properties. Ads are displayed based on factors such as:
Keywords
Relevance
User location
Businesses can use Google Ads to reach out to potential customers who are searching for their products or services online.
It's a highly effective way to promote your eCommerce store, as it allows you to target a wide range of potential customers.
When creating a campaign, you will need to choose your target keywords carefully, as these will be used to determine when your ad is displayed. You will also need to set a budget for your campaign, as this will determine how much you are willing to spend on each click.
If you are new to Google Ads, it is worth starting with a small budget to test the waters before committing to a larger campaign.
Types of Google Ads
There are four main types of Google Ads:
Search ads: These are the most common type of Google Ad and appear when someone searches for a keyword that is relevant to your business.
Display ads: These appear on websites and apps that are part of the Google Display Network and can be used to target potential customers based on their interests.
Video ads: These are video ads that appear on YouTube and other Google video properties.
Shopping ads: These are product listing ads that appear on Google Search and allow customers to see your products before they click through to your website.
When creating a campaign, you will need to choose the type of ad that you want to create. The type of ad that you choose will depend on your budget, your target audience, and your objectives.
Why Advertise on Google Ads?
Google Ads is one of the most popular platforms for online advertising, and for good reason. It's estimated that over 80% of all internet users worldwide use Google as their search engine, which makes it a great way to reach a large audience.
Additionally, Google Ads offers a lot of flexibility in terms of targeting options.
For example, you can target people based on their location, age, gender, interests, and more. This means that you can tailor your ads to reach your ideal customer.
Finally, Google Ads is a pay-per-click platform (PPC), which means that you only pay when someone clicks on your ad. This makes it a cost-effective way to advertise if set up correctly, as you don't have to pay for impressions or views.
Pro Tips:
When creating a Google Ads campaign, make sure to:
Choose your target keywords carefully (Use Keyword Planner)
Set a budget for your campaign
Test different targeting options
Use negative keywords to exclude unwanted clicks
Monitor your campaign regularly to ensure that it is performing well
If you follow these tips, you'll be well on your way to success with Google Ads.
Facebook Ads (Meta Ads)

Facebook is the third most popular website in the world, with over 2.9 billion active users. This makes it another great platform for advertising your e-commerce store.
By using data from Facebook users, businesses can create ads that target individuals based on interests, demographics, and even desired actions.
For example, a business selling running shoes could target Facebook users who have indicated an interest in running, are between the ages of 18 and 35, and live in a certain city.
Facebook Ads can be incredibly effective in driving traffic to an e-commerce store, and they can be customized to fit any budget.
Facebook offers a variety of ad formats to choose from, including image, video, and carousel ads. This means that you can create ads that are engaging and visually appealing.
Why Advertise On Facebook?
With nearly three billion active users, Facebook is the largest social media platform in the world. And for businesses, that makes it a powerful marketing tool. There are a number of reasons to advertise on Facebook, but here are just a few:
Facebook offers incredibly detailed targeting options. You can target your ads to people based on their location, age, gender, interests, and even behaviors. This ensures that your ad is being seen by the people who are most likely to be interested in what you're selling.
Facebook ads are highly visible. They appear in the News Feed, which is one of the first things people see when they log into Facebook. And with Facebook's algorithm favoring ads that are relevant and engaging, your ad has a good chance of being seen by a large number of people.
Facebook ads are relatively inexpensive. You can start your campaign as low as $1 per day, this makes it suitable for all types of businesses.
Whether you're just starting or have been in business for years, Facebook ads can be a great way to reach out to new potential customers.
Instagram Influencers
An influencer is someone with a large following on social media who has the ability to influence the purchasing decisions of their followers.
Influencer marketing has such a massive impact on attracting today's new audience that this year the industry is expected to be worth $16.4 billion.
When it comes to Instagram, there are a number of ways you can work with influencers to promote your business.
For example, you can give them a discount code to share with their followers, or you can collaborate on a giveaway or contest. You can also simply ask them to mention your store in a post.
While working with Instagram influencers takes some effort, it can be well worth it in terms of increased brand awareness and sales.
Where To Find Instagram Influencers
These days, it takes more than just a great product to succeed in the world of e-commerce. In order to stand out from the competition and attract buyers, you need to find creative ways to market your store.
One of the most effective methods is to partner with Instagram influencers. By working with influencers who have a large following on Instagram, you can reach a much wider audience and promote your products to a highly engaged group of potential customers.
Here are a couple of ways to collaborate with Influencers:
You can use a platform like Collabstr to search for influencers based on keywords.
You can reach out to them directly via the contact information listed on their profile.
Once you've established contact, you can discuss terms and negotiate a partnership that will be beneficial for both parties.
By taking advantage of Instagram's ability to reach a large number of people, you can give your e-commerce store the exposure it needs to succeed.
Shopify Markets
eCommerce stores have never been more popular, and Shopify is one of the most popular platforms for setting up and running an online store.
And with Shopify Market, you can manage everything from Google Ads campaigns to Facebook ads and insights.
You can also run email marketing campaigns through Shopify and maximize your Google and Facebook ads performance.
Plus, with Shopify's built-in tools, it's easy to track your results and see how your campaigns are performing.
So if you're ready to take your Shopify store to the next level, start by exploring all that Shopify Market has to offer.
Amazon Vs Shopify – Which Is Better?
When it comes to ecommerce, Shopify and Amazon both have a lot to offer.
Shopify is one of the greatest e-commerce platforms available to build your own website, and it works well for small startups as well as well-known brands.
However, on the other side, Amazon is also a great place to start your eCommerce Business. With over 150 million monthly visits in the US alone, Amazon has a lot to offer and it can be the best choice if you want to Automate your shipping and returns through Amazon FBA.
Users may sell their products online using the user-friendly platform known as Shopify.
Amazon, however, is a hugely popular online store.
Although both alternatives are trustworthy and may be used simultaneously, they both have different advantages and disadvantages.
If you do decide to start selling on Amazon, repricing your products is an excellent strategy for staying competitive, increasing sales and boosting profits.
Related: Shopify vs Amazon: Complete Comparison Guide
Conclusion: Choosing the Right Platform?
So, what's the best advertising platform for your eCommerce store? The answer to that question depends on a variety of factors, including your budget, target audience, and business type. However, there are a few general rules of thumb that can help you make a decision.
If you're just starting out, it's generally best to choose one platform and see how it goes before investing in multiple channels. Once you have a better idea of what's working and what's not, you can then start to expand your advertising efforts.
By taking the time to carefully choose the right platform for your e-commerce store, you'll be able to get the most out of your advertising dollars and see improved sales results.
What are your thoughts? Let us know in the comments below. Thanks for reading! 🙂
Guest Post by Thomas Raynott. He is a 6 Figure entrepreneur that made most of his fortune with Dropshipping, eCommerce and Amazon FBA. You can learn more about him through his Blog.