Another month has gone by and we're now over halfway through the year. Over July the team here at Repricer have continued to make ongoing improvements to the product by making it more well-rounded and user-friendly.
Here's what we've been up to:
SP-API
SP-API is a API-based automation functionality that allows Amazon selling partners programmatic access to critical features within Amazon.
We managed to carry out the work that needed to be done at the start of July, well before the deadline which was July 31st. This work involved releasing the reports and feed changes but also releasing the onboarding and renewal changes for the API.
Promo Code Field Released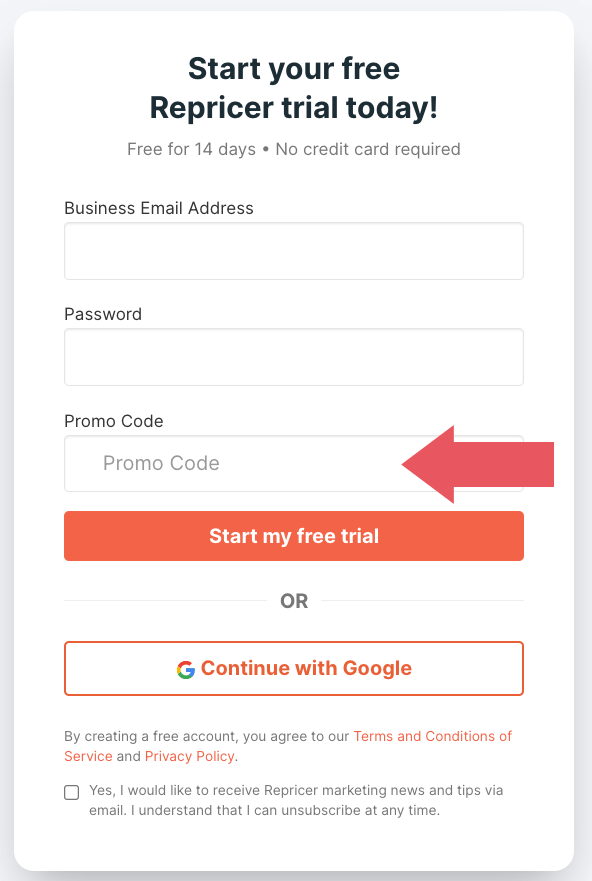 Within the sign-up screen, we have also included our new promo code field. We will have certain promo codes available to new customers which can be used to get a discount on our plans. You can benefit from one of these promo codes in our newsletter.
Repricer Masterclass Series
We released our Masterclass Series which consists of 7 emails (1 email per week) that are sent out to our current trialists to enable them to make the most of their repricer. It provides an in-depth look at the key features within Repricer so they fully understand how to use them and how this can benefit their business.
Repricer Demo Playlist
To further develop the knowledge and understanding of Repricer and its core features, we have created helpful YouTube videos that guide our audience step-by-step.
'Bossing The Buy Box' Webinar
Hosted by Colin (Product Owner) & Katie (Onboarding & Success Manager) this was the first in our series of webinars where we discussed how to win the Buy Box and how Repricer can greatly help get you to that much-desired position.
Backend Fixes & Improvements
We made some backend changes and squashed a number of bugs. This will help improve overall performance and usability.
We continue to make Repricer more well-refined so that our customers can get complete satisfaction when optimizing their pricing strategies with us.
We have big plans in the pipeline so stay tuned for further updates on our product.