As the competition among Amazon sellers continues to increase, it has become more important than ever to leverage the latest technologies to gain a competitive advantage. One of the most powerful technologies that can help sellers to streamline their operations, optimize their pricing strategies, and boost sales is artificial intelligence (AI).
In this blog post, we will explore some of the best AI tools for Amazon sellers, covering a range of functionalities, from product research and marketing to pricing optimization and customer service. Whether you are a small seller just starting out or a large enterprise managing thousands of SKUs, these AI tools can help you to take your Amazon business to the next level.
What are the benefits of AI tools for Amazon sellers?
There are a number of benefits of using AI tools being an Amazon seller, including:
Improved efficiency: AI tools can automate repetitive tasks such as data analysis, inventory management, and customer service, allowing you to focus on other important aspects of your business.
Data-driven decision making: AI tools can analyze vast amounts of data and provide valuable insights into customer behaviour, market trends, and competitor strategies, enabling you to make informed decisions that can help to boost sales and profitability.
Personalization: AI tools can help you to provide personalized recommendations to customers based on their behavior and preferences, enhancing the customer experience and increasing customer loyalty.
Competitive advantage: By utilizing AI tools, you can stay ahead of the competition by identifying emerging trends and adapting their strategies accordingly.
Cost-effective: Many AI tools are cost-effective and can help you to save time and resources by automating tasks that would otherwise require manual effort.
AI Product Research Tools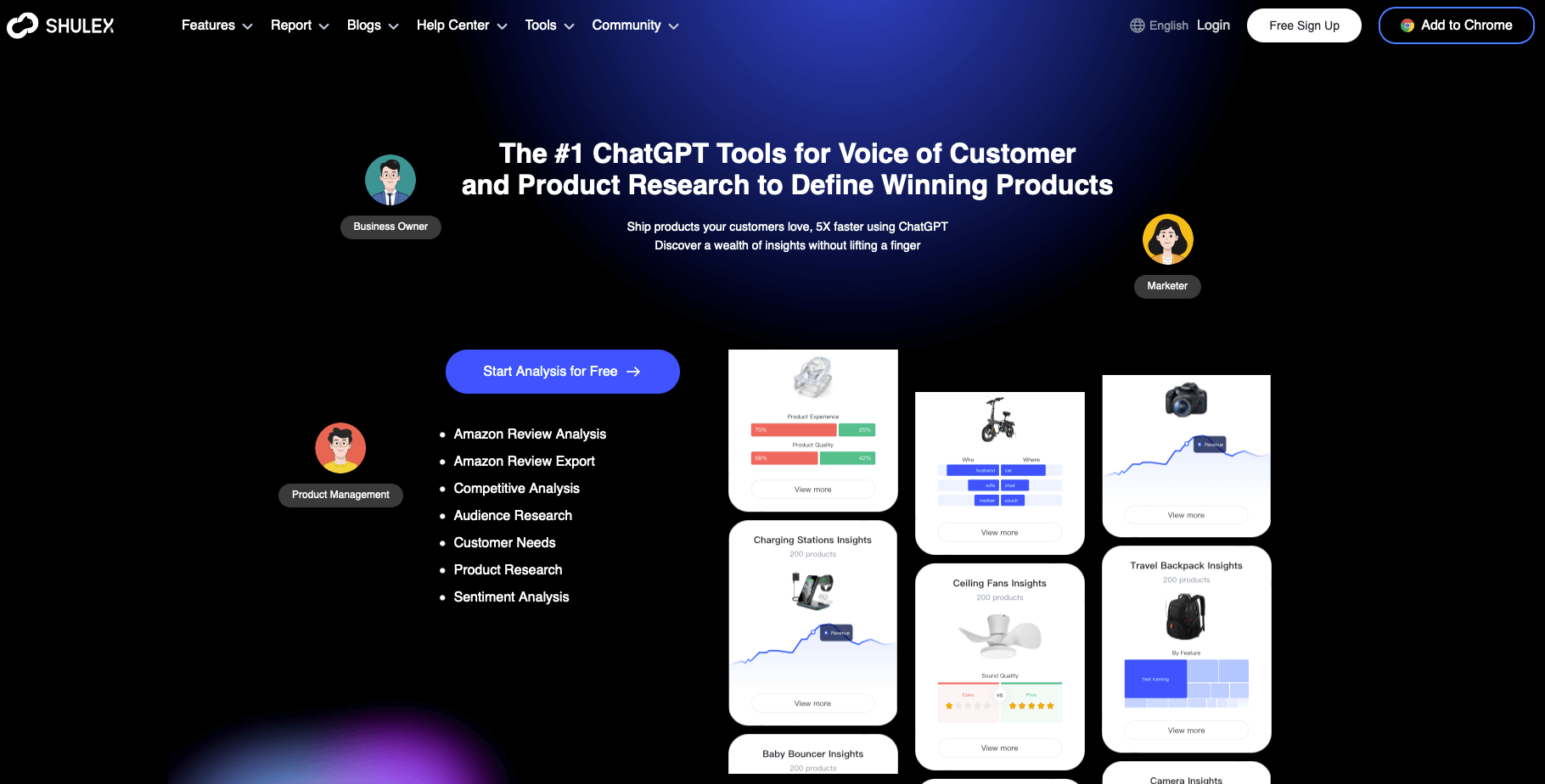 Shulux has a product research feature that uses advanced machine learning algorithms to help Amazon businesses identify new products and trends that are likely to be popular with their target audience. By analyzing customer behaviour and market trends, the platform can provide valuable insights into which products are likely to sell well, allowing businesses to make data-driven decisions when expanding their product lines. The product research feature also allows Amazon sellers to monitor their competitors and stay ahead of the curve, ensuring that they always have a competitive edge.
AI Product Listing Tools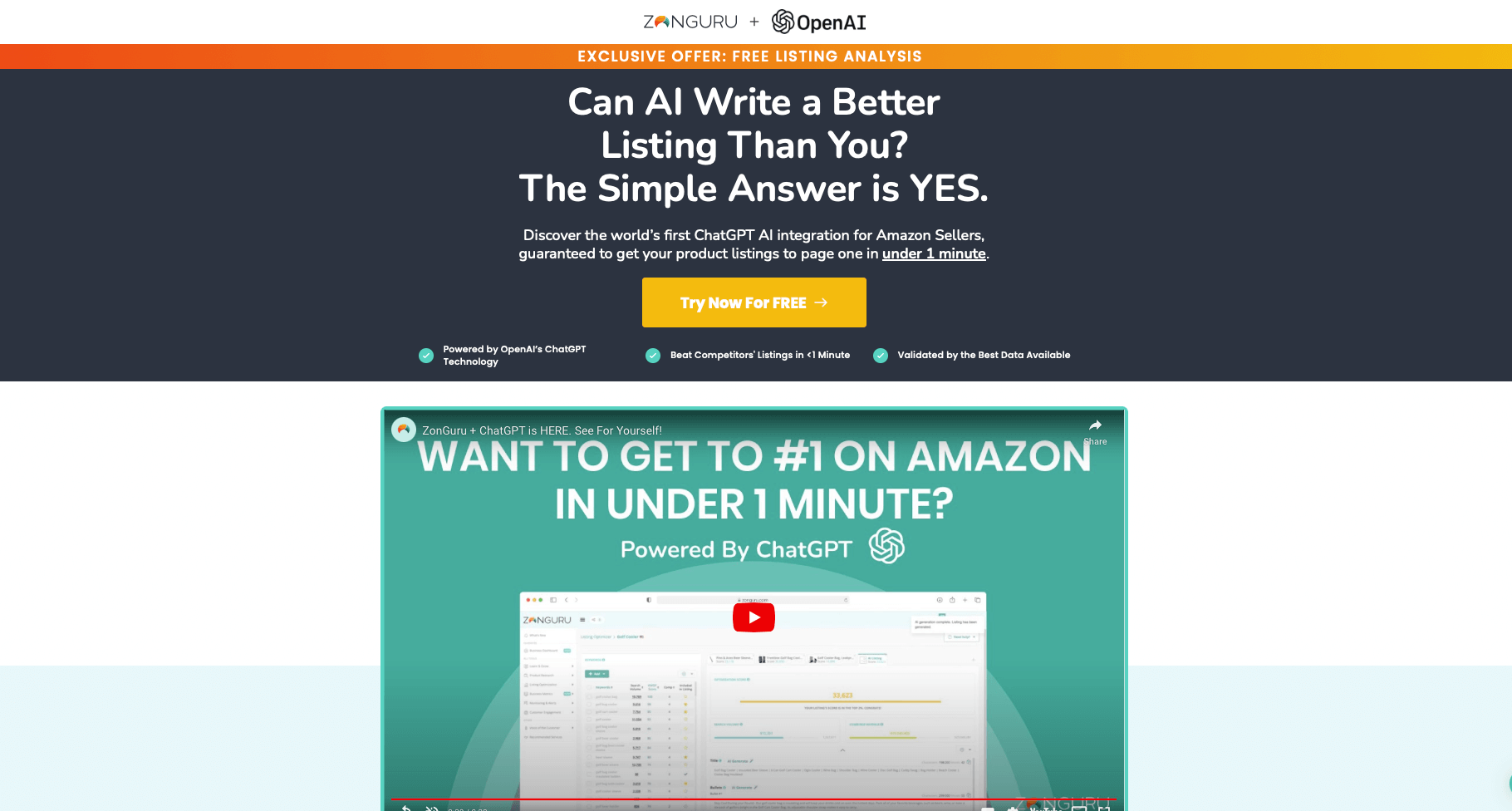 ZonGuru is an all-in-one platform designed to help Amazon sellers optimize their listings and increase sales. One of their innovative features is an AI-generated listing analysis tool, powered by ChatGPT, that provides sellers with detailed insights into their product listings. By analyzing the listing's keywords, images, and other elements, the tool generates a comprehensive report with recommendations for improving the listing's performance. Sellers can use this information to optimize their listings for Amazon's search algorithm and improve their product's visibility, resulting in increased sales and profits.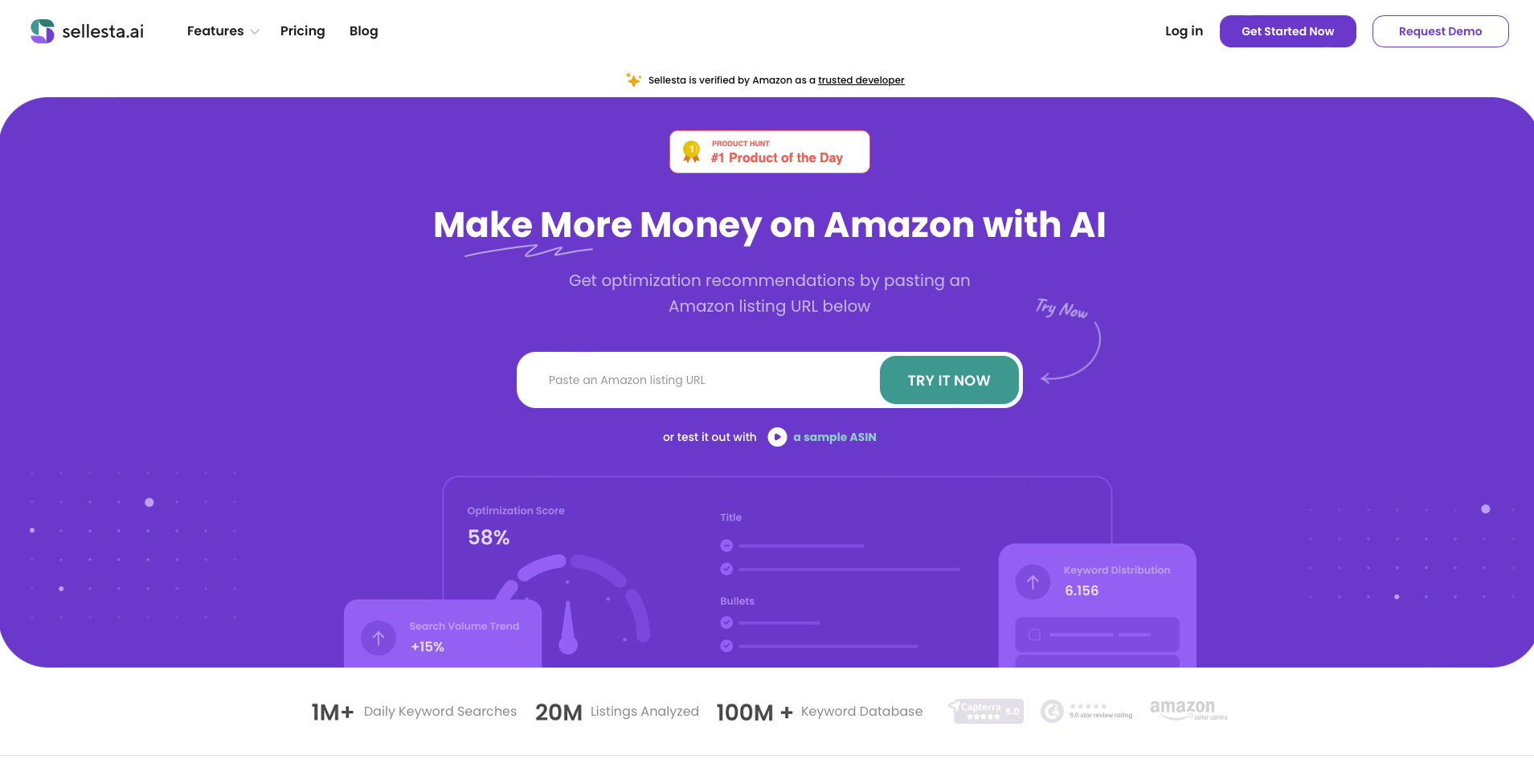 Sellesta AI's listing scoring tool is designed to help Amazon sellers optimize their product listings for maximum visibility and sales. The tool uses advanced algorithms to analyze various elements of the listing, including keywords, images, and product descriptions, and provides a score based on the listing's quality and effectiveness. The tool also generates a report with detailed recommendations for improving the listing's performance, allowing sellers to optimize their listings and improve their product's visibility on Amazon.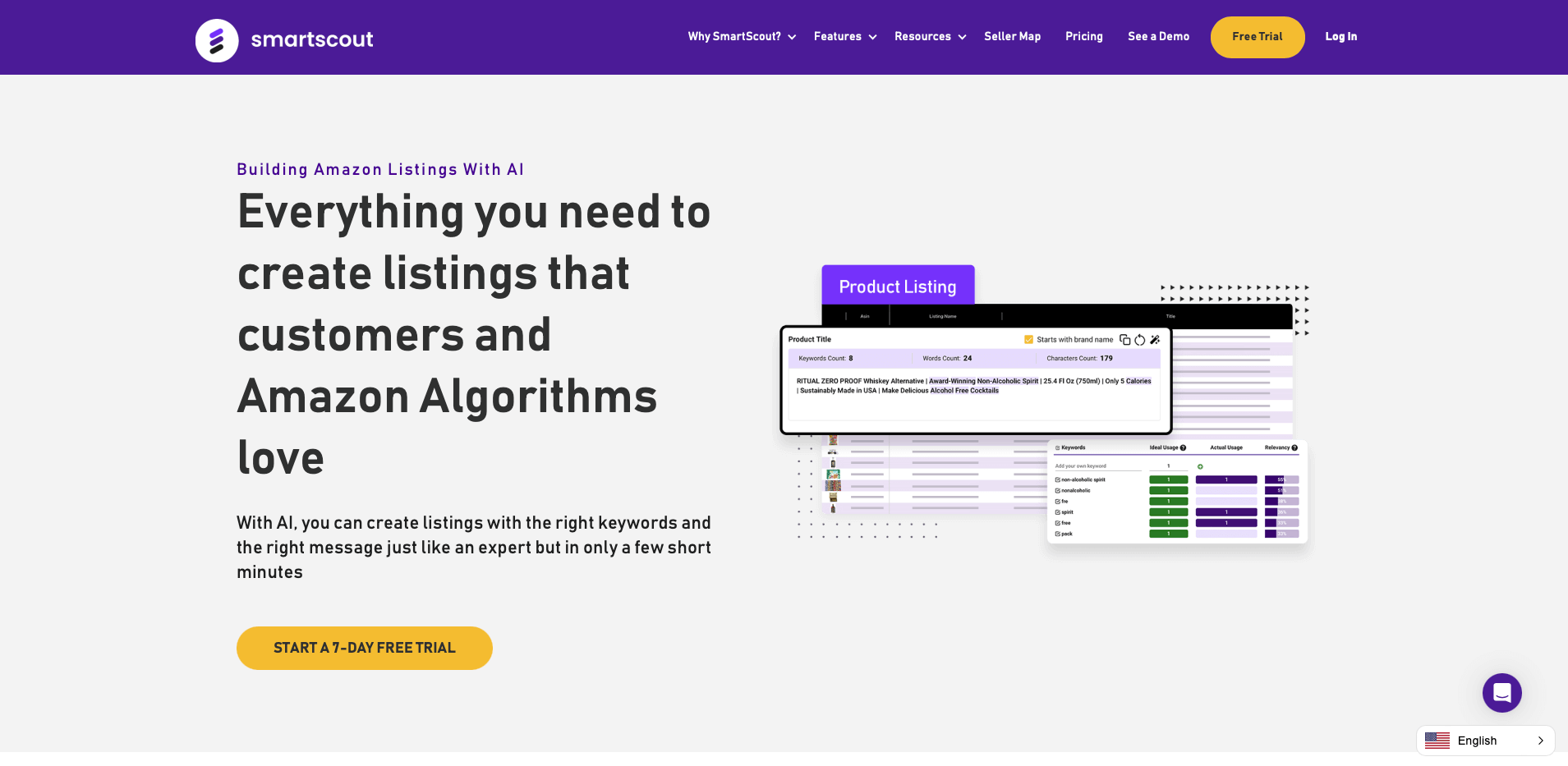 SmartScout is another software platform that provides Amazon sellers with an AI-powered tool for optimizing their product listings. The platform uses advanced algorithms and data-driven insights to help sellers improve their product listings' visibility, relevance, and conversion rates. The AI Listing Architect tool provides sellers with suggestions for optimizing their product titles, descriptions, bullet points, and keywords, based on market trends, customer behaviour, and competitor data.
AI Customer Service Tools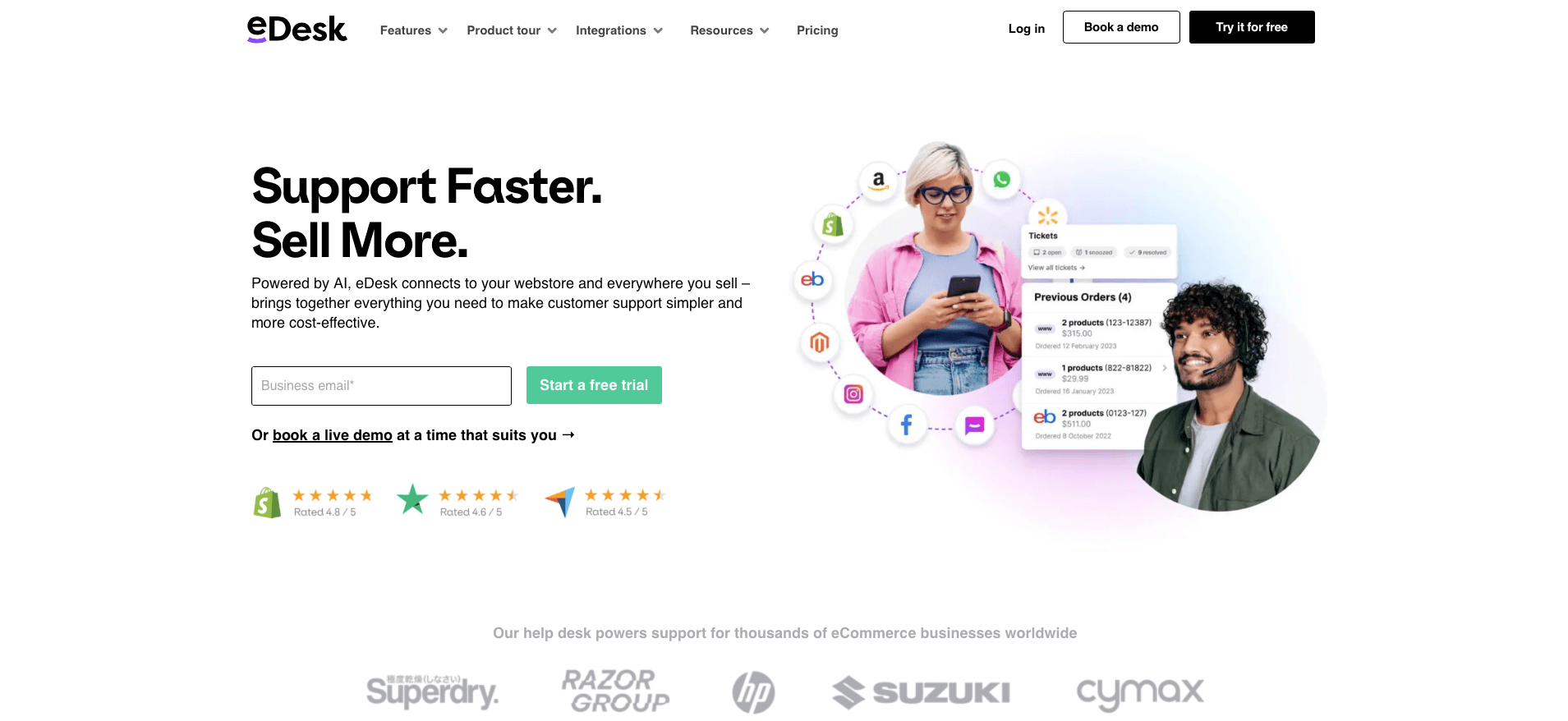 eDesk is an AI-powered customer service platform designed to help eCommerce businesses provide exceptional customer support across multiple channels. The platform uses advanced machine learning algorithms to analyze customer interactions and provide personalized responses in real-time.
With eDesk, businesses can streamline their customer service operations, respond to queries faster, and improve customer satisfaction and loyalty. The platform also provides a range of features such as automated ticket routing, multilingual support, and performance analytics, allowing businesses to track their performance and optimize their customer service strategies.
AI Advertising and Marketing Tools
Quartile is a digital advertising platform that helps businesses optimize their programmatic advertising campaigns. The platform uses machine learning algorithms to analyze data and make real-time bidding decisions that maximize return on investment (ROI) for businesses. Quartile offers a suite of solutions for programmatic advertising, including audience targeting, bid optimization, and cross-channel attribution. The platform is designed to integrate seamlessly with major ad networks and supply-side platforms, making it easy for businesses to manage their programmatic advertising campaigns in one place.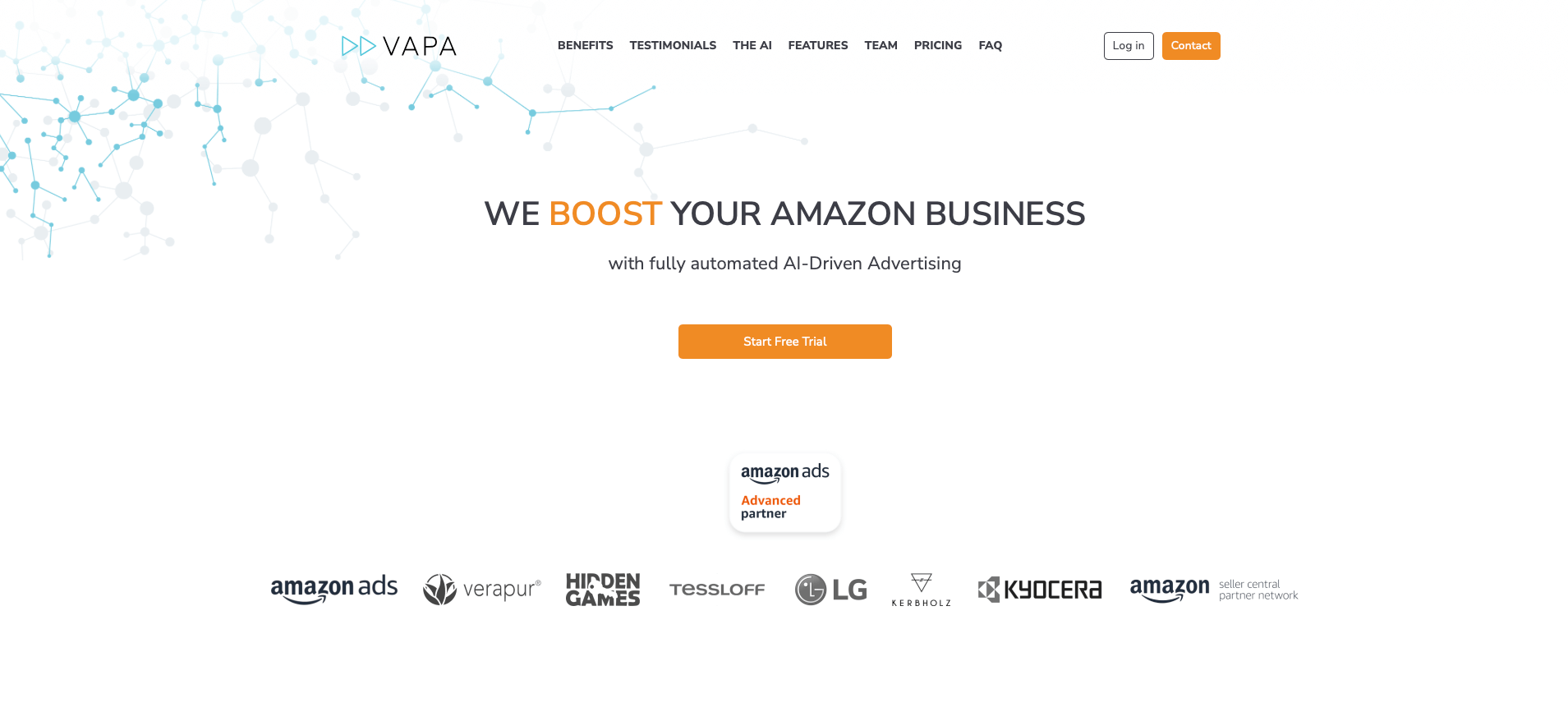 VAPA provides fully AI-automated advertising that can help streamline ad creation and performance. It uses Deep Reinforcement Learning that processes billions of data points to improve your ad campaigns over time. This can generate more sales whilst efficiently managing Ad spend so you end up paying the best price for each bidding keyword.
You can manage your entire Amazon PPC strategy from Sponsored Ads to Placement optimization. VAPA will take care of everything which is fully automated 24/7 allowing you to focus on other key areas of your business.
Nozzle.ai is a marketing analytics and optimization platform that helps businesses analyze and optimize their digital marketing campaigns across various channels such as search engines, social media, and more. The platform provides real-time data insights, competitive analysis, and automated optimization tools to help businesses improve their marketing ROI and stay ahead of their competition. With Nozzle.ai, businesses can track their marketing performance, identify growth opportunities, and make data-driven decisions to improve their overall digital marketing strategy.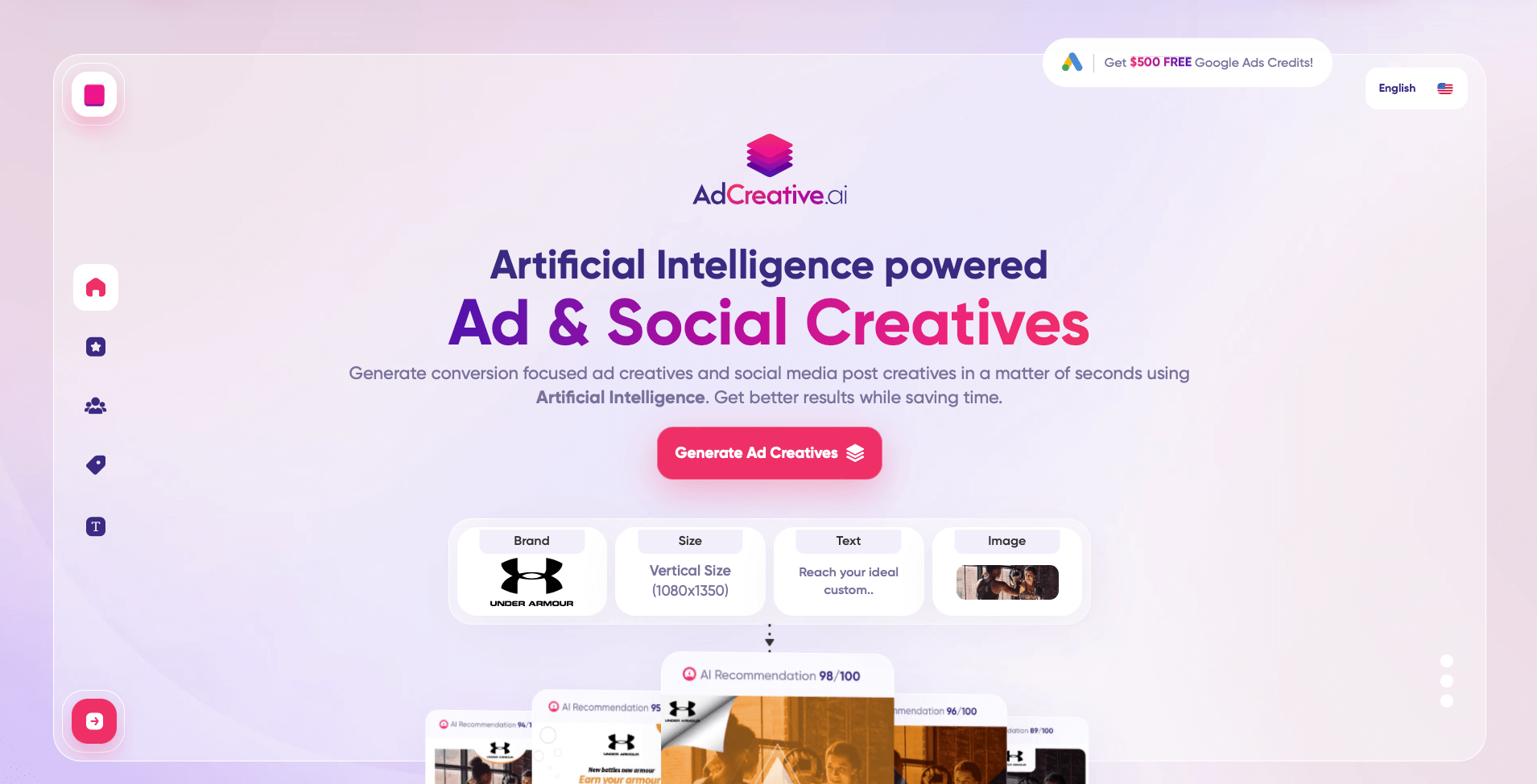 AdCreative.ai is an AI-powered advertising platform that helps businesses create and optimize high-quality ad creatives for their digital advertising campaigns. Using advanced machine learning algorithms, AdCreative.ai analyzes a brand's existing assets such as images, videos, and text and generates optimized ad creatives that are tailored to specific audience segments.
The platform also offers real-time performance insights and optimization tools that help businesses improve their ad targeting, engagement rates, and conversion rates. 
Pixelcut.ai is a suite of AI-powered design tools that help businesses and individuals create high-quality visuals for their marketing, advertising, and design projects. The platform offers a range of tools, including Background Remover, Image Resizer, and Image Colorizer, that use advanced machine learning algorithms to automate complex design tasks.
With Pixelcut.ai, users can easily remove backgrounds, resize images, and colorize black and white photos with just a few clicks. The platform also offers a range of customization options and templates that make it easy for users to create professional-looking visuals that stand out.
AI Competitive Intelligence Tools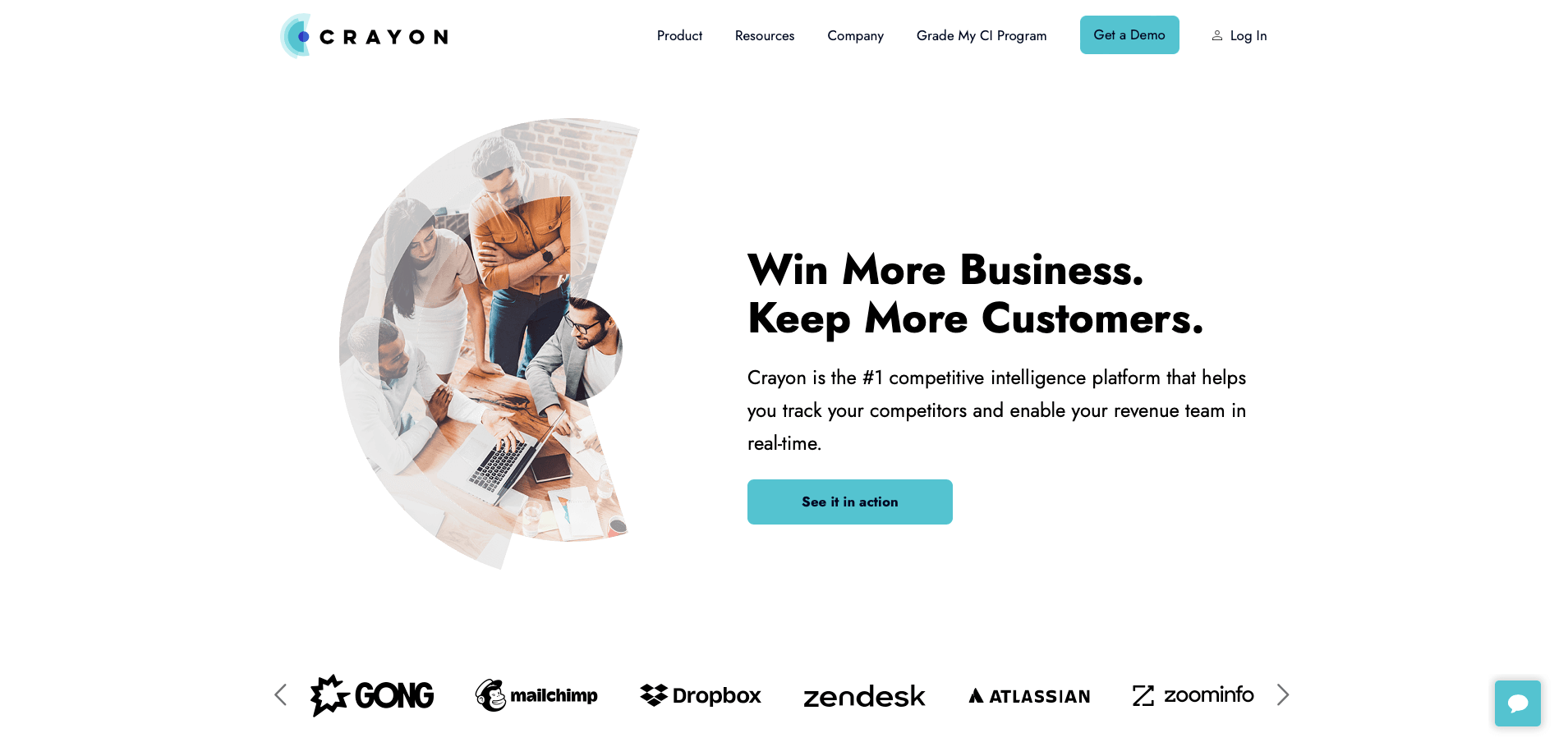 Crayon is a market and competitive intelligence platform that helps businesses track their competitors and industry trends. With Crayon, businesses can monitor their competitors' website changes, product updates, pricing, and marketing strategies, as well as stay up-to-date on industry news and events. The platform offers a variety of tools, including customizable alerts, real-time analytics, and automated reports, to help businesses make informed decisions and stay ahead of their competition.
AI Pricing Optimization Tools
At Repricer, we provide the best in AI-powered pricing optimization designed specifically for Amazon sellers. Our AI monitors your competitor's prices and adjusts your prices in real-time to maximize your sales and profits.
As a seller, you can set your customizable pricing strategy based on your business goals and market conditions, ensuring that you remain competitive while maintaining healthy profit margins. Our platform provides detailed analytics and reporting, allowing you to track your performance and adjust your strategies as needed.
With Repricer.com, you can completely automate your pricing strategies and stay ahead of the competition, ensuring that you always get the best possible return on your investment.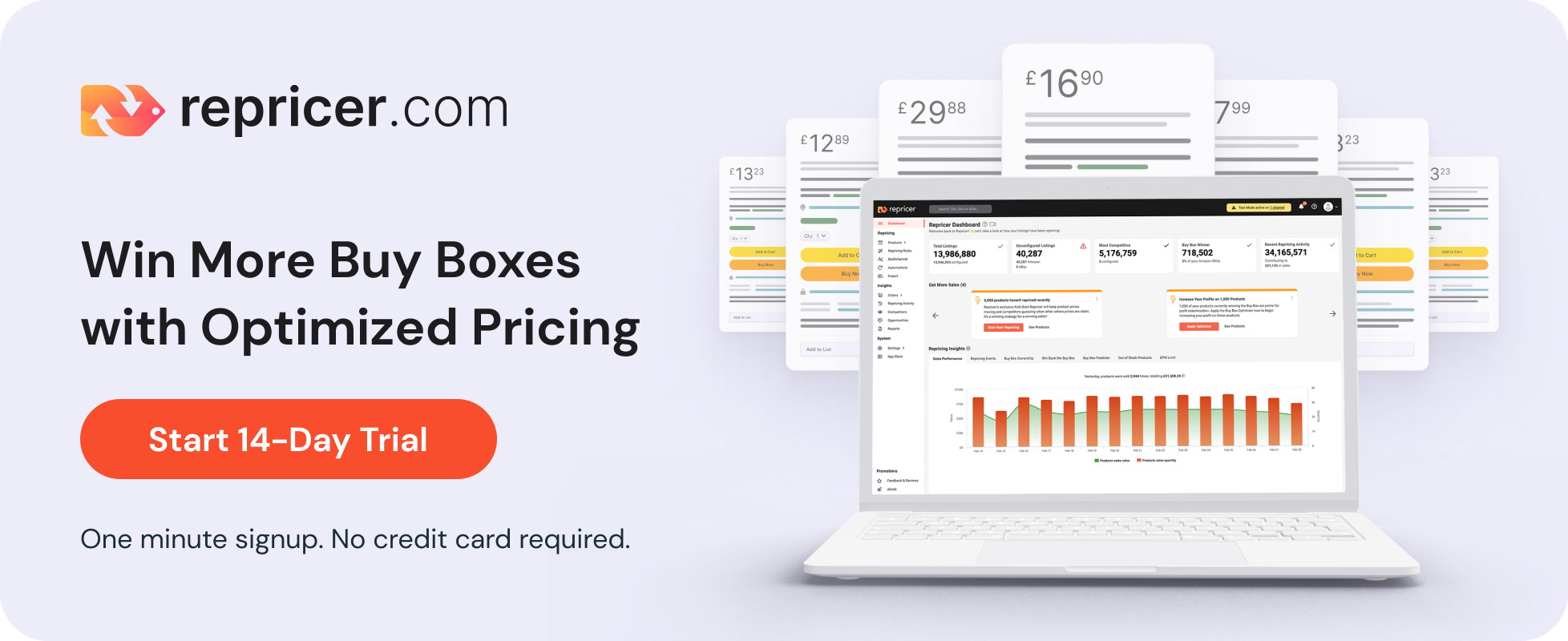 Conclusion
In conclusion, AI tools can be a game-changer for Amazon sellers by providing them with powerful insights and optimization capabilities. With AI-powered solutions, Amazon sellers can automate and streamline critical tasks like advertising, product listing, and pricing. The use of AI tools enables sellers to make data-driven decisions based on real-time market data, leading to increased sales, better profitability, and enhanced efficiency. 
In a highly competitive and rapidly evolving eCommerce landscape, AI tools offer Amazon sellers a distinct advantage by allowing them to stay ahead of the curve and maximize their success on the platform. Ultimately, the adoption of AI tools is an essential step for Amazon sellers looking to thrive in the increasingly complex world of eCommerce.