You may have heard about automatic repricing on Amazon, and you're probably aware that there are several third-party repricing tools you can use, like Repricer.
But did you know that Amazon also has its own repricer?
The Amazon Automate Pricing tool, often called Amazon Automate, is free and available for pro Amazon sellers.
But what exactly is this? How does it work? And, most importantly, is it worth using instead of paying for a third-party Amazon repricing tool?
In this guide, we'll cover all of these considerations and more to help you decide which is the right repricing option for your Amazon business.
TL;DR
Amazon has its own free repricing tool called Automate Pricing.
Sellers can use it to set minimum prices and compete for the Buy Box.
Advantages include the fact that it's free and you can save time managing your prices.
Disadvantages include its many limitations, such as not being able to increase the price of your products.
There are several reasons that make Repricer superior, including more tools, more integrations, confidentiality, and excellent customer support.
While Amazon Automate may be tempting for beginners, its limitations mean a tool like Repricer is far superior.
What Is the Amazon Automate Pricing Tool?
The Amazon Automate Pricing Tool is Amazon's free repricer, launched in 2016.
It allows you to adjust the pricing of your product listings quickly and automatically, helping your product to be the Featured Offer (the Buy Box) and get more sales using different repricing rules.
It's available for professional sellers on Amazon, and it means you can forget about monitoring your pricing and let the tool do it for you (in theory, at least).
Why Should You Use Amazon's Repricer?
Whatever you sell on Amazon, pricing plays a big role in your eligibility for the Buy Box, or what Amazon calls the Featured Offer. By competing on price, you can help to increase your chances of winning the Buy Box and selling more as a result.
The tool adjusts prices automatically based on what your competitors are doing to increase the odds that your product becomes the Featured Offer.
You can choose which listings you want to focus on and then set your price limits, and the tool will keep your prices competitive all the time.
It claims to react to price changes made by your competitors in real time. It's relatively easy to use, and you can get started in a few clicks. It should also help you increase sales by increasing the visibility of your products.
You can then focus on other areas of your business. Manual repricing for your products can be a huge task, so the Amazon repricing tool can do the work for you.
How Automate Pricing Works
If you're familiar with automated repricing, you'll already have a good understanding of how the Automate Pricing tool works. Amazon's tool works on the same basic principle.
You can set the pricing rules that are right for your situation, and the rules adjust the prices of your SKUs based on events.
For example, if the Buy Box price changes, the Amazon repricing tool changes your prices automatically, so you don't have to change all the prices.
You designate the SKUs that you want to change the prices of, so it does not change the price of all your products.
You can also turn on pricing rules and turn them off again at any time, giving you at least basic control over the tool's functioning.
Another important feature is the ability to set minimum and maximum prices. This ensures you don't price your products too low and end up missing out on profits.
There are several different rules to choose from, like the Featured Offer Rule. When your Featured Offer win percentage is too low because sellers keep updating their prices, you lose the Buy Box. This tool updates the price to make your products more competitive.
There's also the Competitive Price Match Rule. This continually updates your price so you can stay eligible for winning the Buy Box, and always matches the most competitive price to boost your chances.
The Sales Bases Rule can be used to manage inventory levels or when you're testing prices for new products. You can set how many units you want to sell over a set time period, and the price will be changed automatically to meet your objectives.
How to Get Started with Automate Pricing
Getting started is simple. You can access the tool by going to the Pricing tab in Amazon Seller Central and clicking on "Get Started."
Then choose a predefined rule and the SKUs you want to include, and set the rules for each. The rules go into effect immediately.
You can then monitor price updates, track sales in Seller Central business reports, and find out how it affects your Buy Box win percentage.
Pros and Cons of the Automate Pricing Tool
The Automate Pricing tool from Amazon has several pros and cons. Here, we'll take a look at the key advantages and disadvantages of using the tool.
Pros
The biggest advantage of this tool is that it's free. You don't have to pay anything to use it, so you can try it out without cost and find out whether it works for you.
This Amazon repricer tool gives you control over the pricing rules, so you can set the parameters based on your goals. It won't change prices randomly, and you tell it which SKUs to change and when you want prices to change.
You can set it up to reprice specific SKUs, so you don't have to change all your product prices.
You also have the ability to set minimum and maximum prices. This way, you can ensure you don't go below a minimum price, which could affect your profit margins.
Using the tool is much faster than doing everything yourself. Checking competitor prices and changing them on your own is simply not feasible, even if you only have a small number of products.
By saving time on your repricing efforts, you can focus on other tasks to grow your business.
Cons
One of the key disadvantages of the Amazon repricer tool is that you can't change the price if you're the only seller. While setting low prices is good for competing, what about if you face no competition?
Many third-party tools will increase your price to its maximum to boost your profit margin, but the Amazon repricing software won't. It only provides you with a way to compete at low costs, which is far from ideal for Amazon sellers who want to make a good profit.
In short, this tool increases the chances of a race to the bottom and getting involved in price wars. You don't want your price to only ever go down; you want it to be priced up, too.
There's also a lack of bulk pricing features. Many third-party tools make it a lot quicker and easier to carry out bulk actions.
Plus, there's no way to handle new listings automatically, which can be a huge frustration if you regularly add new products. This can take up a lot of your time when it's something that you could be automating.
Another big disadvantage is that you can't choose who you compete with. This is such a critical tool for repricing software. You need to be able to choose exactly who you want to compete with. Otherwise, you could end up competing with sellers it doesn't make sense to compete with.
Why Choose Repricer.com Instead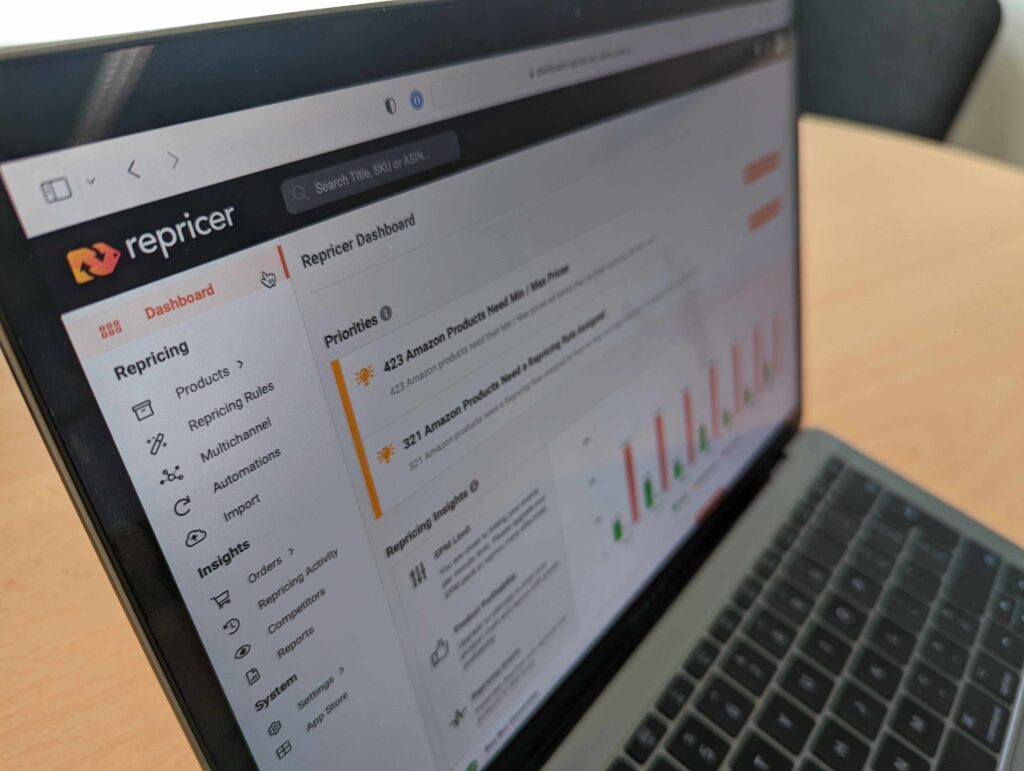 Now we've taken a close look at Amazon's Automate Repricing tool, it's probably clear that it's not the best tool for you to use for your repricing strategy if you want to achieve the maximum profit margin for each sale.
Yes, it's free, and that means it may be a good option if you're new to repricing, you want to stop manual repricing, and you're keen to get the hang of the basics. But it's nowhere near as powerful as dedicated third-party repricing tools like Repricer.
So, why should you spend money on Repricer instead of using the free Amazon tool?
Complete Control
Repricer gives you full control over everything, so you're not just in a race to the bottom. Instead, you can set your prices to increase when you're the only seller. This can help to give your profits a big boost and take full advantage of your situation rather than continue to sell cheaply for no reason.
Bulk Actions Are Easier
Bulk actions are made much easier with Repricer. If you have numerous SKUs, this can save you endless hours of work.
Automates Repetitive Tasks
Why waste time doing repetitive tasks that can be automated? Time is precious when you're running an Amazon business. That's why you're using a repricer in the first place, after all, to save time monitoring your competitors.
So don't spend hours doing actions that you can automate. Use a better repricing tool like Repricer, and you can save hours on repetitive tasks that can easily be automated.
Focuses on Profits & Competition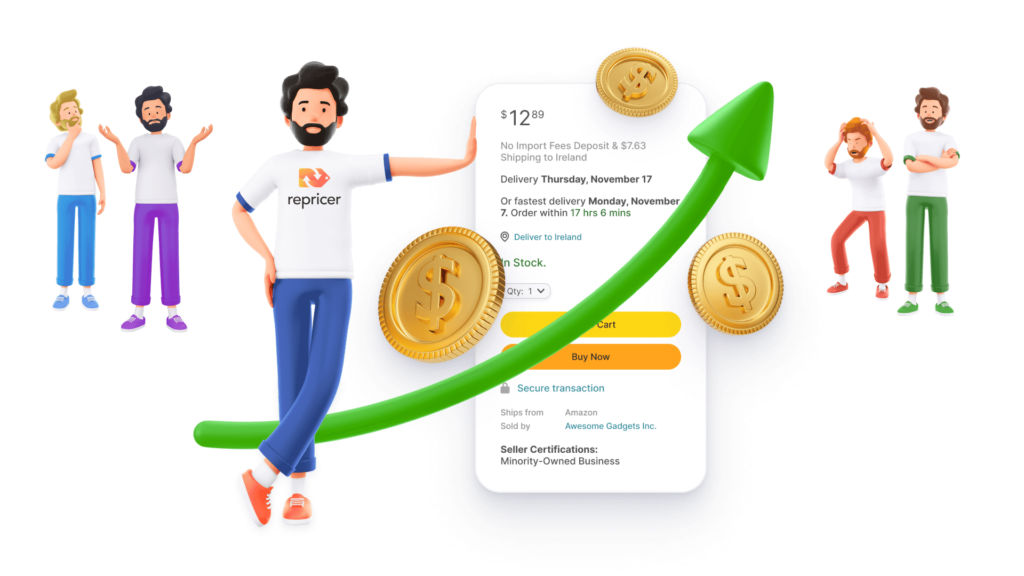 Using a repricing tool is all about both being competitive and making more profits. You don't want to focus on one or the other. This is the key to success. Simply being competitive is not enough because you can easily end up making less money or not making the profits you should be.
Easy & Intuitive To Use
Repricer is intuitive and easy to get started. Everything is simple, saving you a large amount of time and energy. This way, you can focus on what matters without having to worry about the details.
The tool also has over 50 integrations, which you can control from the same place. Integrate Repricer with other tools and set up integrations with your inventory management system and warehouse systems to save time and make managing your business even easier.
Fine-Tune Your Repricing Strategy
There are more rules with Repricer, so you can fine-tune your rules and make the best decisions about pricing for your products. Every seller has different repricing strategies, so you don't want to be forced into pricing rules that you don't want.
Super-Fast Repricing
Repricer is also incredibly fast. Speed is of the essence when it comes to repricing, and Repricer makes it even quicker for you to react to competitor actions.
24/7 Support & Free Onboarding
Customer support is available 24/7 with Repricer. You want to know that you can get your questions answered when you need help or when something is unclear. So don't wait around for days to get the answers you need. Get the help you need right away to get back on track.
Repricer even comes with free dedicated onboarding to guide you through the setup. This way, you can get professional help to choose the right repricing strategy, and you can continue to get access to help over the first few months.
Also Works With eBay
Another benefit of Repricer is that it also works with eBay. Many Amazon sellers don't just stick to one marketplace. If you sell on eBay as well as Amazon, now you can manage all your repricing activities from one place, saving even more time.
Great Value
On top of all that, Repricer is affordable and packs in lots of features for the cost. So while Amazon's tool might be free, Repricer gives you a whole lot of power packed into one tool without you paying a high cost, and it comes with a free trial, too.
When you think about the extra profits this could lead to, it becomes a very worthwhile investment. You can easily cover your costs as you increase profits more. And you won't be charged more when you start making more sales, so you're not punished for being successful.
Doesn't Disclose Your Bottom Line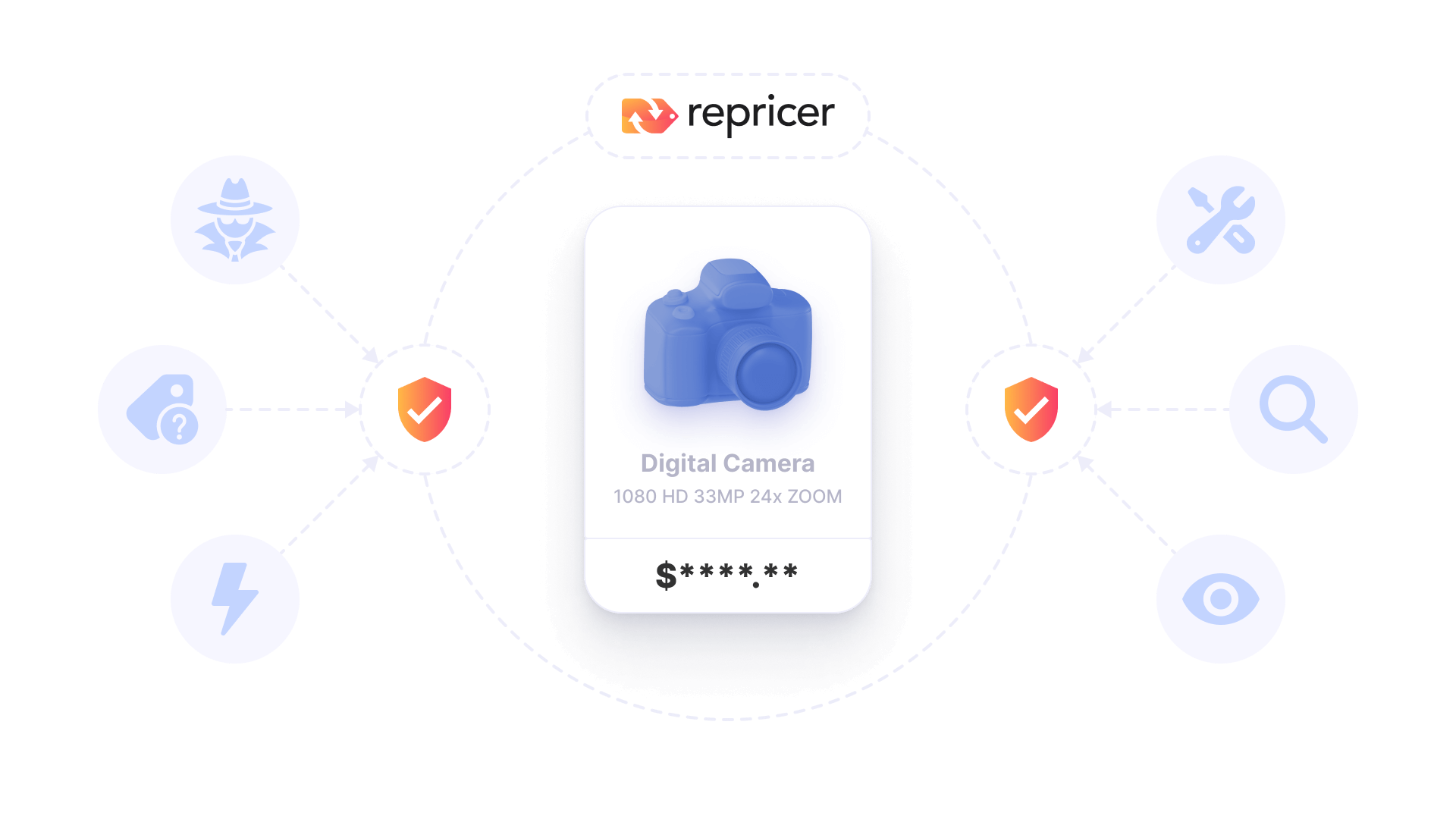 Another serious disadvantage of using the Automate Repricing tool is that Amazon knows what your bottom line is. Amazon is your main competitor, and you don't want to give it too much information. Repricer keeps the information secret, and it adjusts pricing regularly to keep everyone guessing.
Final Word
As you can see, Amazon Automate may be a tempting proposition when you're just starting out with Amazon repricing software because it's free, and you can access it from your Seller Central account.
But the disadvantages far outweigh the advantages.
Try Repricer instead and supercharge your repricing. Take advantage of several tools and integrations that you don't get with Amazon's tool, make repricing a lot easier, and increase your profits.