Winning the Buy Box is the ultimate goal for Amazon sellers and so it should be. Did you know that 83% of all Amazon sales happen through the Buy Box? I know! And it's an incredible statistic that cannot be ignored. But what happens when you win the Buy Box? Maintain your prices and just let the sales flow in? This is a good option, however, there is an alternative where you can take advantage of your current positioning and really boost your profit margins.
In this article, we're going to take a look at the Buy Box Optimizer through Repricer.com and how you can use it to maximise your profits when you've won the Buy Box.
Navigating to The Buy Box Optimizer

To display the Buy Box Optimizer you need to open a repricing rule. To do this, click on 'Repricing Rules' on the left-hand side and then open the rule you desire to look at. Another screen will be displayed and by looking at the bottom you should notice 3 numbered areas, you'll want to click on number 2, the 'Advanced Options' tab.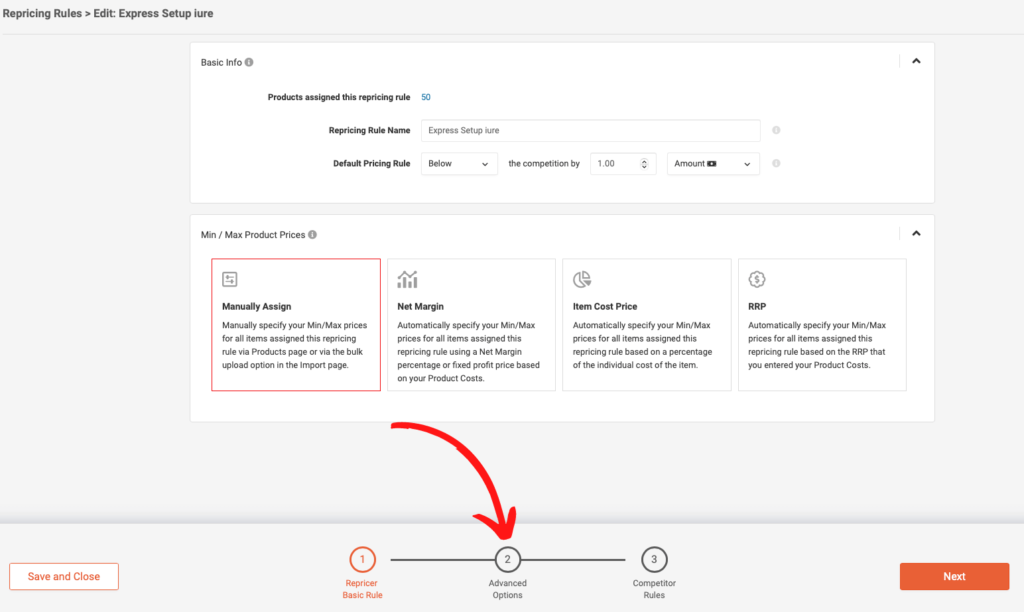 On this next screen, scroll down to the 'Scenarios' section and at the top, you'll notice the 'If Buy Box Winner' header.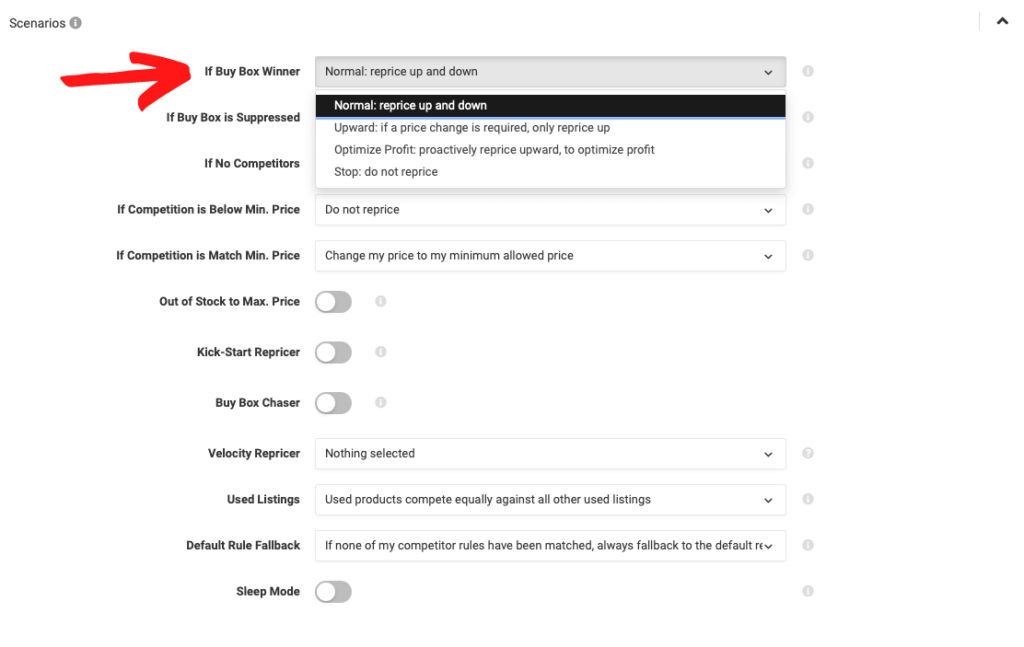 Buy Box Optimizer Options
From the dropdown, you will notice four options you can choose from.
Normal: reprice up and down
This means that nothing different will happen if you win the Buy Box, you'll just reprice as you normally do.
Upward: If a price change is required, only reprice up
This means that you will not reprice down if you win the Buy Box but instead, you will reprice up if you need to.
Stop: do not reprice
This does exactly what it says on the tin. That you won't reprice at all if you hold the Buy Box.
Optimize Profit: Proactively price upward, to optimize profit
This is the option that we're looking for, the 'Optimizer'. Please note that the Buy Box Optimizer is only available on our Ultimate plan or higher. The optimizer works by increasing your price periodically when you own the Buy Box. This allows you to incrementally increase the profit you make without suddenly pushing your price up.

You can choose how much you want to increase it, by either a value or a percentage, and it also allows you to choose how often it does this. This can be every 15 minutes, 30 minutes or every hour. This is definitely a feature you should consider using if you have strong feedback and are a strong competitor for the Buy Box.
Summary
The Buy Box Optimizer is a powerful automated feature that will provide a greater opportunity for you to increase your revenue without constantly reviewing it yourself. It's just one of many features that we have at Repricer.com to help make your repricing as effective as possible. If you haven't signed up for a free trial yet, we have a 14-day free trial available or why not set up a demo with one of our helpful team members who will be happy to show how it can improve your sales.