Starting a Shopify store can be as simple as signing up and throwing products on there, but you'd never buy a car without knowing how to drive it first. And because there's more than one way to gain those skills, Repricer.com has gathered the best Shopify apps that can help make your store a success right now.
Shopify Marketing Apps
1. NotifyVisitors

NotifyVisitors email marketing software is a great tool that helps Shopify stores to send automated campaigns to target their audience at the right time. 
Not only this, but it also allows you to send personalized campaigns so that you can connect with your audience at a more personal level. Its easy-to-use interface, along with drag and drop editor, makes it more attractive.
Its in-depth campaign analytics report helps you see the campaign performance and adjust the campaign accordingly.
2. Omnisend Email Marketing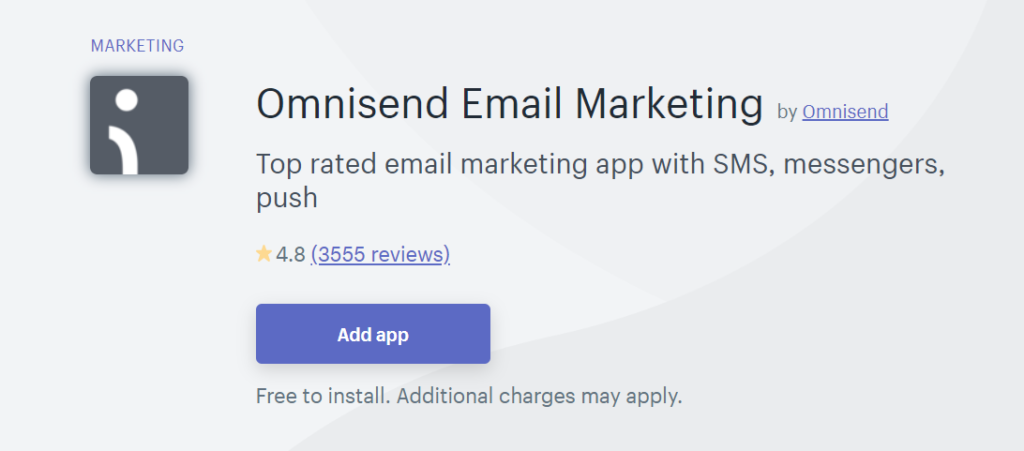 Omnisend is as close to a must when it comes to being able to email market to your users. It's no ordinary email marketing tool, as you'll be able to sync your subscribers to Google and Facebook, segment them based on shopping and email campaign behaviour and use fun signup features to entice future subscribers. You can start with a free trial or request a demo, then move onto one of their paid plans (annual plans are discounted monthly).
3. OptinMonster
OptinMonster touts their email marketing tool as being able to "instantly" grow your email list, get more leads and increase sales. Sounds too good to be true? Not in this case, where the hype really does check out. Start with one of their pre-made templates and customize it to suit your store, then create a dynamic campaign to start growing your email list. Their basic plan starts at $9/month (usually $14/month) and goes up to $49/month for their fullest array of options.
4. Sumo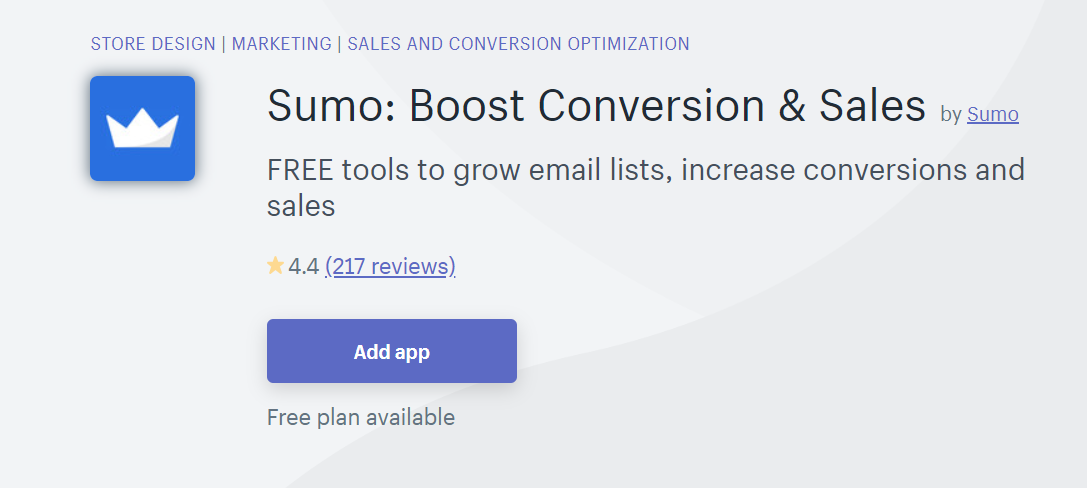 You don't pay to use Sumo until you get more customers, making it a no-brainer Shopify app to use. Along with the regular features associated with email marketing, you can also offer your subscribers custom Sumo discount codes they can use on your store. And if you need a hand? They've got free customer support to help you out.
5. Referral Candy
We all know how tough it is to get subscribers for your email list, never mind getting your loyal base to buy more. But with Referral Candy, a lot of that work is eliminated. When customers refer you to their friends and family, they can gain incentives (of your choosing) as a reward to spread the good news. And as a way of making sure you're also included, you can start with a 30-day free trial before signing up for the $49/month plan.
Shopify Customer Loyalty Apps
1. Swell Loyalty & Rewards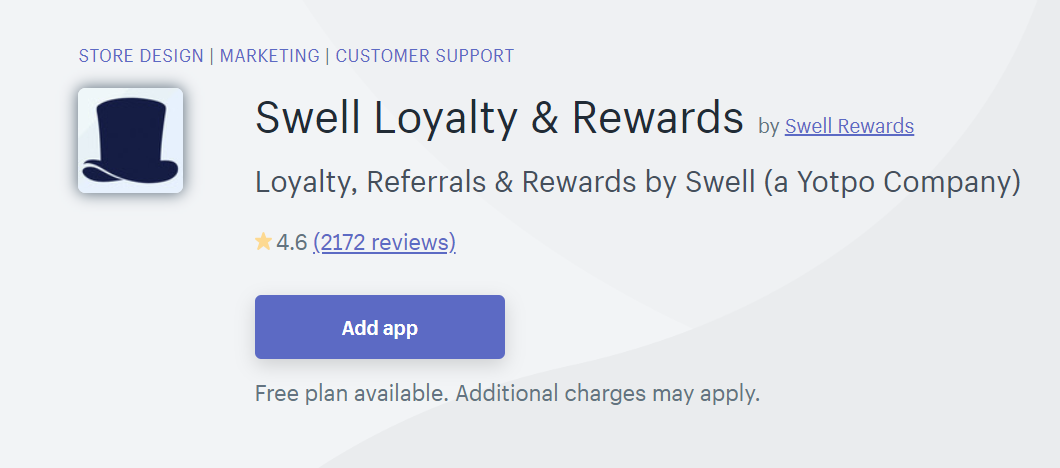 Because buyers like to feel appreciated for their loyalty, Swell Loyalty & Rewards helps you out with that. It can be integrated with Facebook, Hubspot, Mailchimp and other tools, with the ability to reward social media interaction (among other areas in which to reward customer loyalty). If you have fewer than 100 monthly orders, you can use Swell for free, otherwise, you'll have to sign up for either their Silver plan ($49/month, best for stores with 0-400 monthly orders) or Gold plan ($249/month, best for stores with 400-1,000 monthly orders).
2. Smile.io
If Smile.io sounds familiar, it's because it's one of the top apps for Shopify, with thousands of users giving it a 4.7 star rating. You can improve customer loyalty through a points program, referral program or VIP program, then integrate it with plenty of other apps for a turbo-powered experience. There's a free plan that includes 10+ ways to reward and a few other features, as well as three paid plans that grow in the number of features offered.
3. LoyaltyLion
Lions are known for their loyalty and loyalty is good, so LoyaltyLion does exactly what its name says: offers you a number of ways in which you can grab and grow customer loyalty. Some of your options include rewards for purchases, sign-ups, reviews, social media interaction and birthdays, with the choice of using rewards in ways that work for them. You can start with a free plan that covers 800 monthly orders or sign up for one of their paid tiers if your store sales volume is a lot higher than that.
Shopify SEO Apps
1. SEO Image Optimizer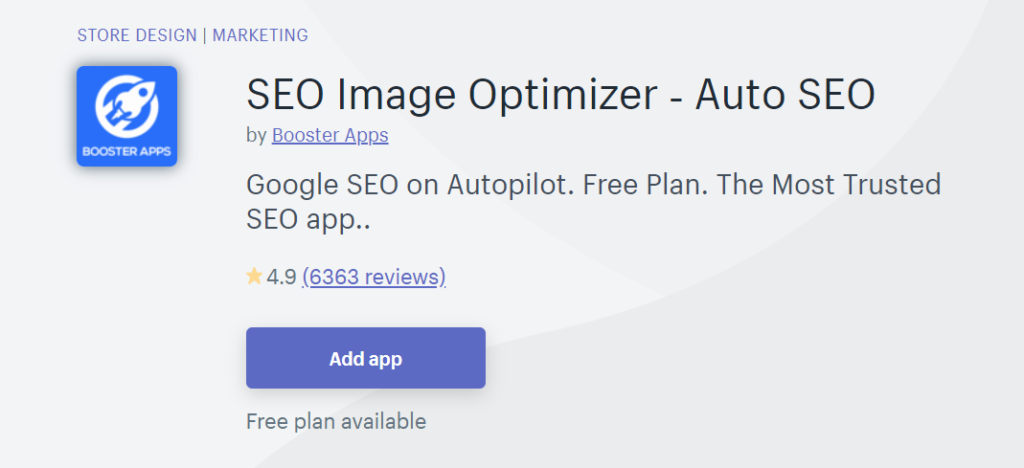 Because images are one of the first points of contacts a shopper has with your store, optimizing them is a crucial way of getting that user to stay there and (hopefully) make a purchase. SEO Image Optimizer can help you with that by taking care of optimizing your images to help you rank higher in Google Images (they note that they don't guarantee this, rightfully, as they're only a tool that's as good as your research and work effort). The free plan will perform basic image SEO work, while the paid plan does extra heavy lifting like meta tag optimization, fixing broken links and more.
2. Bulk Product Edit & CSV Import
Now that you've taken care of optimizing your images, optimize the written part of your listings with Bulk Product Edit. Instead of increasing the SEO value of your listings one-by-one, use this Shopify app to apply changes on a mass scale (with the option of reverting back to the pre-edited state with just one click). You can stick with the free plan for basic unlimited product SEO optimization tasks, or upgrade to one of the paid plans for even more options and extended backup timeframes.
3. SEO Manager
We all have those days where we're just tired of doing it all ourselves and wish a magic fairy would come along to lighten the workload. That might not exist for your household chores, but it does for your Shopify store with SEO Manager. The self-described "supercharged SEO tool" will scan your listings for SEO value, suggest keywords, offer meta content tools for backend SEO, connect to Google Search Console, take care of 404 errors, structure your data in the Google-friendly JSON-LD way, and so much more. There's only one plan at a highly reasonable $20/month once your 7-day free trial expires.
Shopify Social Media Apps
1. Outfy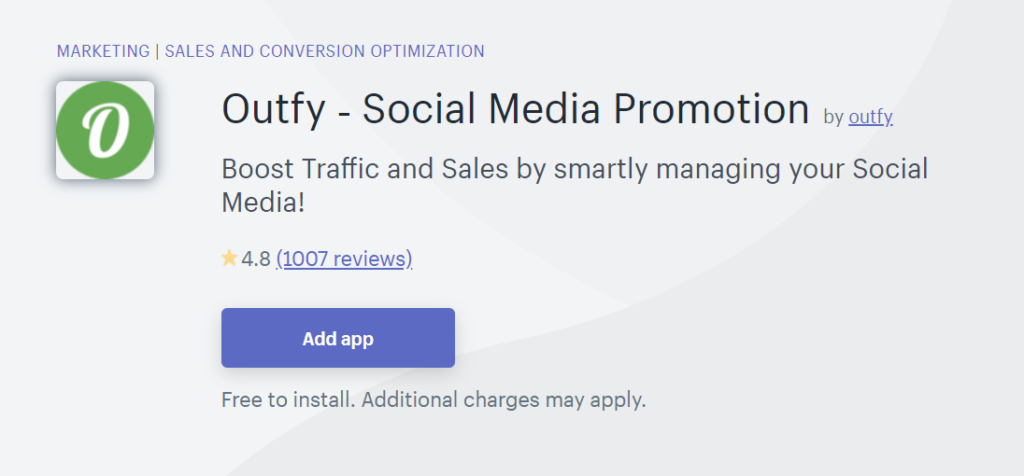 Whether you love social media or wish you could go back in time before it existed, it's here to stay and making full use of it can only help your Shopify store. And with Outfy in your back pocket, you can get there a lot faster by integrating with up to 12 social media platforms (and then set it on autopilot). The free Starter plan has every feature available (in limited quantities), but you can sign up for one of their paid plans if you want more "sharing credits".
2. Facebook Messenger Marketing
Yup, we said the f-word: Facebook Messenger Marketing. This Shopify app boasts an 80%+ open rate, saying that they have a higher open rate than traditional email. You can send order receipt and shipping notifications, as well as marketing campaign messages to your segmented customer base. Best of all? This app is totally free.
Sync your prices to your Shopify store
With Repricer.com you can sync your Amazon prices to your Shopify store and other channels. Learn more by signing up for a free 14-day trial today. No credit card needed.