There's no doubt that reviews are powerful. From influencing sales to increasing revenue, reviews are essential part of succeeding online.
Consider the following:
At 97 percent, just about everybody agrees that reviews influence their purchasing decisions.
Having just five reviews for a product increases the likelihood of purchase by nearly 200%.
If customers are deciding between two products with the same ratings, they prefer to buy the one with more reviews.
For Amazon sellers, reviews are even more important. More five star feedback can mean the difference between standing out and blending in, and appearing in the Buy Box—or not.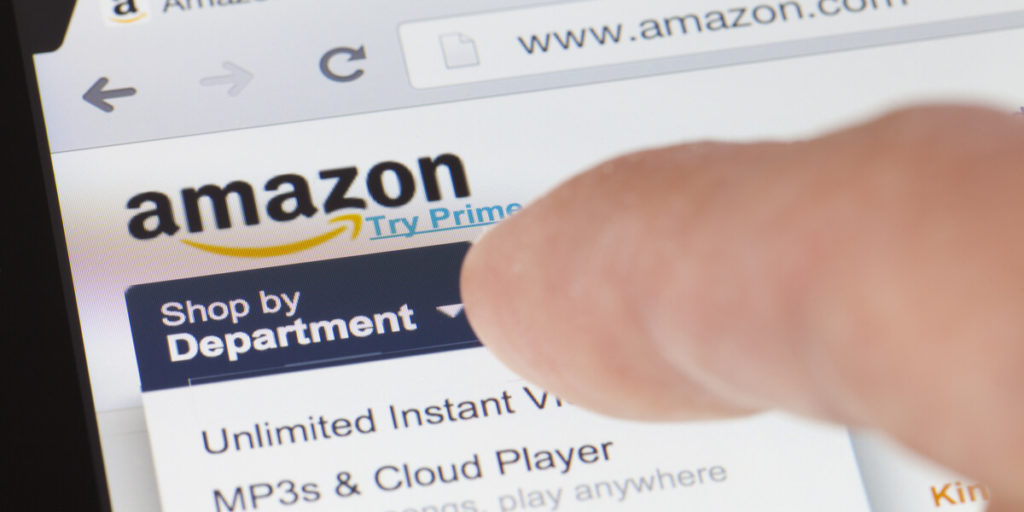 How to NOT get Amazon reviews
First, let's start with what NOT to do. When it comes to misleading customer reviews, Amazon has a zero-tolerance policy. If you violate their guidelines, it can land you in hot water.
Among other things, you may lose all your current reviews, have your product listing suppressed, or, worst of all, permanently lose your Amazon seller privileges. It's scary stuff!
Fortunately, Amazon makes it easy for sellers to play by the rules. By logging into your Seller account, you can view the Product Review Guidelines. There, you'll see Amazon has clearly outlined what's not allowed. You can not:
Write reviews for your own products
Offer money, discounts, or product in exchange for a review. For any discounts you offer, the customer needs to be able to use them without writing you a review
Ask people who are biased to write you a review, such as your family, friends, or employees
"Trade" reviews with others, e.g. you'll write a good review for them if they write one for you
Accept reviews before the customer makes a purchase
Only ask satisfied customers for reviews. This tactic is known as "cherry picking," and Amazon doesn't like it. You need to ask all our customers equally, whether their experience was positive, negative, or middle-of-the-road
Buy fake reviews
6 Ways to get more Amazon reviews
The best way to get more Amazon reviews is to have standout products, an impeachable brand reputation, and loads of satisfied customers who became loyal due to your amazing customer service. Of course, that's easier said than done.
So, here are six practical ways to get more Amazon reviews today.
1. Send a personalized review request via email.
After they've made a purchase, Amazon sends a generic templated email that asks customers to leave a review. It's not very exciting, so many people ignore it.
You can turn that trend around by sending your own follow-up emails. Personalize the email by including the shopper's name in the subject line and email copy. Give them a direct link to your product page so it's easy for them to write a review.
Finally, let the customer know why leaving a review is important. You may explain how reviews help more people discover your product and grow your business. You can also let them know you want make their experience better, and reading their review allows you to do that. Or, appeal to their ego and remind them that by sharing their experience, they can help influence others.
Just be careful about coercing people towards leaving a positive review. Amazon doesn't allow it.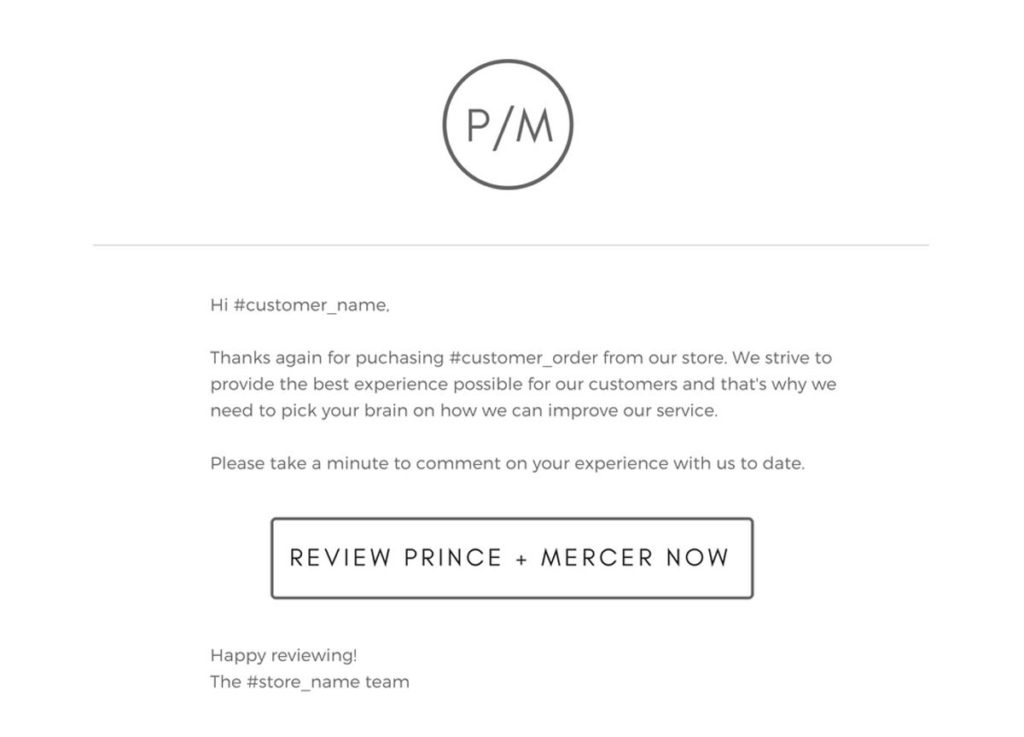 With eDesk Feedback, you're able to fully customize the message you'd like to send and then automate the send for maximum efficiency.
Pro Tip: Not sure what to write in your email? Take a cue from these sample customer feedback templates.
2. Add a product insert asking for reviews.
When you package your products, include an eye-catching insert that asks people to leave reviews. Use bright colors and visually compelling photography. Make it simple, and give them instructions of how to leave a review on Amazon.
Don't ask for a five-star review; just ask for a review. Amazon prohibits inserts that ask customers specifically for positive reviews, and/or try to discourage negative reviews by telling the customer to contact them instead.
3. Request reviews in your email newsletter
If you're covering all bases in your eCommerce marketing plan, you probably have an email newsletter, add a section to your template asking for reviews. You won't get a ton of clicks from this, but it's a one-and-done task that can result in a few more reviews trickling in on a regular basis. Who would say no to that?
For example, women's clothing retailer Anthropologie highlights recent product reviews in their marketing emails, and encourages subscribers to write their own reviews: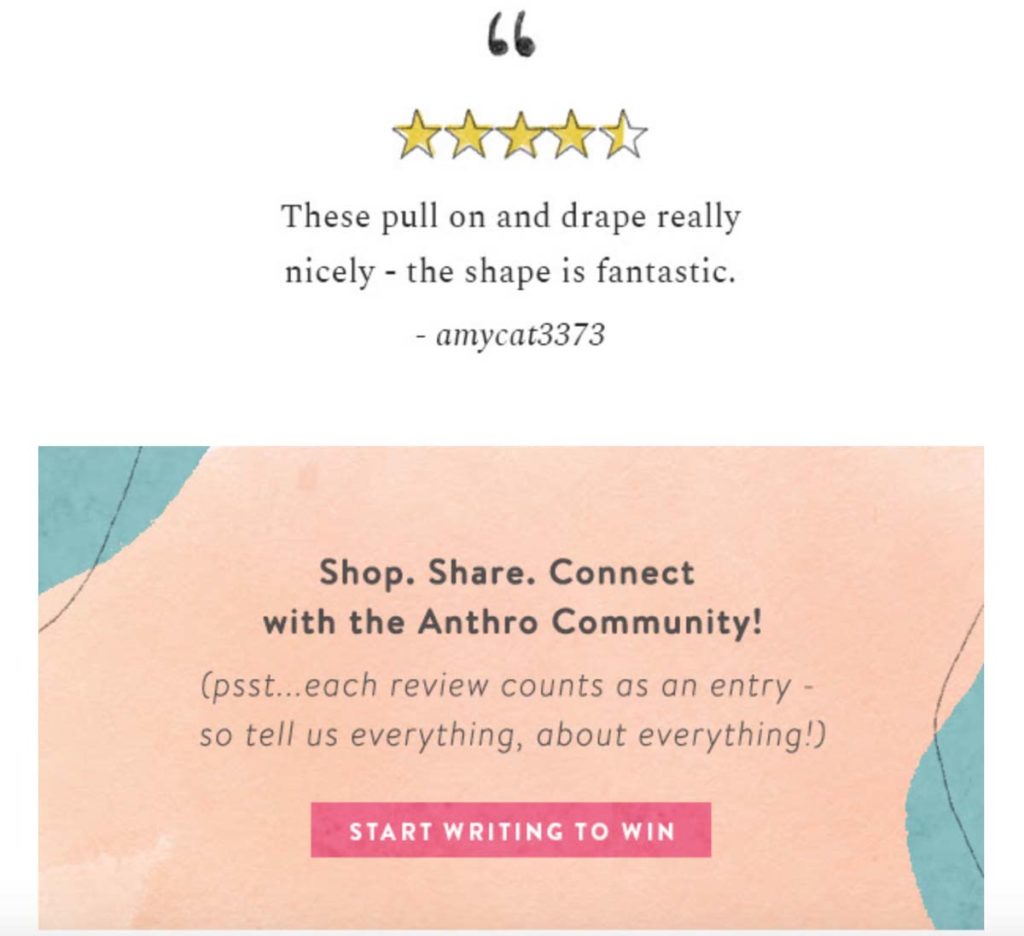 4. Ask for reviews on social media
Your social media followers include a lot of your customers, and they're well-informed on how much they love your products.
Just as you added a review request to your email newsletter, periodically ask for reviews on social media. Invite customers to write reviews of products they've recently purchased from you on Amazon.
5. Join the Amazon Early Reviewer Program
These last two suggestions are for new products only. Here's how they work.
According to Amazon's rules for reviews, sellers aren't allowed to pay customers for reviews, but they never said Amazon can't do the same thing. With their Early Reviewer Program, Amazon sends shoppers a nominal gift card in exchange for their review.
You can receive up to 5 reviews through this program, which will all be identified with an Early Reviewer badge:

As you can see, there's no guarantee the review will be positive. However, this Amazon-approved approach to get reviews can be worth it for newer products.
6. Submit products to Amazon Vine
There is one exception to the "don't exchange free product for reviews" rule, and it's called Amazon Vine.
This program is only open to sellers with fewer than 30 reviews. You submit 30 units, which are then shipped to specially selected Vine reviewers for free. Vine reviewers don't have to pay for the product or shipping.
The value of this Amazon reviews program is that Vine reviewers, known officially as "Vine Voices," are chosen by Amazon based on the helpfulness of their other reviews. You may have a better chance of receiving more detailed reviews through this program, than you would through other channels.
Make Amazon review collection easy
More reviews translates to more sales. Follow these tips to get more Amazon reviews today.
Make sure you check out great tools like eDesk Feedback can help you get more reviews, wherever you sell, including Amazon.
Win the Amazon Buy Box and sell more. Sign up for a 14-day trial today. No credit card needed.