Over the last 6 months the Repricer.com team have been improving product functionality so you stay competitive, reprice faster than ever and increase your chances of winning the Buy Box.
A Streamlined Experience
We are heavily focused on optimising your Repricer.com experience. The product interface has a fresh look and now includes:
Integrated filters toolbar
Checkbox bulk actions
Detailed Buy Box insight
Important data is now easier to pick out, so you can quickly get up to speed on your products' performance.

Integrated Filters Toolbar
Filters are one of most utilised functionalities of Repricer.com. Our new filter toolbar is now conveniently located on the products interface page. This toolbar includes all filtering options and makes important actions easier to access. You can sift through your data quicker than ever so you can make profitable pricing decisions with our new streamlined view.
You can easily select individual products or select the entire product list by clicking the check box at the top left of the view. This means it now clearer and easier to see which products you are applying bulk actions to.
At a glance you can clearly see the Buy Box status of each product. If your listing under the Buy Box status has a green tick icon it indicates that listing has won the Buy Box, while a red cross mark means further action is required to win the Buy Box. A tooltip will pop up once you hover your mouse over the icons and it will indicate what further action is required for you to win the Buy Box.
Refined & Actionable Dashboard
The dashboard now includes data on all repricing events and actionable insights. You can now see the volume of products that are currently being repriced along with those that are winning the Buy Box.
You will also be able to see the number of repricing events in the last week and the number since you started using Repricer.com. This is great for tracking and understanding how hard Repricer.com is working to help you win the Buy Box.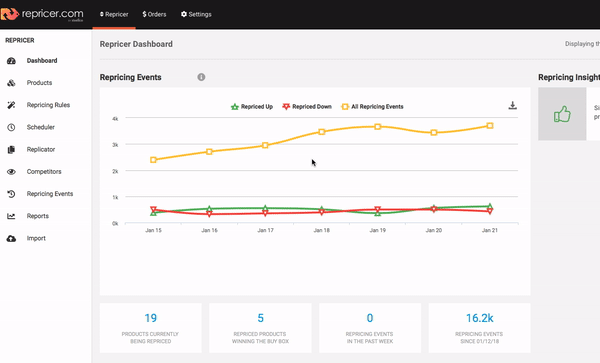 Repricing Insights
Repricing Insights make it easy for you to see what's important, take meaningful action and win the Buy Box. All messages are individually tailored to your account, providing you with valuable information which will help improve your repricing strategy.

Insights are ranked in terms of importance and clicking on any of the messages will open up a list of relevant products so that you can take action. This useful feature will ensure you're better equipped to win the Buy Box and you are making the most out of Repricer.com.
Architectural Improvements
Repricer.com is effective not only in terms of its speed but also the infrastructure that's now in place. Our improved architecture meets virtually any of your repricing requirements, with speed and agility, 365/24/7.
Repricer.com will react instantly to changes in the marketplace. It gives you the best chance of winning the Buy Box at the optimal price. Start your free trial today and watch your sales figures soar!