Have you ever tried advertising on Amazon? There are lots of benefits that can make it worth your while. But at the same time, there are a few disadvantages to keep in mind.
If you want to get more visibility for your products and increase sales on Amazon, you've come to the right place. Here, we look at the key pros and cons to help you decide whether advertising on Amazon is the right option for you and your business.
TL;DR
Amazon advertising is a good way to give your sales an instant boost.
It has several advantages, including ease of getting started, the ability to control your budget, and the variety of ads available.
But it also has a few disadvantages, including the possibility of it becoming expensive and time-consuming.
As well as advertising, make sure you also focus on organic sales by optimizing your listings and defining a good repricing strategy.
Pros of Advertising on Amazon
Let's start by looking at the advantages of advertising on Amazon.
Easy to Get Started
While Amazon ads can be quite complex and offer many options for optimization, it's actually easy to get started.
That's because the Amazon platform provides you with an automatic targeting campaign option where it does all the work for you.
With this, you can fill out the basic details and let Amazon get on with it in just a few simple steps.
You probably won't want to stick with this option because you have far more optimization options when you do everything manually. But it's a great way to get started and to begin gathering data.
Boost Sales Fast
As soon as you launch an ad campaign and everything is good to go, your ads can start appearing right away. That means you could go from no people visiting your product listings to lots of people visiting them in a matter of hours.
If you're struggling to get your products in front of shoppers, Amazon advertising provides you with the quickest way to change that.
Reach Warm Targets
When you're advertising on Amazon, you're getting your products in front of warm targets, and this is different from other digital marketing channels like Google Ads (previously Google AdWords).
The fact is that people make online shopping searches straight from Amazon because they are there to buy. They're in buying mode, or at least close to buying, so you might consider skipping Google altogether and advertising directly on Amazon instead.
Sometimes all that's needed is for a potential customer to come across exactly what they're looking for, and you've got a sale. The problem is making sure they find your product instead of a competitor's product, and that's where advertising can make a difference.
Lots of Ad Options
You have a wide range of online advertising options to choose from when you use Amazon. Amazon offers several different types of ads, and some of them will be more suitable than others based on your goals and marketing budget.
For example, you might want to start with Sponsored Products. These are where you get specific products in front of your target audience in the hope of increasing sales.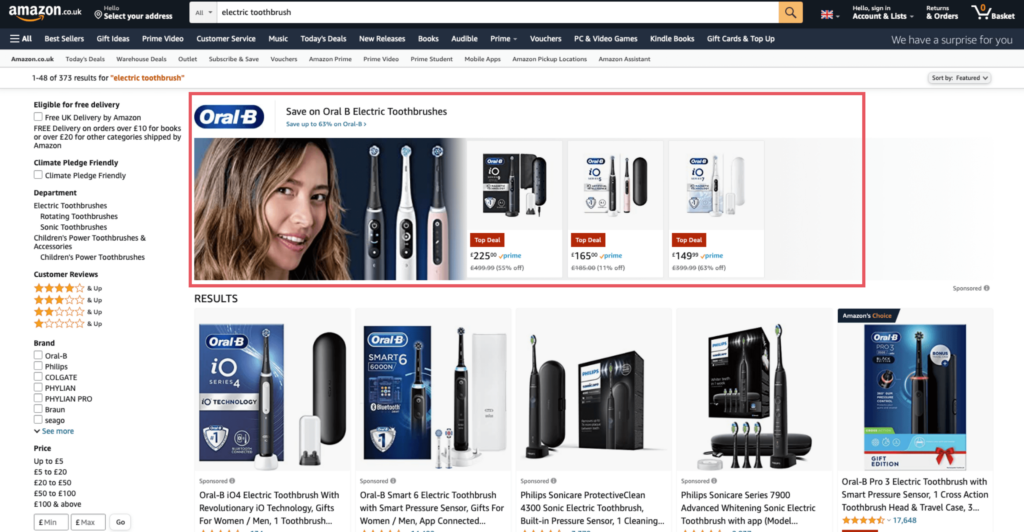 You can also use Sponsored Brands and Sponsored Display ads. You can run a PPC campaign with both types of ads, but you need to be enrolled in the Brand Registry to use these.
If you have a larger budget, you might want to consider Amazon Attribution, Amazon Live, Audio Ads, or Video Ads. You can even use Custom Ads, but these are only suitable for larger budgets.
Control Your Budget
Whatever your budget as an Amazon seller, you don't have to worry about going over it with Amazon advertising. That's because you can easily set a daily budget.
Amazon will make sure you don't go over this, so you can rest assured that you won't be spending more than you can afford.
Good Tools to Help Optimize Campaigns
Amazon provides several tools that you can use to get the most out of your advertising campaigns and optimize your ads based on the data provided.
For example, you can download your Amazon Search Terms report to find more relevant search results to use in your future campaigns.
Delve into the data and find out what's working and not working, change your strategy accordingly, and keep on optimizing and improving to get more sales while reducing your advertising cost.
Good Targeting Options
You can choose how you want to target customers on Amazon, including the keywords you use and the products you advertise.
When you target your ads with keywords, you can choose the exact keywords you want your ads to target so potential buyers using those keywords can see your ads. You can also use negative keywords or use ASINs (Amazon Standard Identification Numbers) as your keywords.
Alternatively, you can set your ads to display on specific listings, so when a shopper visits a listing, your ads appear. This is a good way to target your competitors.
Save Time with Advertising Tools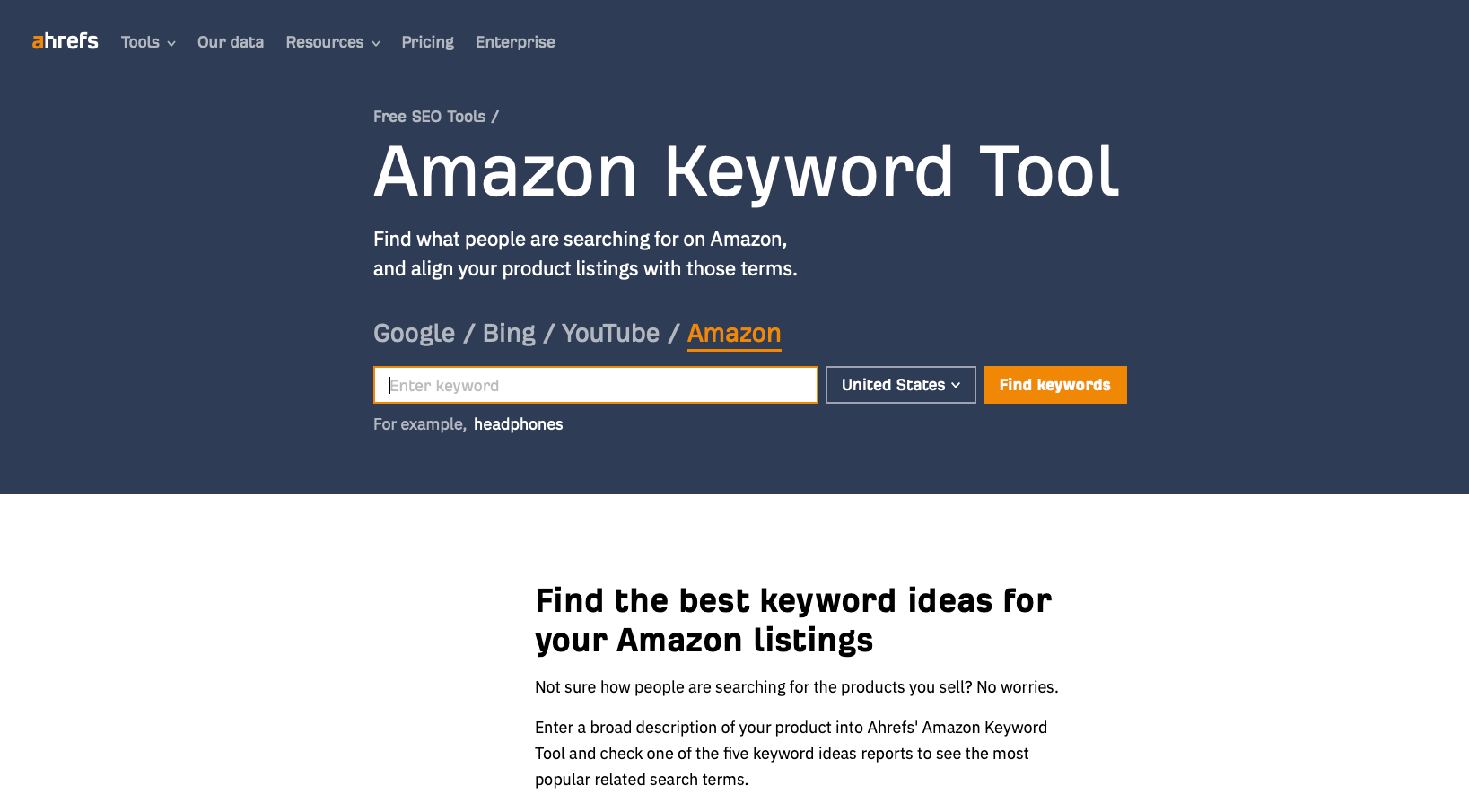 While you can do everything yourself, you can also make use of several advertising tools to automate part of the process, find better keywords, and optimize your campaigns.
Tools like Ahrefs make this easy. While this will involve spending money on third-party tools, the time you save and better results can make it worthwhile.
Cons of Advertising on Amazon
There are far fewer disadvantages of advertising on Amazon, but they're still worth knowing before you get started.
Lots of Competition
Because of all the benefits of advertising on Amazon, all the other sellers are doing the same, so there's a lot of competition.
This can make it harder to get eyes on your ads, especially when you're just starting out.
Can Be Expensive
While you can control your budget, you may find advertising expensive. You have to decide whether it's worthwhile for your business to advertise or not. If you're spending too much, this can cut into your profits.
Time-consuming
As mentioned, Amazon advertising can be easy to set up and run if you do everything automatically. But it can also be very time-consuming if you want to get the best results.
Setting it up, managing your campaigns, optimizing them, finding out what's working, and testing new things can quickly use up your precious hours.
You have to find the right balance between the time you spend on it and the results it generates.
Conclusion
As you can see, advertising on Amazon has many benefits as well as a few potential disadvantages. It should be clear, however, that the pros outweigh the cons.
While advertising can be a great option for your business, don't forget to focus on increasing your sales in other ways. For example, optimizing your listings and getting more positive reviews can help to improve your organic Amazon rankings without costing you money for clicks.
This is also a good time to get your repricing strategy in order. A good repricing strategy using an automatic tool like Repricer can make your products more competitive, boost your profits, and help you win the Buy Box.
So, even if you decide to use Amazon advertising, make sure you utilize all the tools and tactics at your disposal rather than limiting your efforts to advertising.