Running an eBay business can involve a lot of work. There are products to list, customers to respond to, new products to research, stock to manage, etc.
You can do all of this on your own. Or you can use eBay automation tools to do the hard work for you.
In this guide, we take a detailed look at 17 of the best eBay automation tools, separated into different sections, including repricing and review management.
All of them will save you a lot of time, streamline your business, and help to make running your eBay business more enjoyable. So you can focus on the areas of your business that can't be automated.
Let's dive in.
TL;DR
Using eBay automation software can save you countless hours on many tasks so you can focus on other areas of your business.
Anyone can use these eBay selling tools, even if they're completely new to selling on eBay.
The best automation tools can be used for repricing, eBay listings, product research, generating reviews, and more.
Why Should You Use eBay Automation Tools?
The simple reason to use eBay automation tools is to save time and effort.
These days, there are a lot of tasks that can be automated when you're selling on eBay, and they can save hours and hours for you every day.
In fact, using just one automation tool could save you hundreds of hours of work a month. That's all time that you can reinvest in your business and focus on the tasks that require a more personal touch and your creative insight instead of being automated.
Most, but not all, automation software will cost you money. But often that cost is well worth it when it can save you time.
It's not just the time savings that are important, and there's one other very important benefit: they make running your business more enjoyable.
Running an online business is a dream for many people. Unfortunately, there's a lot of dull and repetitive work involved, and this can take the fun out of running your business.
When you can hand over these repetitive tasks to a software program, you'll have a lot more time to focus on the tasks you really enjoy.
If you're spending less time checking your competitors and changing your prices to compete with them, and more time researching products, you'll enjoy running your business more.
Who Can eBay Automation Tools Help?
You may think that eBay automation tools are only for advanced eBay sellers, but this isn't the case. They can be used by anyone.
You don't need to be selling dozens of different products, and you don't even need to be running a full-time business running your eBay store.
You may just sell a few products and make a modest number of sales a day. Automation tools can still help you, especially if you're planning to grow your business.
Many of the tools are not expensive. So even if you're only selling a single product, it could still make good financial sense to use one.
You could grow your business faster, start selling more products, and quickly make up for the cost of the tool.
You may not need all of the eBay seller tools listed in this guide, and even one or two could be enough. Just don't assume you need to be an experienced eBay seller before you start using them.
Factors to Consider When Choosing eBay Tools
There are quite a few tools listed in this guide and, as already mentioned, you may not need them all. You might be fine with using just one tool providing one specific service, and this is the best way to start.
First, consider where you'll get the most help.
What's the task that takes up most of your time that could easily be automated? Is it listing your products? Repricing your listings? That's probably the best place to start looking.
Next, read reviews of the different products providing that service. Try to get some opinions from experienced eBay sellers.
Check out the prices too. Prices will often be quite similar, but some tools are more expensive than others. The more expensive tools may provide extra features for that extra cost, so you should decide whether you need these or not.
On the same note, check whether it comes with a free trial. This can be a great way to try out a tool and work out whether you really like using it before you commit. Many tools have a trial period lasting from a few days to a few weeks.
Finally, you'll want a tool that you can cancel without any drama. Your needs may change quickly as an eBay seller, and you might realize you're spending money on something you don't really need. Being able to cancel your subscription and invest that money elsewhere will be very useful.
Now you've got a good idea about why you might want to use automation tools and the most important factors to consider, here are 17 tools to consider, divided into the following categories:
Repricing
Listings
Product Research
CRM
Feedback
Inventory Management
Repricing
We'll start with one of the most important tools for any eBay business: repricers.
There are several automated repricing tools out there, but we're going to recommend just one
1. Repricer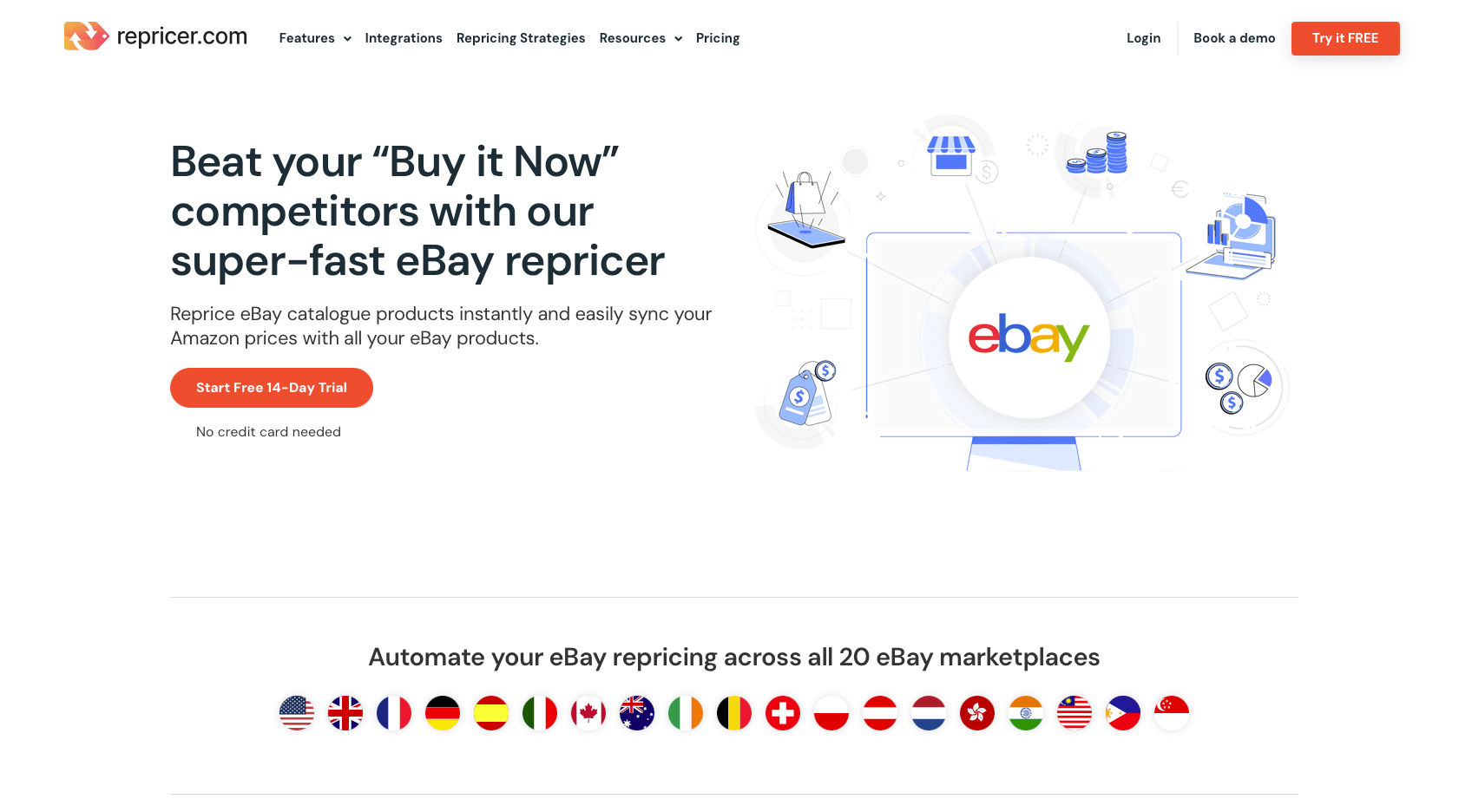 You may have heard about Repricer from Amazon sellers. But while it provides a lot of fantastic features for Amazon, it also provides a wealth of features for eBay.
So you can enjoy the same repricing benefits here too. And if you sell on both Amazon and eBay, you can manage everything from one place, keeping it nice and easy.
At its most basic, repricing is the practice of changing the price of a product that you're selling. For example, if you have an excess of stock you want to get rid of, you could reprice it lower.
When it comes to online marketplaces like Amazon and eBay, repricing becomes a bit more complex.
Here, you're competing with other sellers, and you want your products to be more competitive. If another seller is selling the exact same product as you, but at a lower price, you can be sure that most of the sales will go to them, all else being equal.
You can manually reprice your product listings by checking the prices of your competitors and repricing accordingly. But this takes a lot of time.
Using Repricer makes the whole process much quicker.
In fact, you can set up your rules and just let it get to work without having to keep checking what your competitors are doing. It does all the work for you.
Having a good repricing strategy in place can help you to win the Buy It Now Box on eBay, similar to the Buy Box on Amazon, where lots of sales are made.
You can compete for this in many ways, but having a competitive price is one of the most important ways to win it.
You can also create more advanced repricing strategies, like increasing the price of your product when a competitor runs out of stock. Repricer also makes this easy, so you can increase your profits when your competitors are out of the picture.
Because it constantly checks your competitors' listings, it reacts immediately, saving you time and effort.
In addition:
It's easy to use. You can set up your rules, like your maximum and minimum price, and let it get to work. You can then change your strategy when you want to, or just leave it to work.
It works across 20 eBay marketplaces, which is great if you sell internationally. You can also sync your Amazon and eBay prices and choose how you want to target competitors based on location, stock, feedback, etc.
It's available with a 14-day free trial, so you can try it out for yourself risk-free and get a feel for it to find out what it's capable of.
Try it out, and you'll probably wonder how you ever did without it due to the time it can save and the extra profits it can help you get.
Related: How to Price Your Products on eBay in 2023
eBay Listings
Next up, eBay listing tools.
This is the main category you'll find when you start researching eBay automation software because creating listings is a task that not that many people enjoy doing, it's repetitive, and it can be easily automated to save you precious time.
If you create listings regularly, and you're already tired of doing so, this could be one of your best investments.
You'll find several excellent products available when you search for an eBay listing software service, some of which are focused purely on listing, and some of which come with other tools that help you improve your eBay SEO.
How should you choose the right listing software for you? Some of the features to look out for include:
The ability to create new listings effortlessly.
The option to edit your listings and customize them.
Professional templates that make your listings stand out.
SEO tools so you can optimize your listings as you make them
Here's our selection of some of the best tools to make your life easier when it comes to creating and posting eBay listings.
2. Inkfrog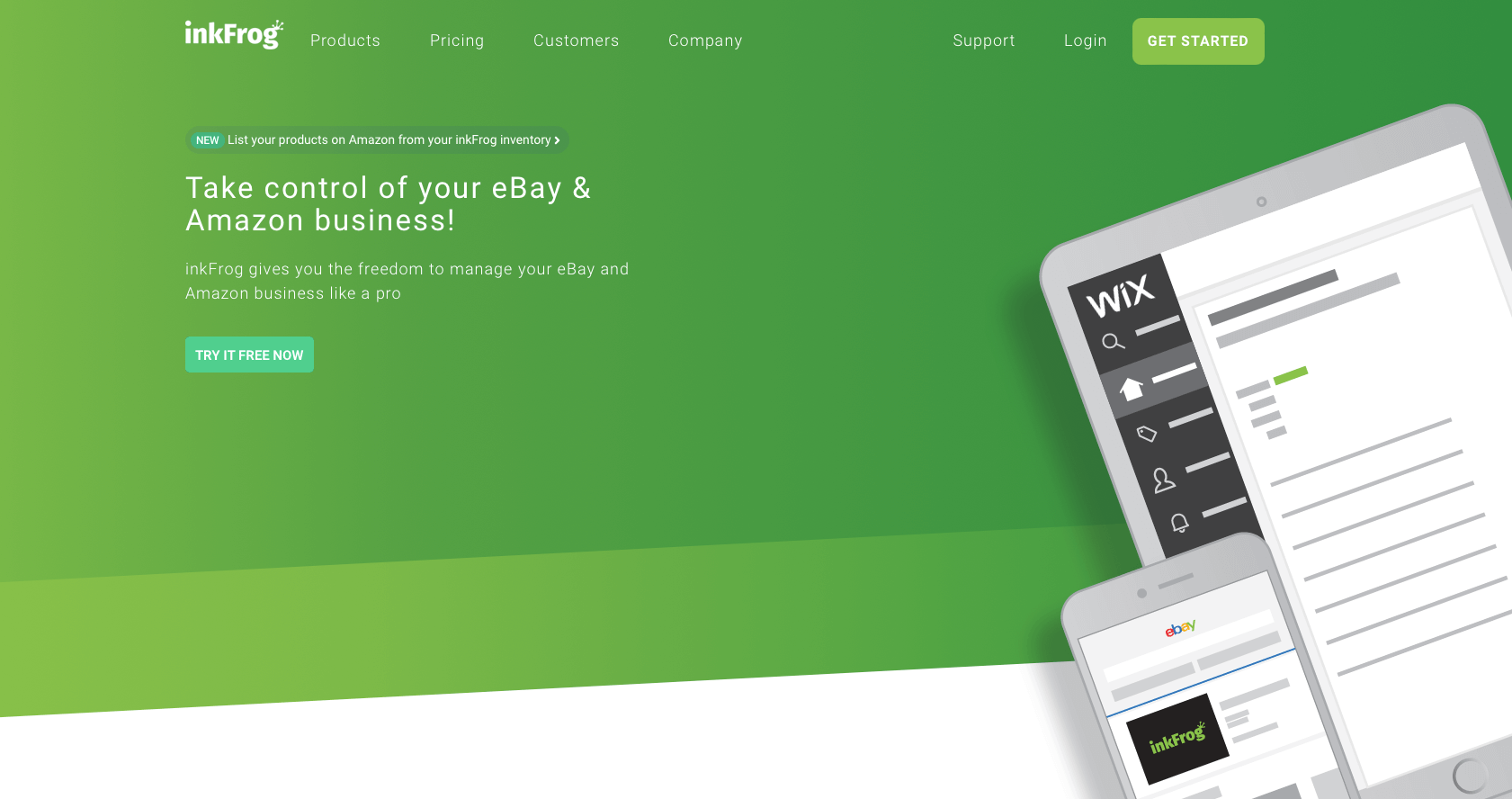 Inkfrog is a popular eBay listing tool. It's also one of the most popular with eBay sellers in general, and hundreds of thousands of sellers choose it.
It comes complete with a large selection of professional templates you can choose from, and it includes lots of smart features.
These include the ability to auto-deactivate listings if you run out of inventory, auto-relist schedules, set relisting rules, order tracking tools, and more.
You can even transfer listings from Amazon to eBay and keep the formatting, and it comes with useful SEO and marketing tools.
3. Kyozou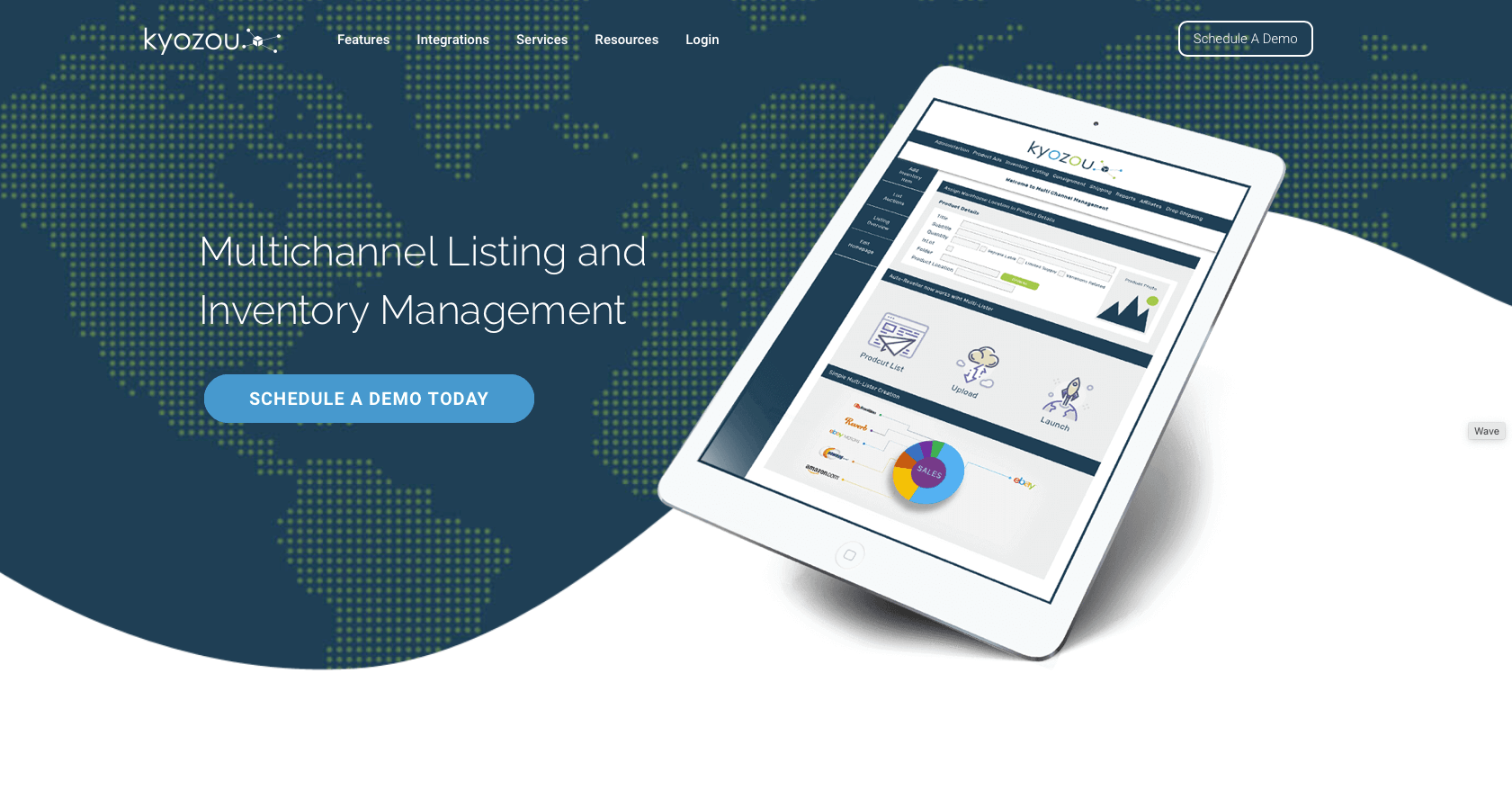 Kyozou is another popular tool, and it's not just any old tool because it's accredited by eBay, so it has official approval.
As such, you can expect excellent quality and you know it will stay up to date with any eBay changes, giving you peace of mind.
In Kyozou, you can manage all your listings from one place and streamline the process to keep everything organized.
It has auto-list features and relisting options, either individually or in bulk. You can use it to create bundles, use the listing scheduler, and automate lots of processes.
It also comes with other tools that help you manage your account inventory, and it's easy to connect in a few clicks.
While it packs in many comprehensive features, it remains easy to use. In short, it's got everything you could need from your eBay listing software.
4. GoDataFeed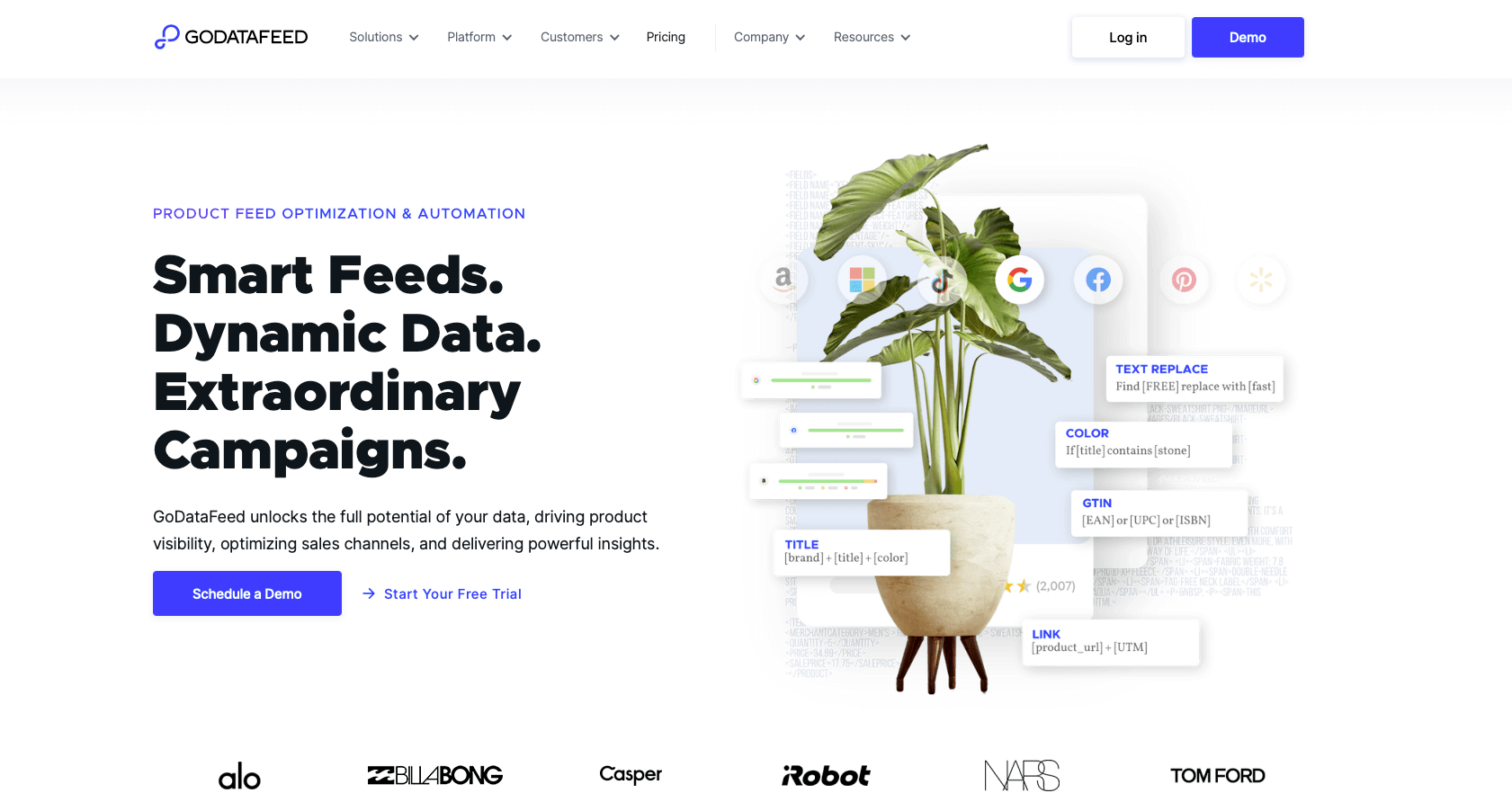 GoDataFeed is another popular option for anyone looking for eBay listing software tools. It's also on the official eBay list, so again you can use it with peace of mind.
It packs in lots of features and many options, even on the cheapest package, like unlimited motivations, dynamic optimization, bulk changes, feed scheduling, and more, making it a good choice.
5. CrazyLister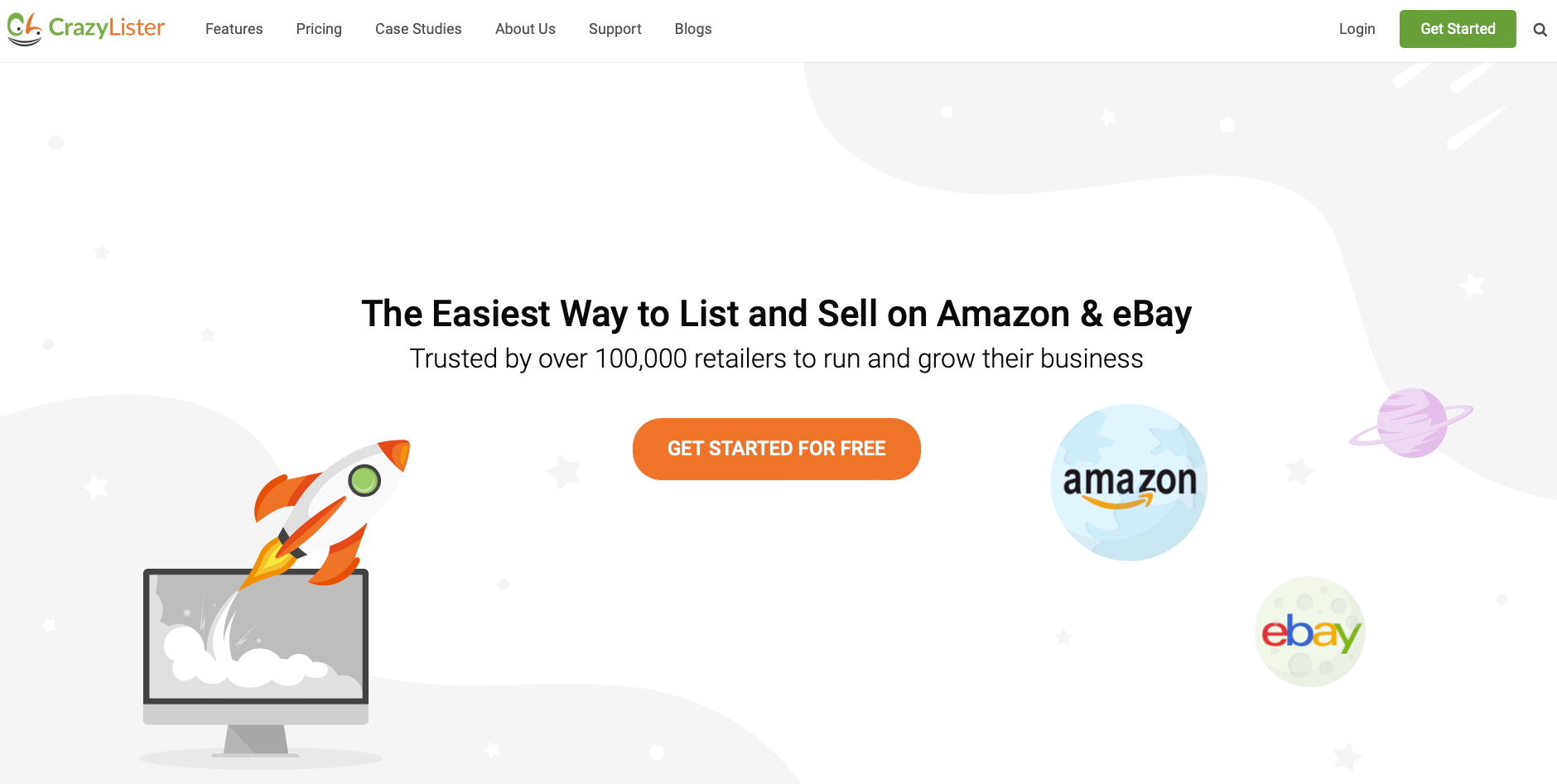 This bulk listing tool is very popular, and it makes the process of creating new listings and managing them all in one place easy.
Making professional listings is easy using CrazyLister. You can also use it to list your inventory on Amazon, add variations and specifics, and use professional templates to make your listings stand out.
The drag-and-drop editor is easy to use, and you can apply a template to lots of listings at the same time with a click.
Related: How to Create the Perfect eBay Listing 2023
Product Research
Finding good products to sell that will take your business to the next level is one of the best parts of running an eBay business, but it can be time-consuming.
With visiting dozens of websites, researching trends, picking out the gems, etc., there's a lot to consider.
That's why product research tools can be so useful. They can automate a lot of the process for you, saving you a considerable amount of time and effort and helping you pick out the winners so you can spend less time focusing on the losers.
Let's take a look at some of our favorite product research tools.
6. Terapeak
Terapeak was bought by eBay and is now provided to users for free with some eBay Store subscriptions, so it's a great starting point.
It's an excellent tool for finding out the best products and categories as well as finding out what the top sellers are doing to be successful.
You can view sales data for millions of items for the previous year, including listings, items that were sold, price, shipping costs, trends, and more.
Just enter a keyword or a specific product to get ideas and access masses of data to take the hard work out of your product research.
You can also filter results by listing type, condition, category, stock levels, and more.
You can also see trends in the items that are selling the most, get keyword ideas from top listings, see the images used, and lots more to save you a ton of time.
7. ShelfTrend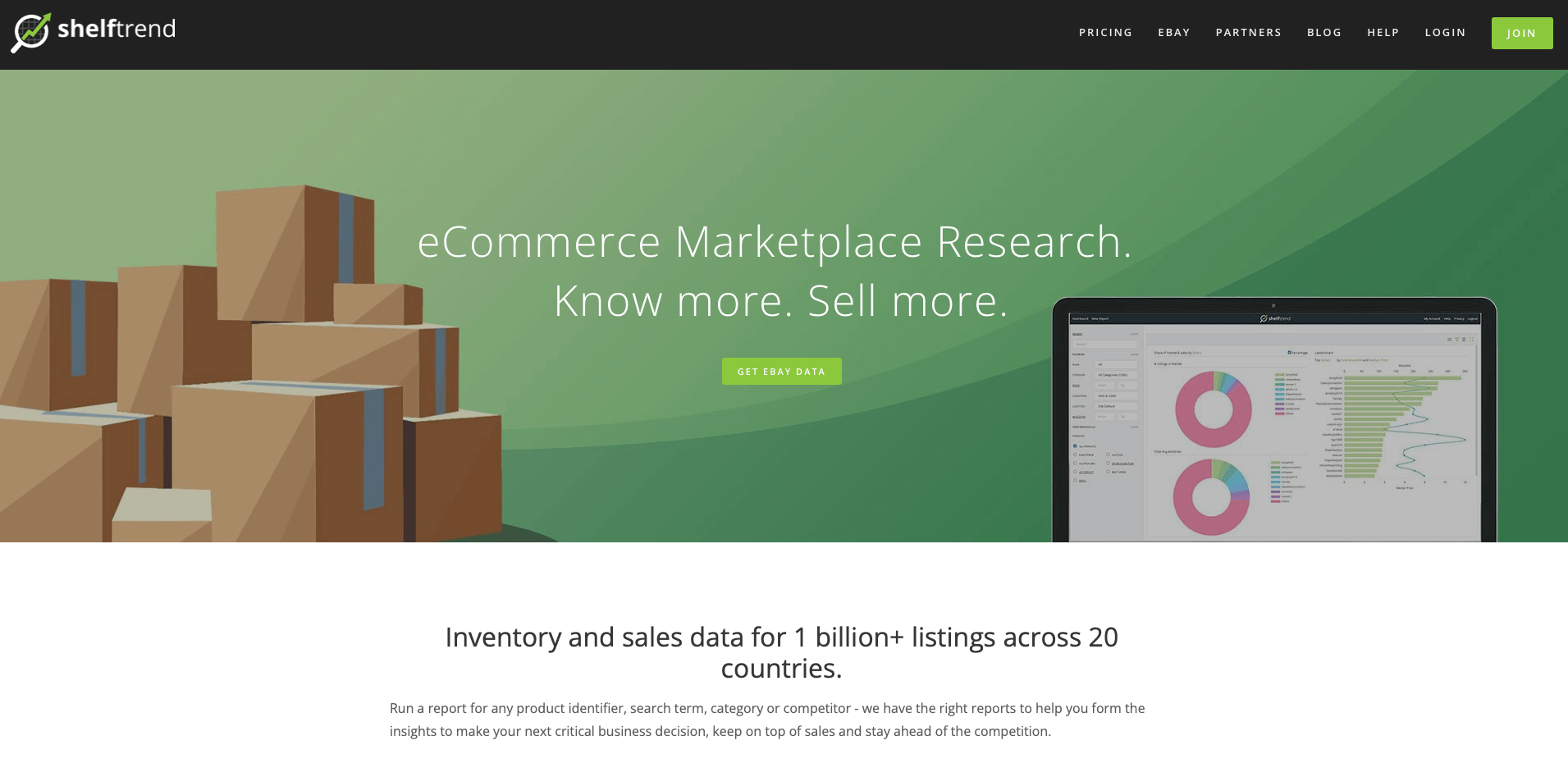 ShelfTrend is another popular product research tool. A free version is available, which is good on its own, but the paid version comes with lots more features.
Just link it to your eBay account and start getting ideas. It uses product listings from thousands of categories all over the world to help you identify ideas. It can also help you choose which keywords you should use to optimize your listings.
You can get notifications on trends, and you can also access lots of reports on new listings, weekly sales, etc. The dashboard is also very easy to use.
8. Zik Analytics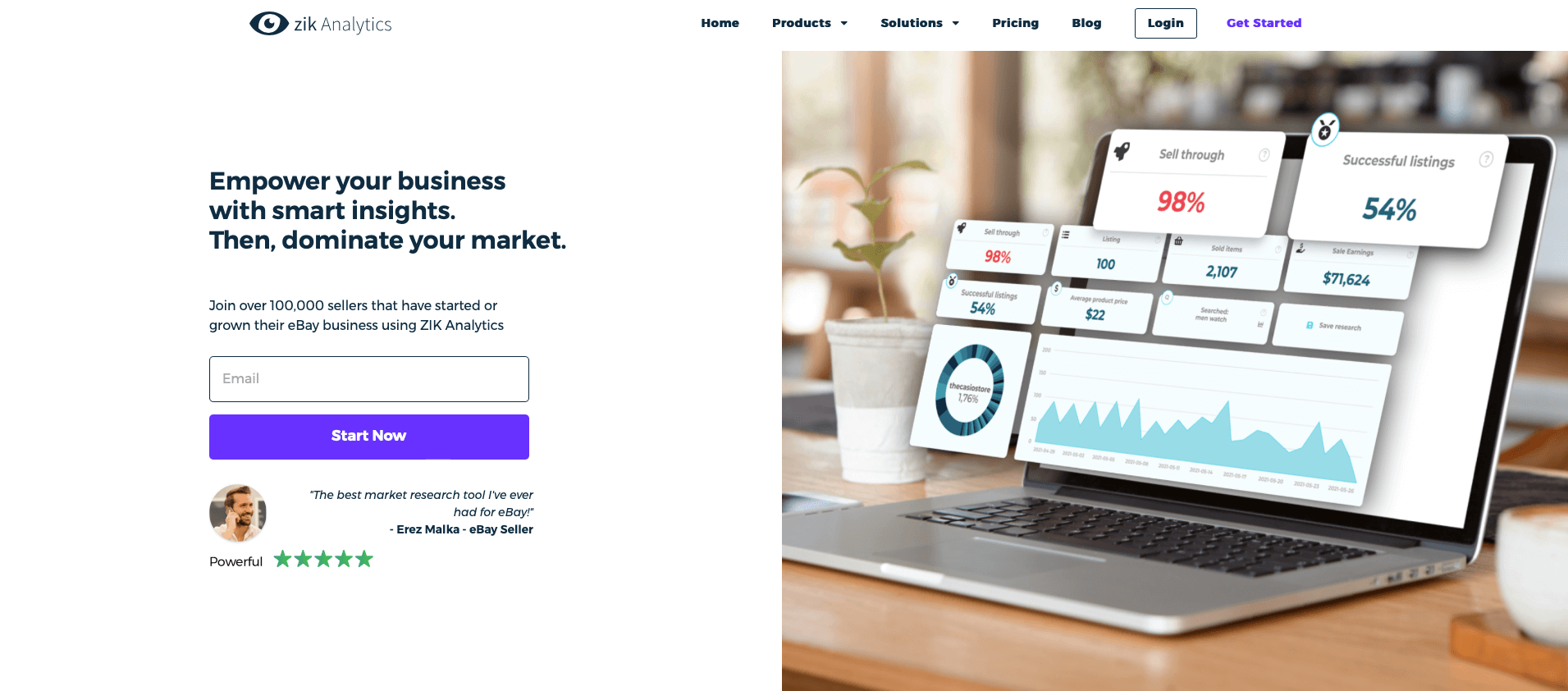 ZIK Analytics packs in lots of eBay research tools as well as a product research tool, and an AliExpress research tool.
You can use it to find out exactly what the current market is like for any product, see the number of listings, the products that have sold, total sales, average product price, percentage of successful listings, and more.
It makes it easy to pick out the best sellers in different niches and get detailed insights into search trends and product data.
Use it to find out what the highest-ranking listings are doing right, including details regarding their descriptions, keywords, images, prices, and more.
It also has a Competitor Research Tool that you can use to find out more about your competitors. Use it to see their active listings, earnings, prices, sold items, and other information to help you manage your own products.
Customer Service
Customer service is one of the less glamorous aspects of running an eBay business, but essential all the same.
Software helps you to make conversations with your customers, manage your customer service, and keep customers happier.
This leads to better reviews, better stats, more return customers, better visibility in search, and more.
But if you want to provide excellent customer service, it can be time-consuming. It involves lots of checking messages, replying, and spending time dealing with issues.
Which is why customer service software is so useful.
Good software can save you a considerable amount of time and help you avoid missing messages or replying late, which can have a negative impact.
Here are some of the best tools.
9. eDesk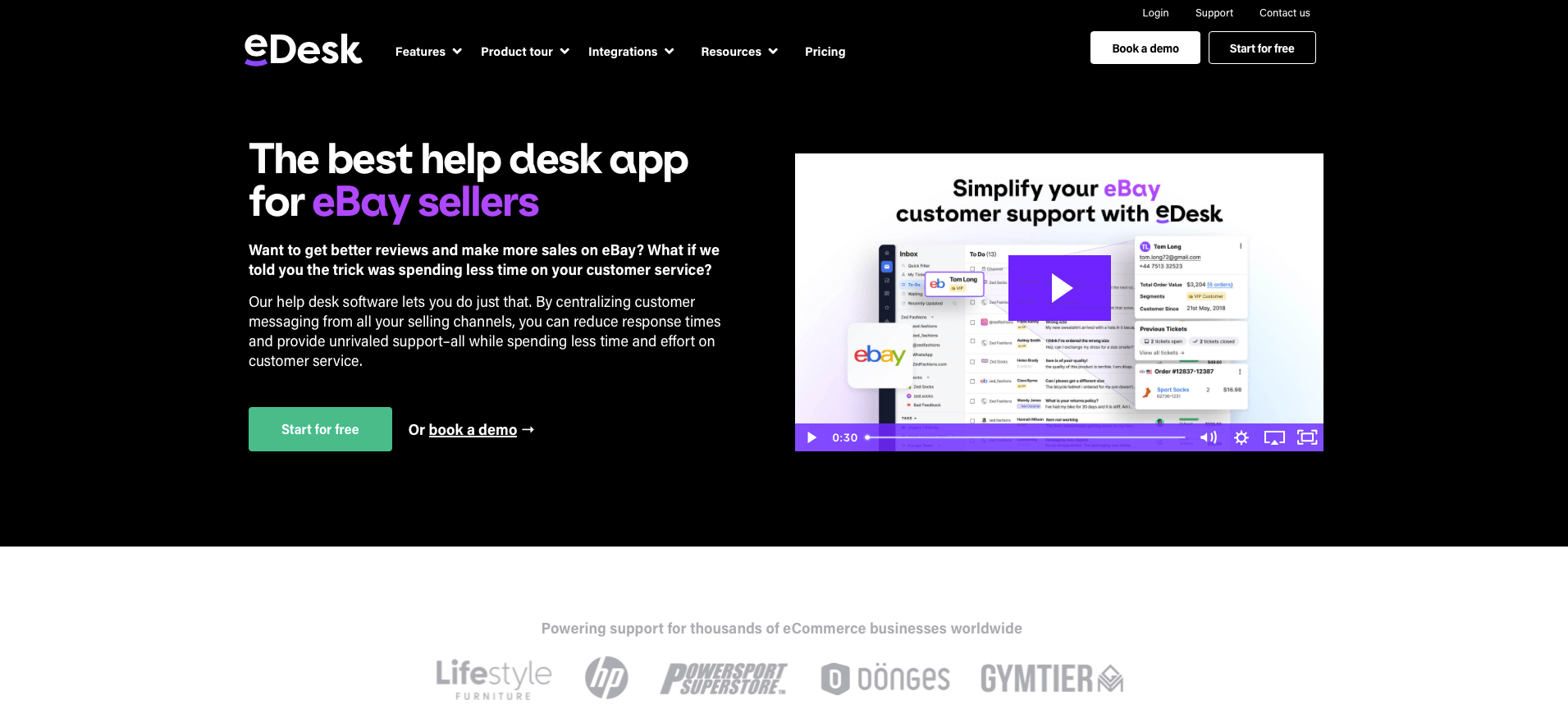 eDesk is one of the biggest and the best options available for eBay sellers. It makes it easy to simplify customer support, leading to better reviews and more sales.
It allows you to spend less time managing customer service by letting the software do it for you. And you can use it for multiple sales channels, not just eBay, to reduce your response times considerably.
You can view all the customer data and order details in one place, respond faster, and provide a better experience. You can also view tracking data, manage cases, and prioritize tickets.
eDesk provides lots of automated tools to speed up your work. You can use it to auto-assign features, sort messages according to ticket status, and use smart auto-responders.
10. AutoDS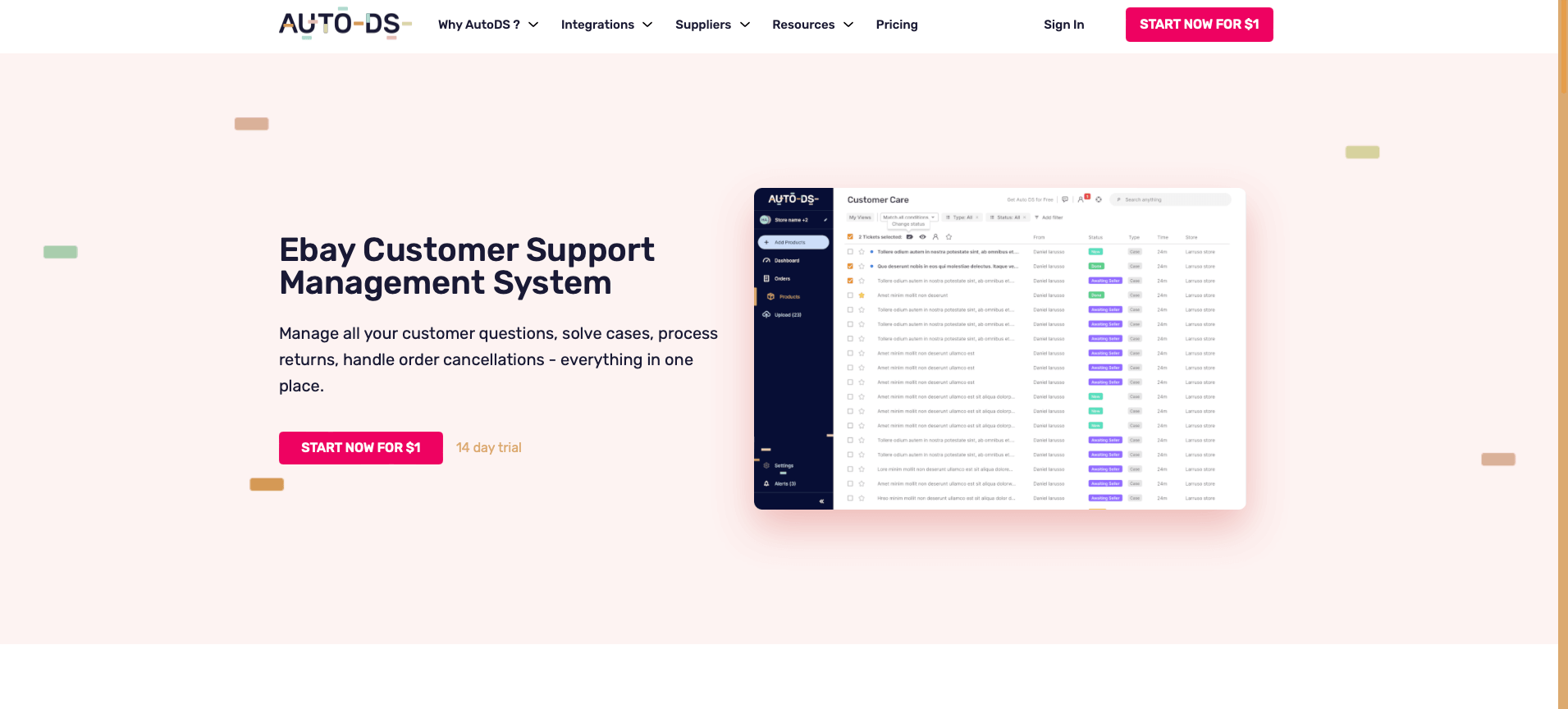 AutoDS is another good product that you can use to manage customer questions, deal with cancellations, process returns, and solve cases, all in one place.
It's a great option if you sell in different marketplaces, including Amazon, Shopify, Facebook, Etsy, and more, and you can group all your stores together.
You can use time-saving features like reply templates, and AutoDS tags make it easy to import details like the buyer's name, sale date, and more.
Feedback
One thing you'll need on eBay as well as other marketplaces like Amazon is feedback. Lots of positive feedback will have a huge impact on your business.
More happy customers means more repeat customers, which is always good. It also gives customers more trust in your business because it shows that you care about the service you provide.
But it will also affect the visibility of your listings and increase your chances of winning the Buy It Now Box.
Providing a great service is just the start of it. While that's the most important thing to do, you can also take action to get more reviews, and there are several tools that can help you.
11. FeedbackExpress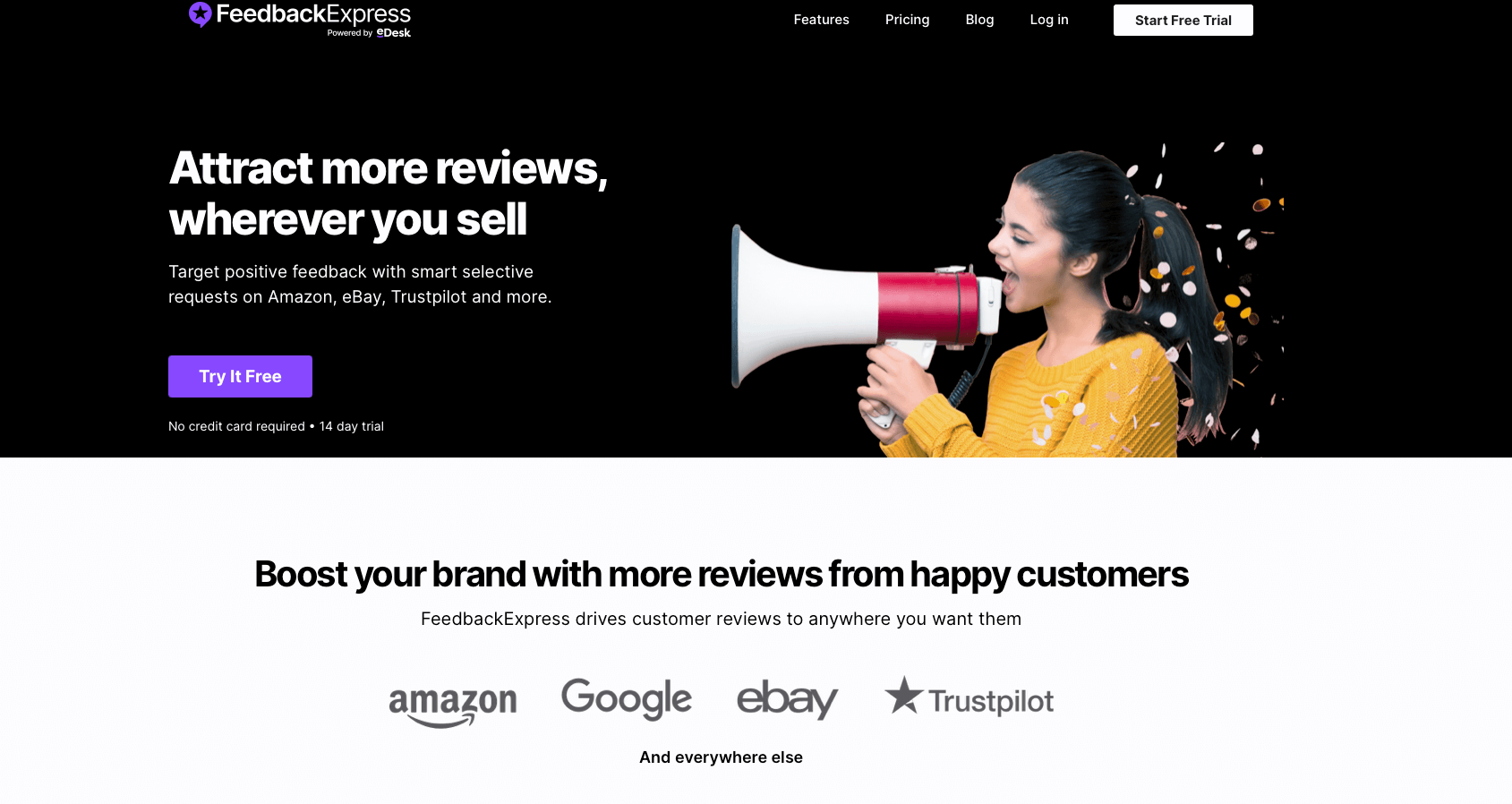 FeedbackExpress enables you to intelligently solicit reviews from eBay sellers who have had positive experiences with you. The platform gives you the power to reach out specifically to customers who have previously left positive feedback. Additionally, you can avoid sending requests to customers known for leaving negative reviews by placing them on a blacklist. The service features full automation capabilities, allowing you to accumulate reviews effortlessly—even while you're asleep.
As an official developer partner of eBay, FeedbackExpress ensures complete adherence to eBay's policies.
12. Feedback Boost
Feedback Boost is a popular tool that tracks your orders and allows you to send two reminder messages that are fully customizable through the eBay messaging system.
You can choose different schedules for domestic and international shipments, get reports showing how much impact your reminders are having, block problematic buyers with the blacklist feature, and more.
Use it to automate your feedback for buyers after they leave positive feedback for you or after the payment goes through, saving you time. You can also send a reminder email letting them know that you have left them feedback already.
It's packed with features including alerts when a buyer leaves feedback. Then you can follow up to request a revision, saving you lots of time checking your reviews.
13. 3DSellers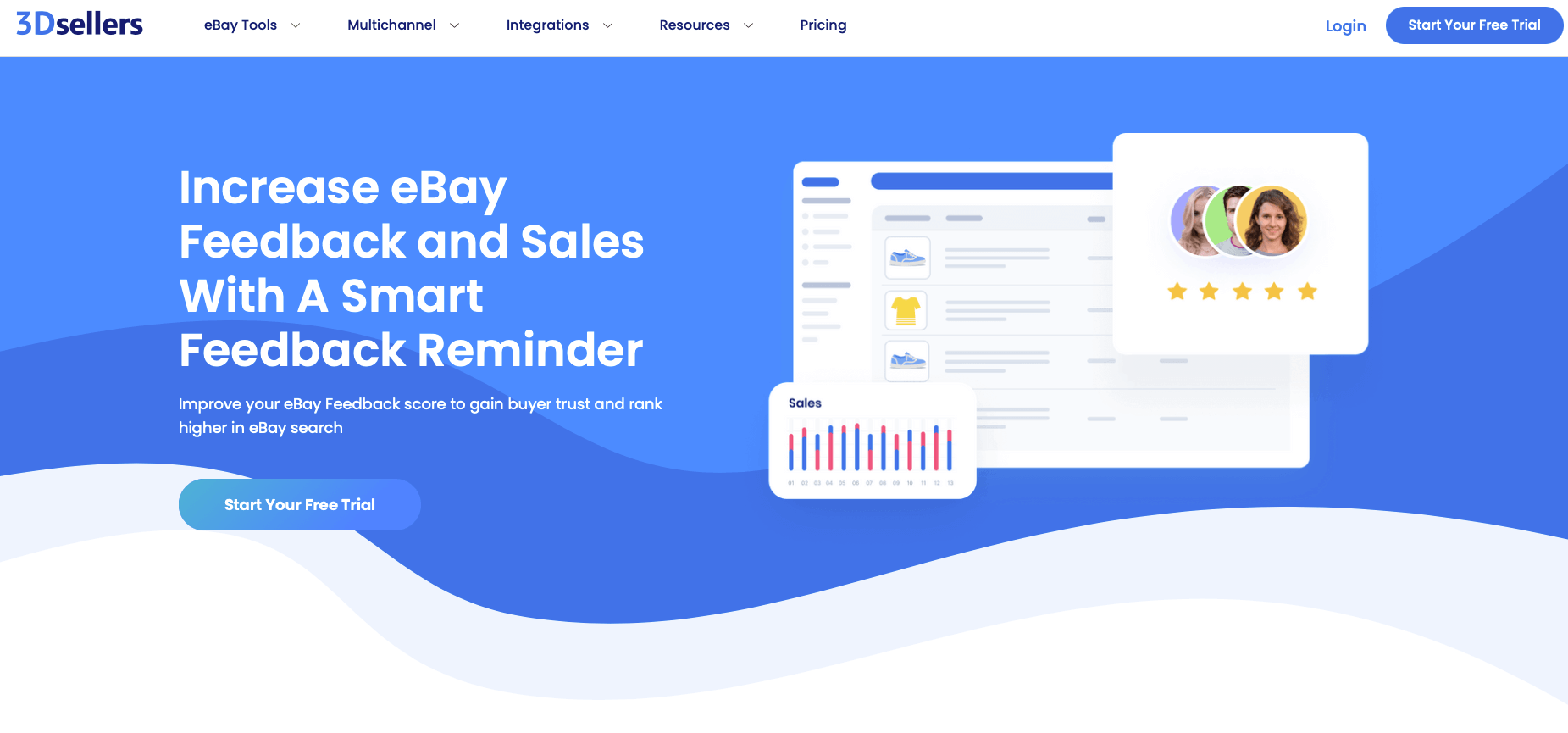 3Dsellers also has a feedback reminder tool that claims to be the most advanced feedback auto-feedback tool for eBay.
You can clearly see how much your reminders are helping to get reviews and the impact they're having on your Seller Feedback Score. It also uses eBay's messaging system.
With this tool, you can set it up and forget about it. Choose when to send emails at the best times, when to send reminders, like after payment or shipment, and customize messages too.
Inventory Management
Managing inventory properly is essential for any eCommerce business, whether you run a business from your own website via Amazon, eBay, or all the above.
Failing to manage your inventory correctly will hurt your business. If you run out of stock, you can't sell, and this affects your profits.
This can hurt your ability to win the Buy It Now Box because you need to show consistently good inventory levels. You don't want to have too much stock either and be left with an excess that you can't sell.
That's where inventory management software can help by automating a lot of the process for you. Use it to improve your inventory management as well as speed it up and make the whole process more efficient.
14. SellBrite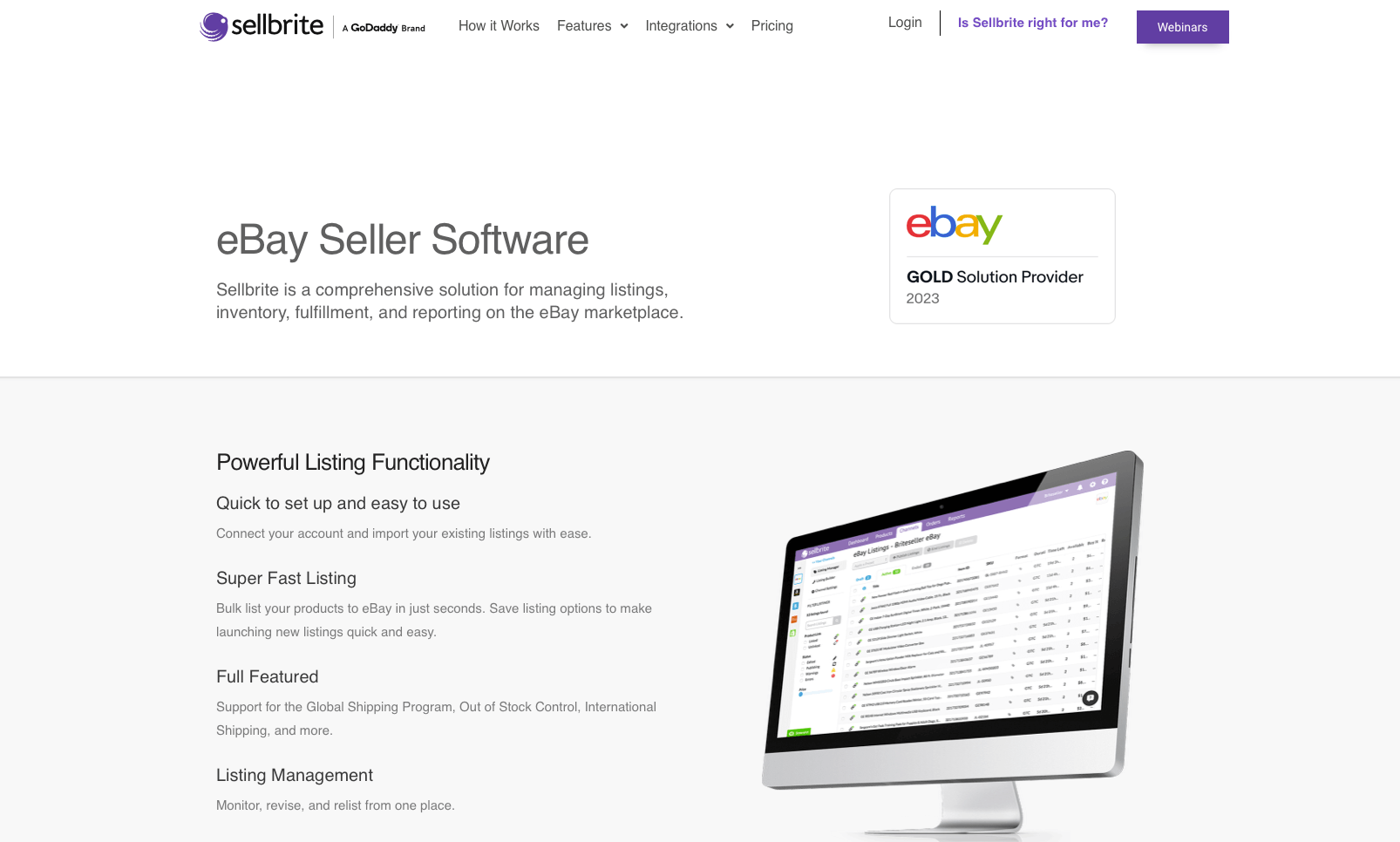 Whether you sell on eBay alone or other marketplaces, Sellbrite is one of the best tools in the business.
Use it to list your inventory in a central catalog and then transfer to different marketplaces. You can manage orders and fulfill them right from within Sellbrite, saving a lot of time.
You can list and manage your inventory across eBay and other channels, manage your inventory, and keep track of levels, orders, pricing, and more. It automates pricing, order fulfillment, and more, saving you a lot of time.
All in all, it's a very comprehensive package that comes with a user-friendly interface.
15. Seller Dynamics
Seller Dynamics is a great option for eBay sellers as well as sellers on other channels.
It provides production reports for items based on their location and quantity if you have them in different warehouses. You can also get info on trends, including what's selling and what's not.
It has an order processing feature, stock management, fulfillment system, and quantity control, and it makes it easy to relist inventory automatically.
16. Seller Active
Seller Active is a great option for inventory management. You can use it to resolve problems with items out of stock and overselling problems, and the inventory syncing feature is excellent.
It's a great choice if you want to sell bundles, and you can update items even if you sell them separately. It's also useful if you have stock in multiple warehouses.
Accounting
Perhaps the least interesting part of running an eBay business is dealing with accounts and taxes. Not for everyone, of course, but many sellers would rather get on the actual selling.
Whether you like accounting or not, good accounting software can make a big difference and save you a lot of time. This is especially true when you can use automated features to speed up processes.
There are several options on the market, and while these are not specific to eBay, they can all be used by eBay sellers to keep a close eye on their accounts.
Check out a few of our favorites below.
17. Xero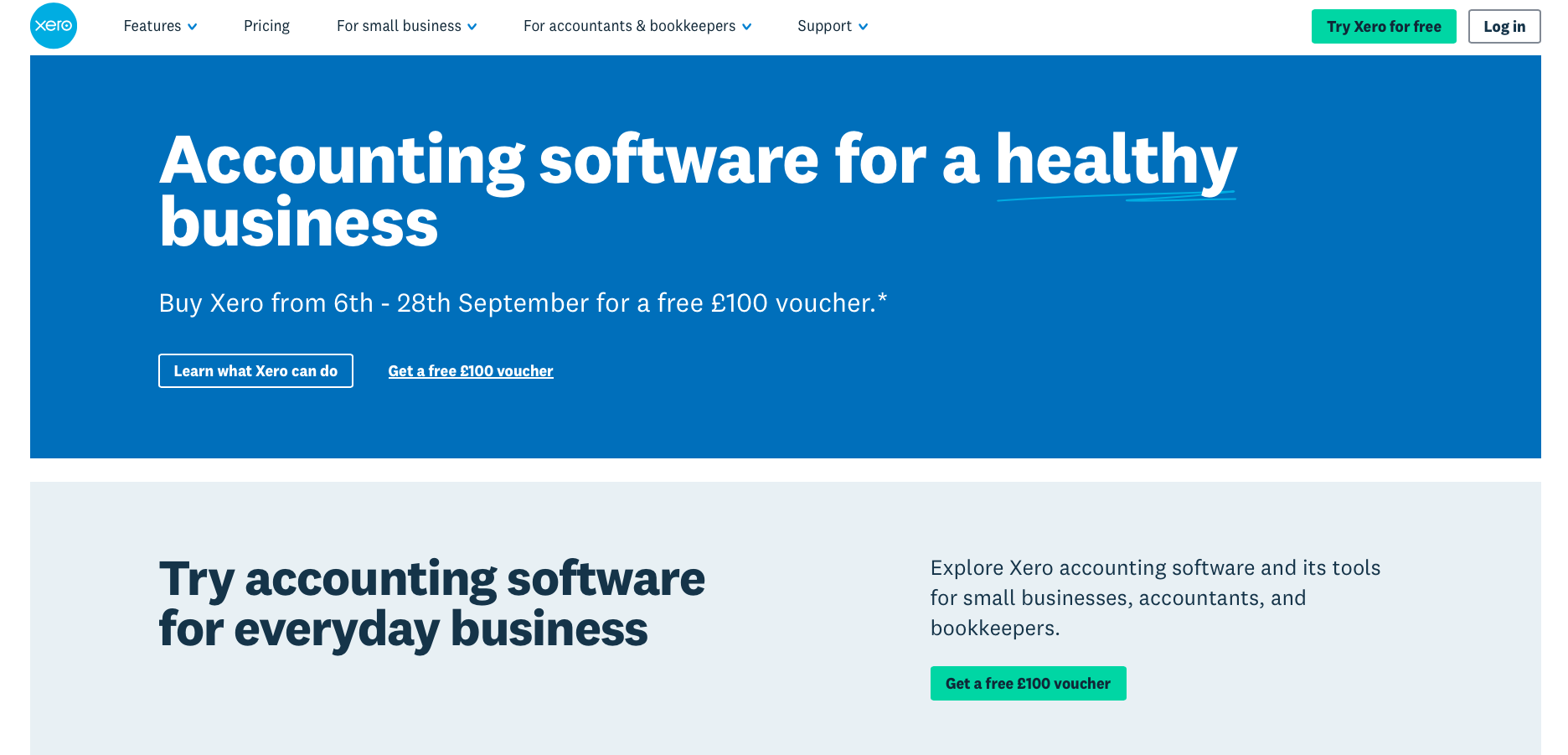 Xero is one of the biggest and most well-known accounting software solutions, and it even includes inventory tracking, making it top of our list.
It integrates with hundreds of apps, but the simple dashboard is easy to use, and it's also an affordable option.
18. Quickbooks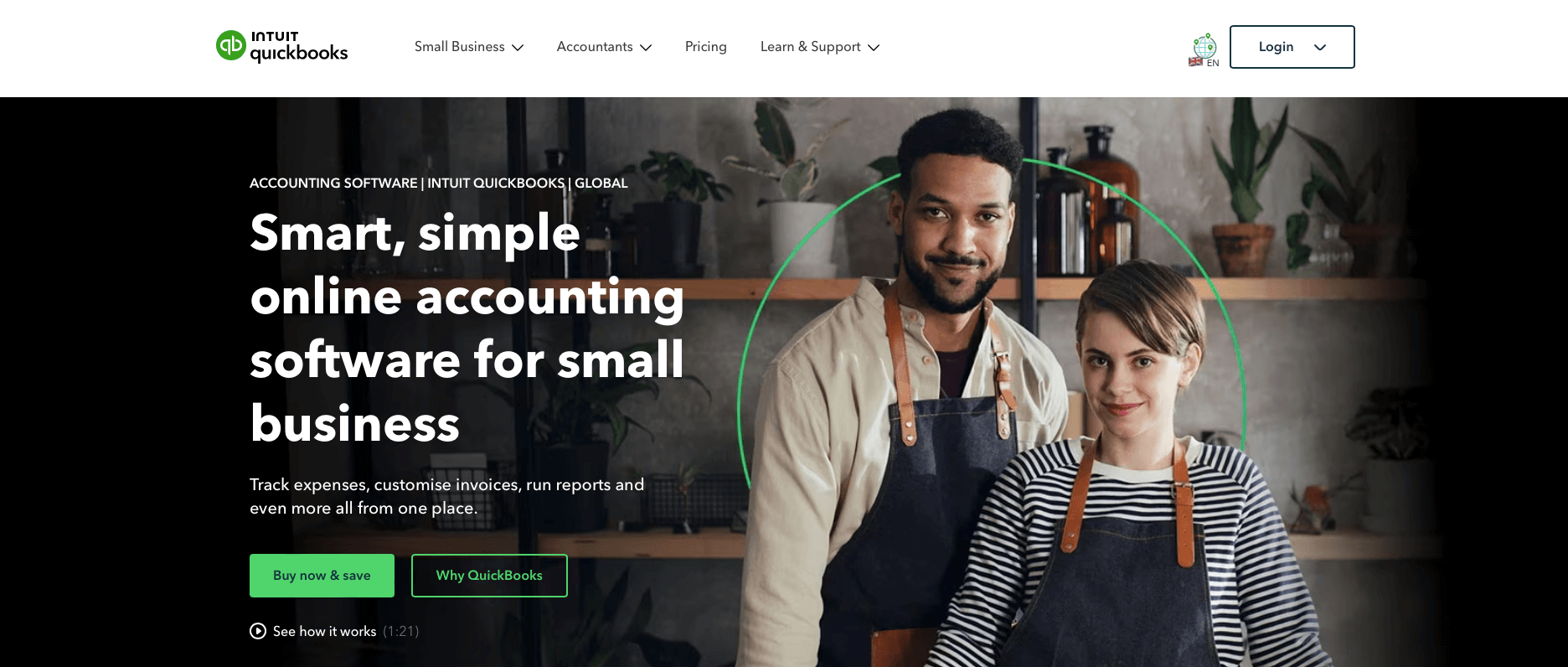 Quickbooks is another popular product that you can sync with your eBay account and other eCommerce apps and automate the transfer of data, saving you a lot of time.
Use it for cash flow tracking and to generate quarterly tax estimates among many other useful features.
Conclusion
There are many automation tools available for eBay sellers. This list only covers a few of the best, and there are more available.
But you can't go far wrong with the automation software on this list, and using a selection of these apps can do so much for your business.
All the eBay tools here can help to speed up your processes immensely, allow you to provide a better service to customers, improve your seller stats and reputation, boost the visibility of your listings, get more sales, and grow your eBay business.
Smart sellers use automation and let it do the hard work for them. So if you're tired of the repetitive tasks that take up your time, use software to do them faster and better.
Take your pick from the tools included in this list, try them out, and see how much time you can save running your eBay business.