Selling on eBay is an excellent way to earn money and grow a profitable business. In fact, in just the past year, eBay has grown by 19%, with more than 159 million active users. With the eBay marketplace now globally available in over 180 countries, more than 2 billion items are sold on eBay around the world every day!
Given these figures, it's easy to see why selling on eBay is a great way to reach a large market demographic.
There are many factors involved in becoming a profitable eBay seller, including understanding eBay's search algorithm, offering free shipping when possible and uploading the right images.
These are all highly important, and they all feed into the one area we want to focus on today; creating the perfect listing.
What is the recipe for creating an eBay listing that will make your products stand out?
Read on as we walk you through some of our tried and tested methods for creating eBay listings that get your products seen and increase your sales.
1. Presentation is everything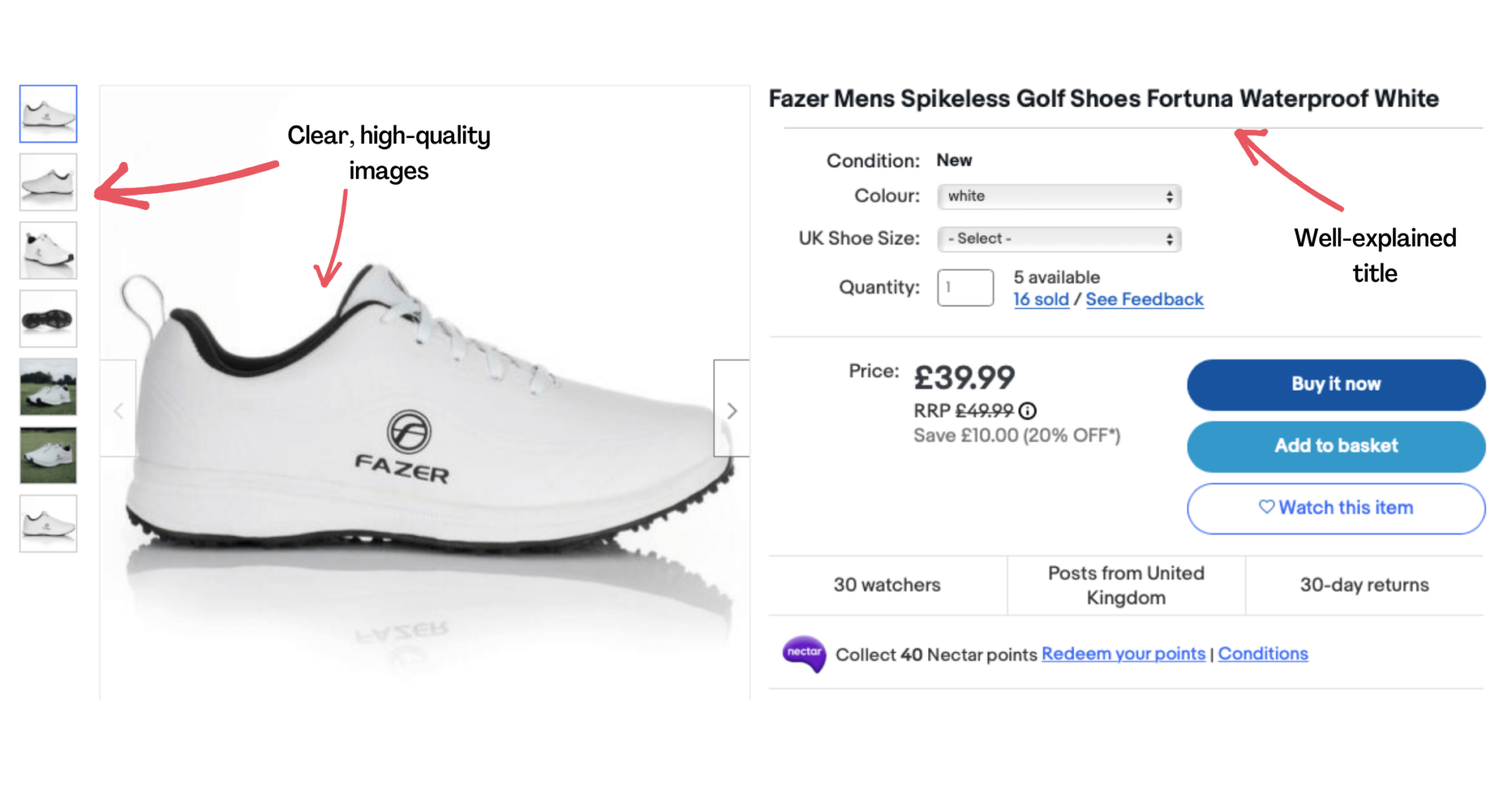 No one likes a cluttered listing full of unnecessary words, poor quality images and sloppily written descriptions. If your eBay listing doesn't look professional in its presentation, most people won't bother reading it and may skip over the listing altogether.
Shoppers want to quickly see the product and read about its key features in a way that's easy to understand and visually appealing. That's why it is a best practice to separate product images from product descriptions.
Organise the layout of your listing to ensure that product images are in one section, product details in another section, and shipping terms in a separate section. Doing so will 'clean up' the listing and make your listing more attractive to potential buyers.
This can become a challenge the more you grow your business, as you'll have more products to sell and may be selling internationally. Once you're at this stage in your business, an eBay inventory management software may come in handy as this allows you to edit and upload product listings from one centralised location.
2. Choose the most appropriate category for your listing
eBay offers a number of different categories to help make it easier for shoppers to find the correct item to purchase. For sellers, choosing the right category will make it more likely that your target audience will find your listing.
eBay will typically suggest a category based on your listing title, but if you don't agree that the proposed category is the right one, you can always search or browse categories to find a more appropriate fit.
eBay also allows sellers to list in two categories, which can be helpful if the product you're selling overlaps genres. For example, if you are selling some vintage books, it might make sense to categorise your listing under 'books' and 'collectables' so that it reaches the right audience for that particular item.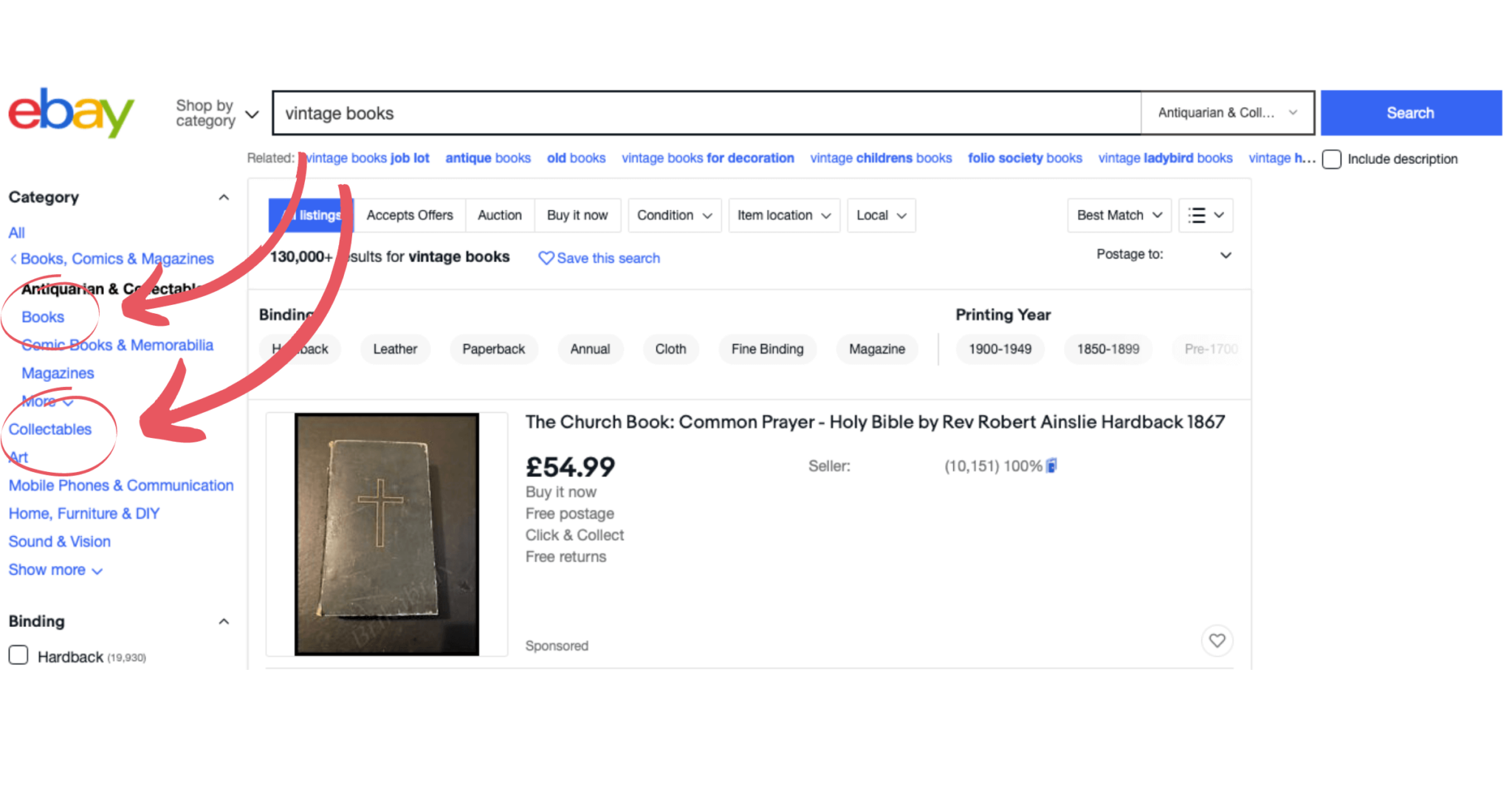 However, do remember that some items are not available for listing in more than one category. Motor vehicles are one such item, which eBay only allows to be listed in the 'motors' category.
There are also subcategories available within each main category to hone your listing even further to be more specific with the audience you wish to reach.
Making sure to properly list your items in the correct category can make a difference in terms of who views your item. After all, you want to get in front of the right buyers!
3. Use the right keywords
Keywords are crucial. They can make or break your product when it comes to the search. And with eBay's search algorithm frequently changing, you'll want to make sure that you are using keywords that are most relevant to your target audience.
Of course, the algorithm considers many more factors than just keywords used; however, a good starting point (and something that does factor in searchability) is having accurate and relevant titles and writing clear item descriptions for each of your listings.
This means using keywords relevant to your item and descriptions that are accurate to the item you're selling but that will also appear first in the search results for those items.
You can think creatively about keywords, too. For example, if you're selling baby items, you may wish to include keywords such as "mother", "family", and "newborn" so that you have the entire genre covered in relation to items that parents looking for baby items might include in their keyword search.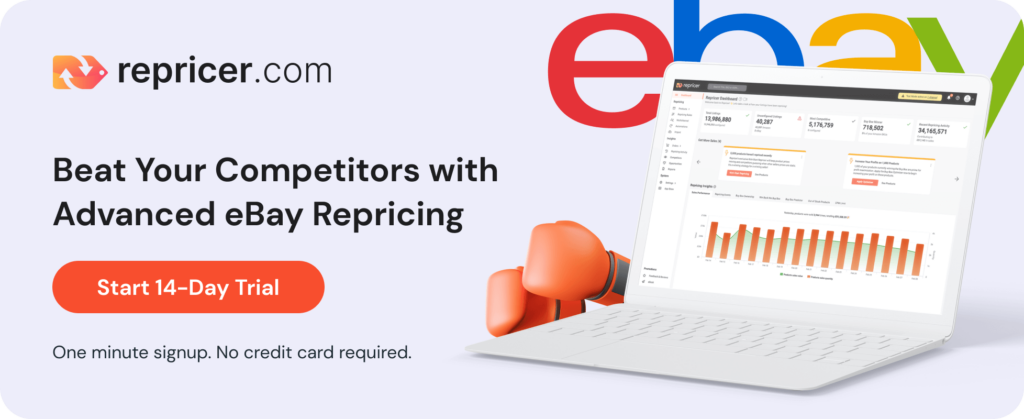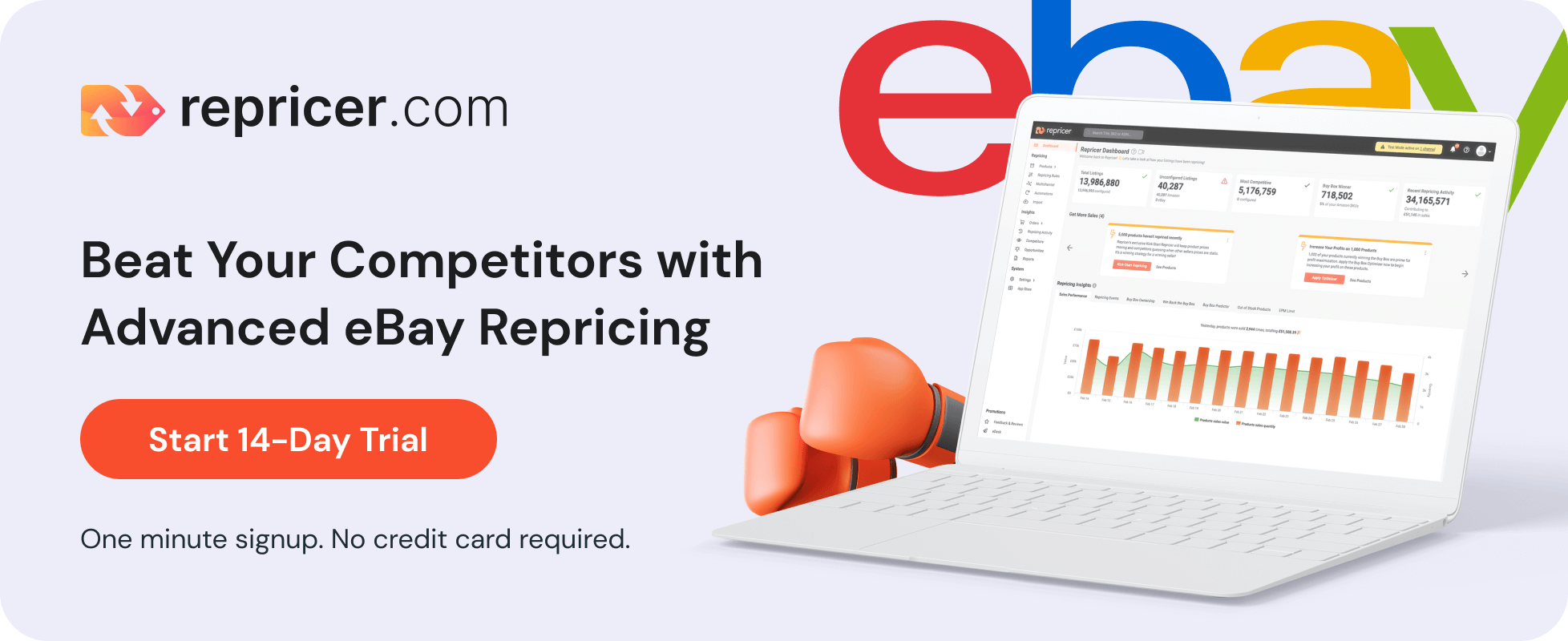 4. Use the correct title for your listing
The title is the first thing a shopper will see when they reach your listing, so you want the title to be accurate and to draw people in.
The proper title should always explain exactly what the product is first and foremost, but you can also use the title to be a bit creative with your keywords to grab shoppers' attention!
5. Duplicate the title in the description
By repeating the title of your listing at the beginning of your description, you reiterate your product information and provide a nice lead-in to the description area. The description area is where you can provide additional details and in-depth information about the product.
Importantly, duplicating the title in your listing and at the beginning of the description also helps the search algorithm.
6. Write product descriptions that sell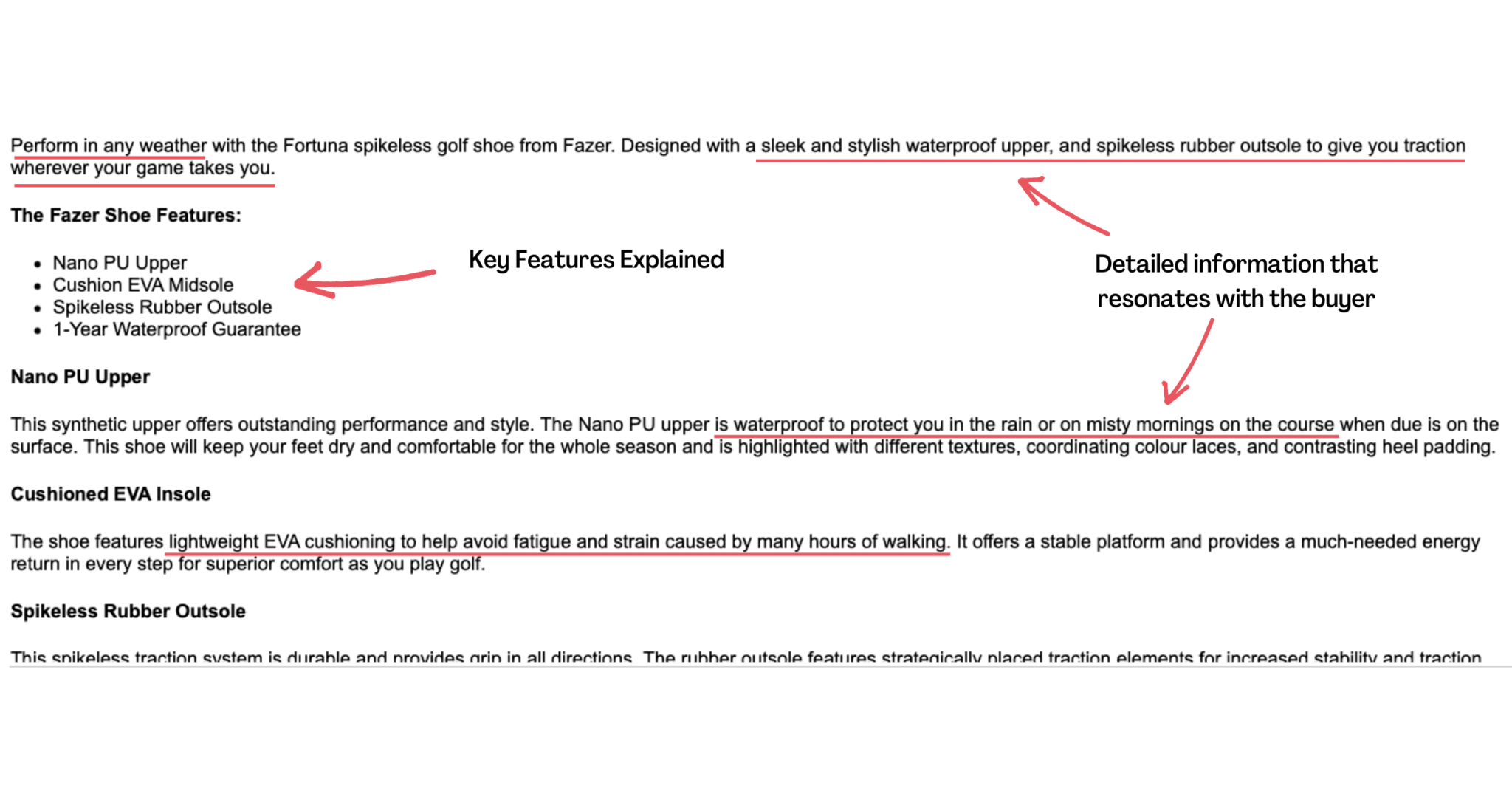 Like the sales pitch at a market stall, your product descriptions give the sales pitch to browsing shoppers. How you write your product descriptions can be the deciding factor as to whether someone will buy your product.
It's essential to be honest about your products' quality, features, and condition (particularly if selling secondhand). Providing need-to-know information about each product in a clear, visually positive way will give shoppers the information they need without sifting through lots of text.
Each eBay listing requires item specifics to be listed, such as size, type, brand, colour, style, and other relevant info about the item. It's good to provide as many of these specifics as possible because it can help ensure that your item achieves maximum visibility on both eBay and externally on Google Shopping.
Putting together a good product description is a delicate balance between being informative without overwhelming the shopper with too much information. Writing some cracking copy in your product description will draw people in and ensure the sale.
7. Keep product information organised
Many products will typically have a lot of information to describe. But if you want your listing to attract viewers and increase your chances of making a sale, it's essential to keep the description free of clutter and not to add too much information in one place.
Information such as terms and conditions, refund policy, and shipping details should be kept in a separate category to improve the readability of your listing.
As discussed in the first point about simplicity, you don't want the product information to become too difficult to read. Make it clear, concise and add the facts that shoppers need to know first and foremost.
8. Uplevel your imagery
Photos are vital when it comes to eBay listings. Shoppers want to see precisely what a product looks like because, let's face it, it's rare we purchase without seeing a product! By taking professional-grade photos, you can wow shoppers with the quality of your products and increase your chances of making a sale.
High-quality images help showcase your product in its best light. eBay requires that you include at least one picture with each listing. This is the 'main photo' and is displayed next to your listing title in search results. You can then add up to 12 additional product images to each listing. This can be done using the eBay picture manager.
Some tips for creating high-quality images that will grab the attention of shoppers include:
Use a plain white or neutral backdrop to set your item against. A black background works better if your item is shiny or reflective (such as jewellery).
Use a tripod to shoot your photos to ensure that your images are clear, crisp and sharp.
Take product images that show the top, bottom and sides of each item, interior shots if necessary, and close-ups that showcase product detail. If your product is secondhand and has imperfections, such as scratches or flaws, it is also recommended to take zoomed-in photos of these so that you are transparent with potential buyers about these defects.
Ensure your photos are at least 800 pixels on the longest side (eBay recommends 800-1600 pixels on the longest side). Image files should be no larger than 7MB in size.
It is not advisable to use flash photography, as this can create glare, shadows and greyness, which will reduce the quality of your image photography.
Don't overlay text on your images. This is not allowed, and text should be left for the product description. It looks more professional when your high-quality images are clean!
9. Choose the right price
Pricing your product is one of the most important decisions you'll make when crafting your listing. You want to ensure that you are on par with your competitors but don't want to shortchange your business!
Before pricing, you'll first want to determine what format you'll use to sell your product. eBay offers auction-style listings and a fixed-price 'Buy It Now' format.
Choosing the format will determine how to price your product. If you're using auction-style for your listing, you'll want a low starting price to generate attention and start the bidding process.
Depending on the category, you can sometimes include a reserve price to protect your auction from ending with a low-ball offer. You can also include 'Buy It Now' on an auction listing, but it must be at least 40% more than the starting auction price.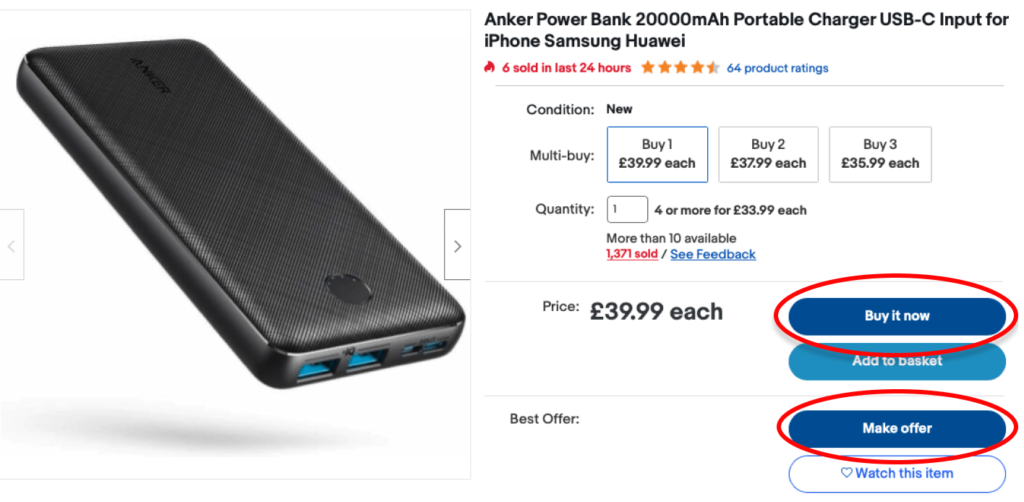 Using the fixed-price 'Buy It Now' listing format is more straightforward. You simply set a price for your listing, and either people will buy it or they won't. The only exception is that eBay has a 'Best Offer' option which you can add to your listing so that buyers can make offers and you can choose whether to accept or decline.
Even if you're using a fixed-price format to sell on eBay, it can still be tricky to ensure that you have the price right. Too high and you won't get any buyers; too low and you'll eat into your margins. Fortunately, we've got your back: our eBay pricing guide can help you understand how to strike the right price.
10. Make buyers aware of your eBay store
Most of the time, buyers will find your listing because they search for a specific item. But you can take this opportunity to make them aware of more than just your listing. Let them discover your entire eBay store!
If someone is looking for a product you're selling, they'll be interested in similar items. You can generate interest in your store by leveraging the eBay store feature and displaying your category tree on each listing.
This lets buyers know that you have many more products to offer and helps browsers navigate to your entire product category instead of finding each available item through the eBay search. It helps build your brand, too. When people navigate to your eBay store, you drive brand awareness and allow people to view your business as a proper shop rather than a list of items for sale. This is why you should name your eBay store to make yourself memorable, create a brand, and drive loyalty.
11. Hire a designer
It's possible to DIY your way to a profitable eBay store. As you grow your business, you may decide that you want a more high-end look and feel to your eBay store, including proper branding for your business.
If that's the case, consider elevating your eBay store by using a professional design service to spruce up your listings. A design service removes the guesswork and provides consistent branding, high-quality imagery, and professionally copy-written product listings.
Today, there are professionals available who specialise in design specifically for eBay stores because, as you can see, selling on eBay can be big business!
Final Thoughts: Drive more sales with the right eBay listing
We hope you find these tips helpful as you build your own eBay business. Selling on eBay has many moving pieces to consider, and there's much to learn. But if you follow best-practice tips, it can be a satisfying and profitable endeavour.
Try Repricer.com's advanced eBay repricing for free today. Create rule-based repricing strategies to beat your eBay competitors and increase your sales. Our super-fast eBay repricing works across all 20 eBay marketplaces.