Google has announced that it's allowing all online sellers to list their products on Google Shopping free of charge.
The move is a dramatic departure from Google Shopping's previous model, which required merchants to advertise on the platform for their listings to be featured.
Bill Ready, President of the Commerce Department references the coronavirus pandemic as the primary reason for the decision.
"With physical stores shuttered, digital commerce has become a lifeline for retailers. And as consumers increasingly shop online, they're searching not just for essentials but also things like toys, apparel, and home goods. While this presents an opportunity for struggling businesses to reconnect with consumers, many cannot afford to do so at scale."
The changes will take place in the U.S. before the end of April and will be rolled out throughout the rest of the world before the end of the year.
The move to allow free listings on Google Shopping is good news for online sellers looking for a new channel to reach potential customers. It will also present an opportunity for traditional retailers who are transitioning to eCommerce.
Is Google taking aim at Amazon's eCommerce title?
Google's eCommerce channel has been around for nearly twenty years now, starting life as 'Froogle' in December 2002.
In 2012 it was re-branded as 'Google Shopping' and transformed into a 'pay to play' channel. Since then, sellers have been forced to bid for listing positions in order to be featured.
Google Shopping ads are a highly visible way of positioning your products at the very top of search results. As you can see below, they're placed even higher on the page than regular search ads.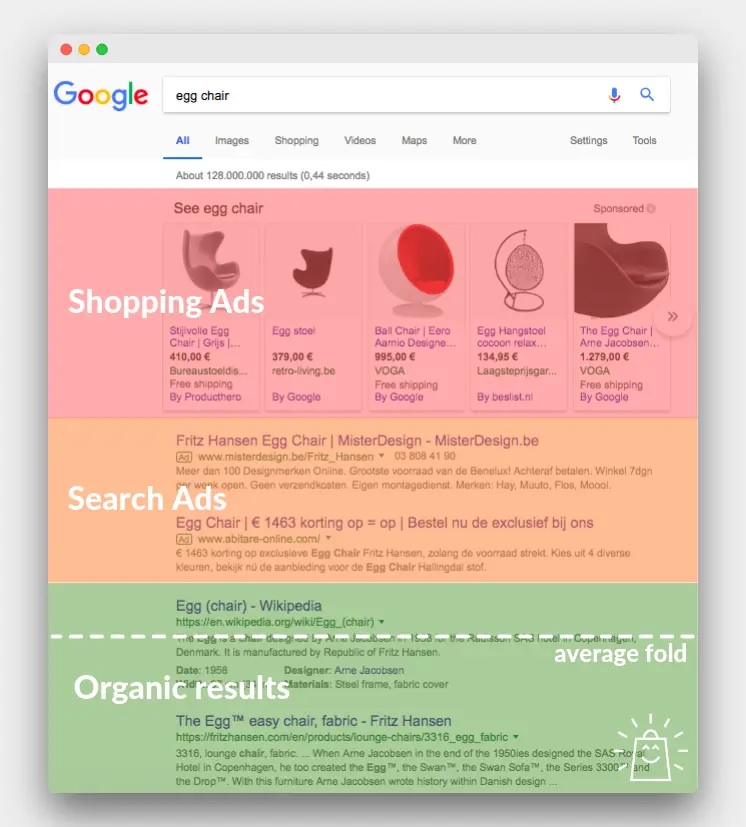 Despite this, many online retailers still focus on paid search or organic results to drive traffic to their store. Consumer behavior can be attributed as a significant contributing factor to the limited uptake of Google Shopping to date.
Google Shopping vs Amazon
Limiting Google Shopping listings to paid ads has narrowed the range of items appearing to consumers on this channel. In contrast, the variety and competitive prices provided by Amazon's network of third party sellers is growing by the day.
As a result, 56% of consumers say they use Amazon as a starting point for product searches over Google. Given the online search dominance Google usually enjoys, this statistic is obviously something the tech giant is keen to change.
Indeed, Bill Ready mentions in his announcement that the decision to include free listings in Google Shopping is "an advancement" of existing plans.
The challenge of coronavirus for Amazon FBA sellers
In the challenging 'lockdown' retail environment brought about by the Coronavirus outbreak, Amazon has suspended all deliveries of non-essential items to its warehouses. This has forced many FBA sellers to look beyond the Amazon eCommerce ecosystem for sales and fulfillment services.
Google's Bill Ready notes, "as consumers increasingly shop online, they're searching not just for essentials but also things like toys, apparel, and home goods." By providing sellers with more organic visibility, Google are presenting themselves to sellers as another way to reach a vast audience of online shoppers.
Google simplifies onboarding for new sellers
In anticipation of a stream of new retailers listing their products for the first time, Bill Ready highlighted a priority to "streamline the onboarding process over the coming weeks and months."
The company is allowing PayPal users to link their existing accounts with the platform in an effort to fast-track the uptake for online sellers.
Final words
These are challenging times for every online retailer. Whether you're experiencing a squeeze on demand or an upsurge in customer service tickets or order to fulfill, help is welcome wherever it comes. This decision by Google signals a shift in strategic direction for their shopping channel and is welcome news for online sellers looking to maintain sales during this turbulent time.
Read the full statement from Google's Bill Ready here.
Win the Amazon Buy Box and sell more. Sign up for a 14-day trial today. No credit card needed.