One of the most important things that you'll do as an Amazon seller is to write your product description. It's your first interaction with buyers and, very often, your only chance to convince them to buy your product.
This means that it's also one of the most challenging aspects of selling on Amazon. You need to get into your buyers' heads, strike the balance between being informative and concise, as well as giving it a sprinkling of keywords.
But how can you achieve this? Well, here are a few pointers to help you craft the perfect Amazon product description.
1. Consider Your Audience Before Writing Your Descriptions
Before you start putting pen to paper, you need to think about your audience. You need to consider who buys your product, why they buy it and how they use it. The more you can find out about these three areas, the better.
Now, if you've done some thorough market research, the chances are that you've already got a good idea of your target audience. But, if you need more information, looking at your current product reviews can be useful. Likewise, Googling the product can help. This way you can find blogs, videos or even social media posts by people using similar products.
Based on your findings, you then need to tailor how you write your product description accordingly. This should have an impact on the information you include, the language you use and the overall tone of the product description.
2. Familiarize Yourself With Amazon's Rules
The second thing that you need to consider before you start writing your product description, is Amazon's rules. They say that the purpose of the product description is to "assist the customer in understanding the product". So, their rules are in keeping with this. For example, you can't write the following things in your product description:
Item condition
Availability information
Reviews or quotes
Promotional material
HTML code
You can find the full list of Amazon's product description rules in Seller Central. There is also a word count for the product description, which is widely reported as being around 300 words.
Now, some sellers choose to flirt with danger and sneak some of the prohibited content into their product description. For instance, you very often see sellers that write "limited quantity left" or include snippets of reviews. This is a dangerous game and could result in you creating a listing which ranks and converts really well, that gets taken down. You could even face suspension.
3. Keep Your Amazon Product Descriptions Simple
When writing Amazon product descriptions, it's all about quality and not quantity. Buyers don't want to read through a whole paragraph of text. They want all the crucial information, presented in a clear and concise manner.

Let's look at two product descriptions. In the first example here, the seller has covered all of the bases. We know what it can be used for, the main features and a little about the benefits. The problem is, that they've included it in an unbroken paragraph of text. This makes it hard to pick out information at a glance and is likely to result in the buyer returning to the search results.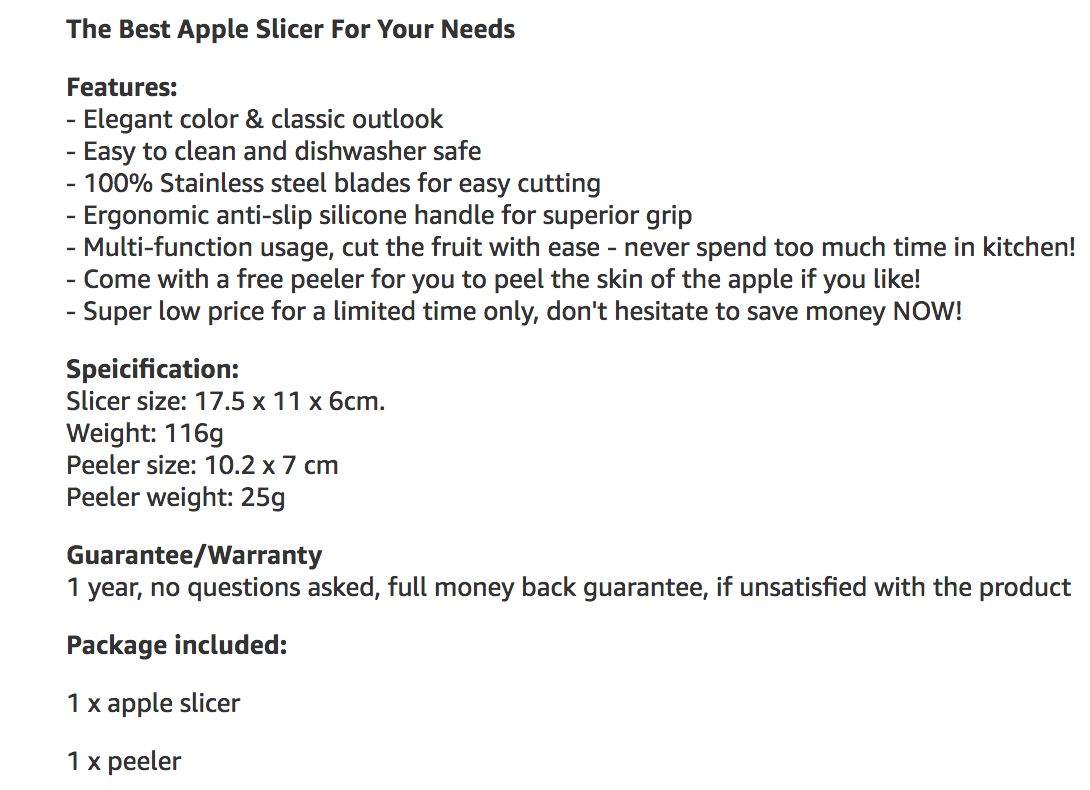 The second example is far better. In fact, it's a great template for how to structure your product description. It includes all of the information but in a far more user-friendly style. The bullet points make it easy to scan, as do the use of subheadings to break up the different aspects. Bearing in mind that buyers tend to be in a hurry, this approach should prove far more successful.
4. Don't Oversell Your Product
When you're writing your production description, it can be tempting to go for the hard sell. But this isn't really going to help your cause. It's just going to eat into your word count, without giving you any benefit. After all, customers will decide for themselves how good your product is.

Take these two bullet points for example. They are both making the same point but they go about it very differently. One makes it in just five words, the other in over 20.
In this instance, there is no real benefit to using the extra words. In fact, the second example here is labouring a fairly simple feature. There is no real need to use that many adjectives, you could take out "unique", "tightest" and "bulky", and the same message would still be conveyed.
So, it's better to follow the first example. It's more concise and leaves scope to include more information in your product description.
Of course, this does depend on your product. This will certainly be enough for someone buying a £5 apple slicer, but it may not work quite as well for a high-value technology item. Use your discretion and find that balance between being giving enough information and going over the top.
5. Overcome Description Writing Limitations with EBC
If you have a product, or brand, with a particularly strong story which you're struggling to convey in your normal product description then you might want to consider using Enhanced Brand Content (EBC).
With EBC you get a choice of static design templates, which allow you to add more images and text to your listing. This is perfect for illustrating the benefits of your products and is thought to increase conversions. This isn't really a surprise, as if buyers can find out more about the product and so make more informed purchasing decisions.
Currently, EBC content is still free to use, although it's thought that sellers will have to pay in the future. Sellers must also have their brand in Amazon's Brand Registry to use EBC.
6. Don't Forget Those Keywords!
By following the tips above, you should be able to create an Amazon product description that speaks to your customers and converts well. But, remember, this is only half the story! Learn more about Amazon keyword research.
As well as creating a succinct, clear and informative product description, it also needs to help your product rank well. So, this means that you need to be clever about how you write your product description, ensuring to scatter keywords throughout it.
You do need to be careful of overloading your product description though, as just dumping a mass of keywords in there won't do the job. Instead, you need to keep the tone natural. An effective way to do this is to take four or five of your high traffic keywords and create bullet points around them. This should give you a product description that serves two masters: Amazon's algorithm and, more importantly, your customers
Try the Fastest Amazon Repricer for Free
Beat your competitors and win the Buy Box with the fastest repricer available. Start your free 14-trial today and watch your profits grow.
Related: What is Repricing Software and Why Do Amazon Sellers Need It?