The wait was worth it for one of our juiciest posts: what are the components that go into Amazon's Buy Box algorithm? Luckily for our readers, we've got the most accurate and up-to-date information that can help you move closer to winning a Buy Box.
Learn more about what the Amazon Buy Box is and what seller metrics you need to stay on top of to win the Buy Box more often.
What's the Amazon Buy Box?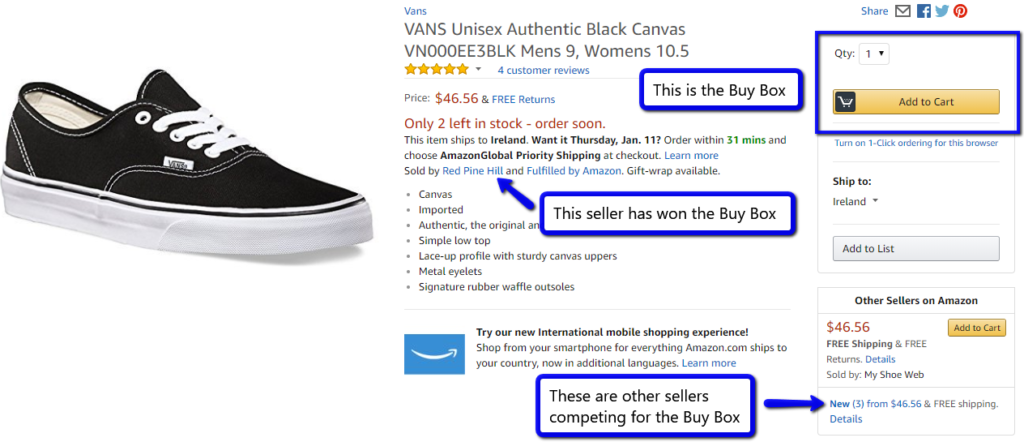 If you're looking at a product on Amazon, you'll likely notice a sidebar section on the right side that shows various purchasing and shipping options, with an Add to Cart button and a Buy Now button.
That whole box is Amazon's Buy Box, which makes it fast and easy for buyers to purchase an item. Products without the Buy Box will have an appearance that makes it more circuitous to purchase.
Instead of the Add to Cart and Buy Now buttons, users will see a truncated white box that has only one button, See All Buying Options, which takes them to a page featuring all sellers listing that particular product, their prices and their shipping options.
Related: Amazon Buy Box: Ultimate Guide
Why is the Buy Box So Important?
With about 83% of Amazon's sales — totalling $190 billion of $233 billion in sales in 2018, it's clearly the leading way a seller gets a purchase on Amazon.
The remaining 17% of sales? Well, that's a pretty meagre pie to grab a slice from. But if you end up getting a Buy Box on your product listing page, then you can expect to see more traffic and quite possibly a jump in sales.
However, Amazon only awards the Buy Box to listings it thinks will fulfill their A-to-z guarantee for buyers, so you have some work ahead of you if you want one to appear on your product page.
How Do I Get an Amazon Buy Box?
As with many things behind the scenes at Amazon, the algorithm that determines which product page(s) gets a Buy Box is a closely guarded secret.
That being said, we here at Repricer.com have been studying that algorithm for a long time and have detected certain patterns that strongly tend to lead to winning a Buy Box.
We can't 100% say you'll get one if you do everything on the checklist, but your chances are just about assured.
1. Make Sure You're Eligible to Win a Buy Box
First, you need to make sure you actually qualify for a Buy Box before trying to earn one. And for that, there are several things to look at. What fulfillment method are you choosing?
If you're using Fulfilled by Amazon (FBA), your chances are the best. You can still win one if you use Fulfilled by Merchant (FBM) or Seller-Fulfilled Prime (SFP), but FBA seems to be the most direct path.
Shipping time is another hugely important criterion, as the faster you can ship an item (especially for things like special occasion-cards and perishable items), the likelier you are of winning a Buy Box.
You must have a decent inventory because Amazon won't award the Buy Box to sellers with no products available to sell. The product needs to be new. It can't be refurbished and in almost-new condition, it needs to be new.
Your other Amazon seller metrics (e.g. Order Defect Rate, Valid Tracking Rate, Late Shipment Rate, etc.) need to at least meet Amazon's minimum thresholds, but getting them higher obviously improves your chances.
2. Your Landed Price Should Be Competitive
The product's landed price is the final price buyers see, which includes shipping and VAT (UK/EU only), and it's one of the most important factors to winning a Buy Box.
Don't engage in a race to the bottom, but make sure you're also not the highest-priced one on the block. Competitive pricing is far more important than low pricing, especially if your metrics in other areas are outstanding.
3. Customer Feedback Score Needs Should Be At Least 90%
Amazon will take a look at feedback (positive, neutral and negative) over the past 30 days, 90 days and 365 days. If it's at least 90%, you've got the best odds possible of winning a Buy Box.
And if you're just starting out or debuting a new product? It can be handy to gain reviews through Amazon Vine as a way to build momentum.
Related: How to Get More Reviews on Amazon in 2023
4. How Quickly Are You Responding to Customer Queries?
If you answer customer questions within 24 hours, you're doing perfectly fine. But if you respond outside of that timeframe — or not at all — you're significantly hurting your chances of winning a Buy Box.
Final Thoughts
Remember how we said that competitive pricing was one of THE most important factors in winning an Amazon Buy Box?
With Repricer.com, you can rest easy knowing your product prices will always be the most competitive one you put forward and at all hours of the day, no matter if you're asleep or on that well-deserved vacation.
Eager to get more sales and higher profits? Book a demo or sign up immediately to start your free trial.
Related: What are the Top Features to Look for in an Amazon Repricer?