The last quarter of the year and the financial year, commonly known as Q4 or Quarter 4, is usually a busy one! It's a great time to bring in some extra money, and we have some ways to prepare your eBay business for Q4 success.
It's a bustling buying time in the build-up to the festive season and those holidays that we all love so much. Thanksgiving and Christmas are the obvious ones, but there are also other celebratory milestones along the way, like the mid-term break, Independence Day, Labor Day and Halloween.
Then we have Black Friday and Cyber Monday to think about – dates that have grown in significance over the years – and are not limited to Amazon sellers.
There are a whole host of other celebratory days to think about, too, including Mother's Day, Father's Day, Valentine's Day, and St Patrick's Day. And we haven't even got around to mentioning all the other religious and cultural days, like Hindu, Jewish and Islamic holidays.
But wait, some of these days don't fall in Q4, we hear you say!
No, indeed, some of them don't, but an established holiday, regardless of whether it is an official public holiday, outside of Q4 shouldn't be ignored by you as an eBay seller as you can still prepare for them in Q4 – whenever these days fall in the year.
So, why Q4?
Because it's time when money is moving around.
Generally speaking, the long summer holidays are over, the kids have gone back to school, and we're getting used to being back at work and looking forward to our next holiday. Buyers are buying, and as an eBay seller, you should be stocking up.
With the right technology in place, there's never been a better time to be selling on eBay.
In 2022, the number of active eBay buyers was 138 million. The marketplace had about 1.5 billion listings, and there were 19 million eBay sellers.
Now, that's a thriving marketplace and one that you can ensure you are involved in. Here are four ways to prepare your eBay business for Q4 success.
1. Utilise the tools available on eBay
This hugely successful marketplace continues to develop. Take some time to make sure you're fully up to speed with all the latest tools you can get as an eBay seller. Let's have a quick run through three of them.
Inventory and order management – access a variety of tools to help you list and upload, and ship, including tools like Linnworks, which can help you streamline your fulfilment processes. Request a Linnworks demo.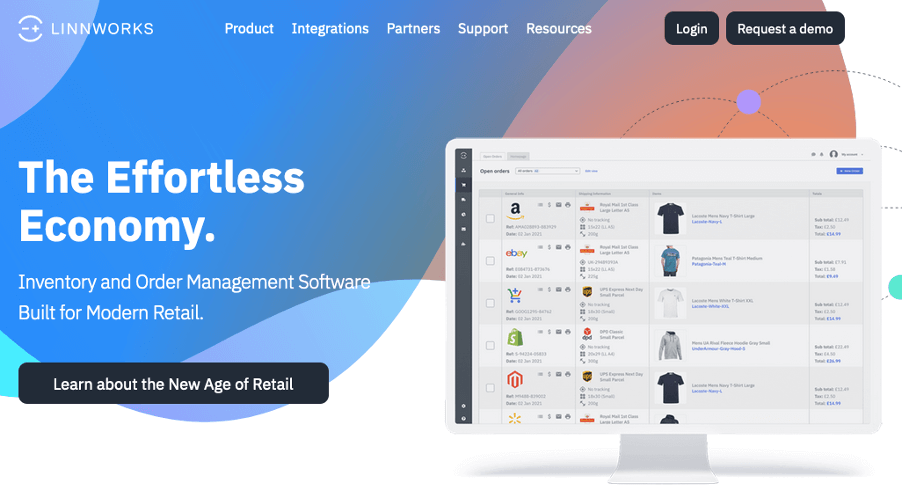 Research and insights – as an astute eBay seller, you'll want to see what's happening with your competition. Have a look at their pricing and monitor fluctuations, and see how certain categories are performing. Terapeak, eBay's exclusive insights tool, can help you with this. You can find it in the eBay Seller Hub under Research. Take a look.

Marketing tools – make sure you're using all the marketing tools available to you on eBay. Consider sponsoring your listings using eBay's Promoted Listings to get higher up the search engine results pages (SERPs). In addition to a Standard option, there are Express and Advanced options. We'll look more into these when we're talking about eBay Ads later in this article.
Remember eBay is good for sellers because, as a seller, you get to keep your freedom. eBay doesn't control stock or charge for your inventory, and it doesn't compete with you as a seller under its own brand. In addition to Promoted Listings on eBay, you can also use a super-fast eBay repricer to help you beat your competitors in the Buy it Now environment.
2. Take advantage of the festive season
Consumers love the festive season! From a preparation point of view, you can't prepare too early for Christmas. As we've outlined already, when the school term commences, people start spending money and accumulating gifts for the various holidays.
Many people are conscious of the continuing supply chain issues around the world, and there's a general consensus that people are shopping early to avoid missing out. Start by doing some research on eBay and using your chosen third-party software to draw up a list of categories of what sells well in the run-up to the festive season.
Think children: the latest on-trend games and toys
Think teens: fashion items, accessories and tech
Think adults: gifts for the home and garden, hobbies, ornaments, and gadgets
Then source your products and get them listed in time for the busy search days in the run-up to the respective holidays. Aim to have your listings priced correctly and live at least two weeks before the big days.
Tip: A word about your listings. Make sure they are high-quality, well written, and that you use excellent photography. Whatever else you do, getting the words and pictures just right is all important. Words and images are the very foundation of your eBay listing, and it's worth outsourcing their creation to a professional copywriter to make sure they are word-perfect.
3. Sign up for eBay Ads
Once you've got your initial optimized listings, consider signing up for eBay Ads. Broadly speaking, there are two main parts to the eBay Ads proposition. 
Boosting your listing in SERPs
Using display ads to drive brand awareness
You don't have to do either, but bear in mind you could be missing a great opportunity as Q4 is a busy time. Here's what you can do with eBay Ads: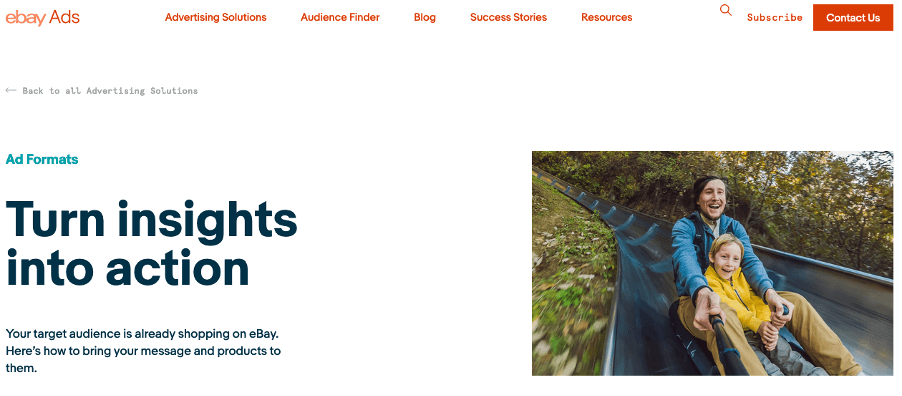 Promote your listing
You'll get your eBay listing in front of more potential buyers, and promoting your listing is obviously going to increase your propensity to sell.
These are the options in the eBay Promoted Listings portfolio.
1. Promoted Listings Standard
You only pay eBay for promoting your listing when someone clicks and buys your product within 30 days.
According to an average taken by eBay in a comparison of item-page views before and after promoting a listing, (with the caveat that results might vary), listing visibility improved by up to 30%.
You won't be alone when you are setting up your promoted listing as eBay will guide you on which items to promote and for how much.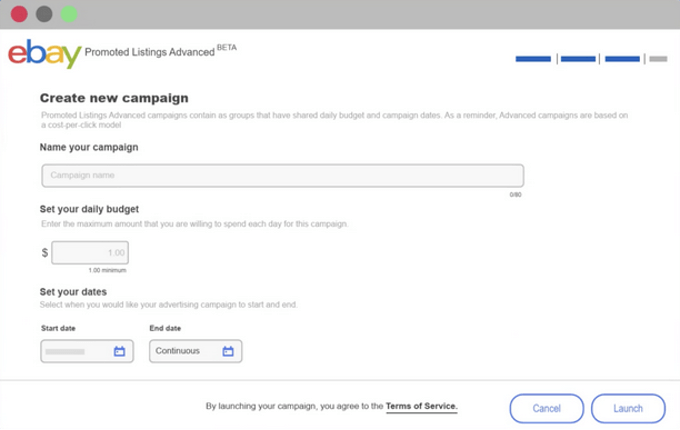 With good metrics, monitoring and reporting, you'll be able to tweak and further influence your listing performance over time.
2. Promoted Listings AdvancedBETA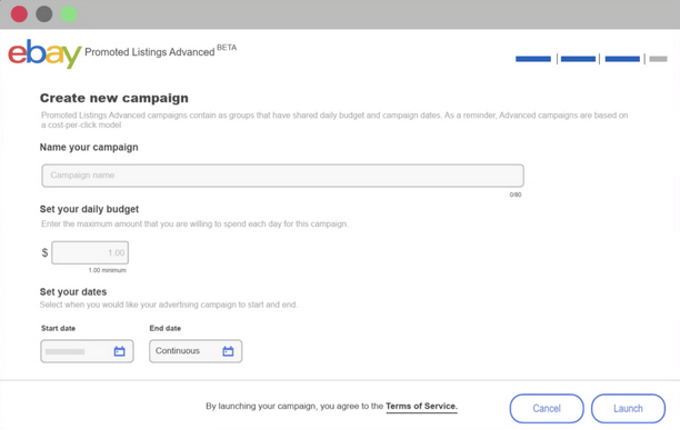 This option is based on cost-per-click to get you at – or near the top – in search results. You can monitor and manage your keywords and budget within your campaign options.
Some eBay sellers use both the Promoted Listings Standard and Promoted Listings AdvancedBETA at the same time to optimise potency. Of course, this is up to you, but well worth considering.
3. Promoted Listings Express
Based on an upfront flat fee payable to eBay, you can simply boost your auction listing visibility on similar listings' pages using the eBay app.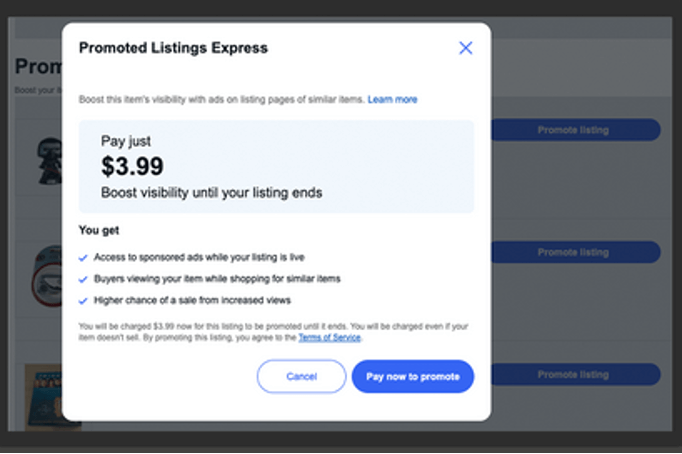 According to an estimate by eBay based on data surveyed from global markets from December 2021 to January 2022, auction listings averaged 48% more views using Promoted Listings Express. You can set it up in just a few clicks. That's a very quick top-level summary of eBay Ads for you. You need to be an eligible seller to participate in eBay Ads, but you can check your eligibility on your eBay dashboard.
4. Remind Yourself of the Basics
Using all the above eBay tools and solutions will help optimize your sales activity for Q4 success. But this doesn't mean you should neglect some of the usual seller basics.
Let's run through some of these as a reminder.
Engage your audience
Remember, you're communicating with human beings who warm to connections they can relate to. Always try to put character into your listing. Sounding like a real person in both what you say and how you say it will engage people and help win them over.
Consider your tone of voice in your listing copy. Be friendly, natural and conversational rather than corporate or robotic. Write as though you are talking with a person face-to-face.
Many sellers aim to tell a story around their product so that potential customers can identify with using the product themselves.
Enhance your eBay listing using HTML
You can use HTML (HyperText Markup Language), an advanced code that is used to structure a web page and its content within eBay rules and parameters to improve the look and feel of your listing. You can find out more about this on the eBay Seller Hub.
Check your listings are optimized for mobile
Make sure you review all your listings on popular mobile devices such as iPads and Android and iPhone smartphones. It would be a shame to go through all the trouble of preparing for a successful Q4 only to have your listings displaying incorrectly on mobile devices. More than three out of ten US mobile users use the eBay app, with approximately 66 million monthly app users – that's a lot of eyes on mobile listings!
Always be on the lookout
Be aware of what's happening on eBay and in other marketplaces. Fine-tune your seller senses and pick up on trends. Jumping on bandwagons can be a good thing if you get the timing right, but be careful not to overstretch yourself financially in all the excitement or go for a short-lived fad.
Keep up with seasonality
We are always in some kind of season, or in the run-up to one. There's the usual winter-spring-summer-autumn cycle that will see demand for warm clothes, paddling pools, waterproofs, snow shovels and so on but bear in mind that there are other cyclical changes throughout the year too.
The obvious instances of this are children going back to school – and that can mean laptops, holdalls, stationery, uniforms, lunchboxes etc. The holiday season means consumers start thinking about what to take and how to pack and carry it.
Keep an eye out for sales potential in obvious and also not-so-obvious ways. The latter could be religious celebrations (apart from Christmas), or memorial days.
Look for opportunities to stock up
If you buy wholesale, always keep an eye out for surplus stock sell-offs. You can pick up stock at competitive prices, and it's a great way to increase your profit margins if you have stock ready to sell when the season is right!
Remember to look out for opportunities to stock up on the items you need to fulfil your orders too, like packaging, bubble wrap and tape. Pricing of these can vary dramatically with demand, so stock up when things are quiet, and suppliers are discounting.
Get on to gifts
People are always buying gifts, so you should seriously consider gift selling opportunities that could be open to you. Think about gifts that relate to the opportunities we've talked about already, like gifts connecting to seasonal change or occurrences like going back to school.
Be social
Keep the conversation going on your social media channels. You don't always need to link directly to your eBay listings in your social media posts. In fact, your audience will appreciate some communication from you that doesn't push your products.
Getting in the habit of posting regularly is crucial. It keeps you visible and front of mind to prospective buyers.
Good luck and best wishes for some Q4 success.