As the world's largest online marketplace, Amazon has over 353 million products on its books. It uses Amazon ASIN numbers to organize this ever-growing catalog of items. These numbers can help buyers find what they're looking for.
For sellers, understanding and creating an Amazon ASIN is essential to listing products and doing business.
What is an Amazon ASIN?
ASIN stands for Amazon Standard Identification Number.
ASINs are unique product codes made up of 10 characters, which allow shoppers and sellers alike to search for and identify specific items.
These codes can be made up of digits and letters. You'll find the ASIN of an item on its product information page within Amazon – for example, you'll see here that the ASIN of these Nike Men's Air trainers is B07JQKM2SP.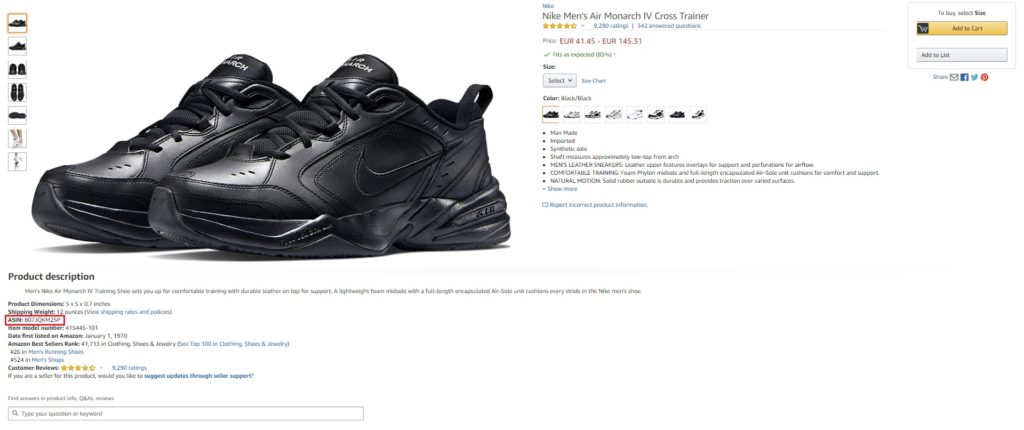 These unique numbers are assigned to a product by Amazon. They are used to identify products, track inventory and index catalog pages.
With the exception of books, all products on Amazon have a unique ASIN identifier. Though, it's worth noting that across different Amazon marketplaces, one product may have different ASINs. You'll see here that the same Nike Air trainers we mentioned earlier have a different ASIN of B07NW2MCL4 over on a different Amazon marketplace's website.
ASINs help Amazon present your products to relevant consumers. You need to add them to all your listings, but violating the Amazon ASIN creation policy can lead to the suspension of your selling privileges. So knowing how to use the right numbers in listings is essential for every marketplace seller.
Learn more about Repricer:
How to find an ASIN
To find an Amazon ASIN, you can follow these steps:
Go to the Amazon website and search for the product you are looking for.
Once you have found the product, look for the product's URL. The ASIN is the unique identifier found in the product's URL after the "dp/" part. For example, in the URL https://www.amazon.co.uk/Breville-Personal-Smoothie-Portable-VBL246/dp/B0B2KPCBJZ, the ASIN is B0B2KPCBJZ.
Alternatively, you can find the ASIN on the product detail page, where it is usually listed along with other product information such as the product title, price, and product description. The ASIN is typically a 10-character alphanumeric code.

Keep in mind that some products may not have an ASIN if they are not sold on Amazon or if they are new products that have not yet been assigned an ASIN.
Adding ASINs to a listing
To list a product on Amazon, you can either use an existing ASIN or create a new one.
ASINs aren't unique to a seller; they are unique to a product. So if anybody else is already selling your product on Amazon, you can use the same Amazon ASIN.
Limiting each product to just one ASIN is how Amazon keeps its catalog in order. So Amazon prohibits creating a new ASIN when one already exists on the platform. Ignoring this is exactly what can lead to the temporary – or even permanent – suspension of your selling account. Any duplicate entries which do make it onto Amazon are eventually merged.
Using an existing Amazon ASIN
Retailers and resellers will most likely be able to use existing ASIN numbers in their listings.
When creating a listing using Amazon's 'Add a Product' tool within your Seller Central account, you can search for existing ASINs by typing a product's name, model number, UPC, EAN or – if you already know it – the ASIN.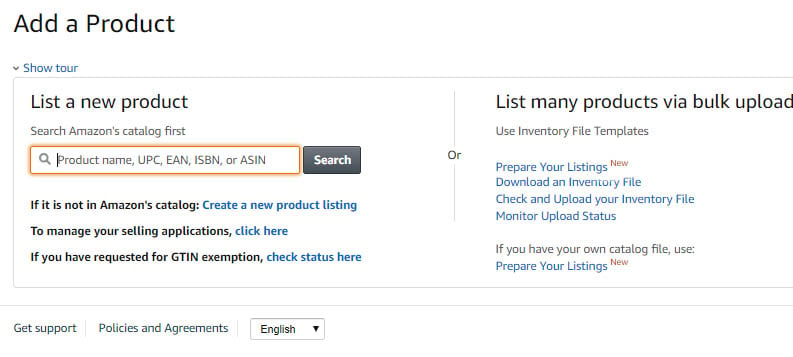 This will show you the existing listings on Amazon. When choosing an ASIN to add your listing under, make sure it is an exact match. Otherwise, your customers might end up receiving a slightly different product. If this happens you'd run the risk of receiving negative feedback which can be very damaging to your seller performance rating!
If you see more than one ASIN for a product, choose the one which features the most product details.
Once you've chosen the listing you want to sell your products under, click 'Sell yours'. From here you can add your own price, quantity and condition. You can also go into your own listing to add supplementary content and keywords to improve its quality.
If you're managing a lot of products, you can make use of Amazon tools for bulk searches. Synccentric, Amazon ASIN Lookup and Algopix are some solid options.
Creating a completely new ASIN
If you're listing a completely new product, you'll need to add a new ASIN to the Amazon product catalog.
Usually, this is a job for brands and manufacturers. But if you find that you've sourced a product that doesn't exist on Amazon yet, this means you'll have very little competition to contend with. This boosts your chances of winning the Amazon Buy Box and increasing sales.
It's worth noting that new sellers can only create a limited number of new listings until they establish a proven sales record on Amazon. The more sales you have, the more ASINs you'll be able to create.
In Amazon's 'Add a Product' tool, click 'Create a new product'. You'll then be prompted to fill out a form with your product's details, including the item's name, brand, color, size and material make-up.

Here, you'll also have to include a unique GTIN (Global Trade Item Number). You should be able to find this information on a product's barcode, label or from the manufacturer. Here are popular GTIN's:
| | |
| --- | --- |
| ISBN (International Standard Book Number) | 10 or 13 digits |
| UPC (Universal Product Code) | 12 digits |
| EAN (European Article Number) | 13 digits |
Once submitted, Amazon will assign your product an ASIN code and publish a product details page. Then, you can use this to list your items – and so can other sellers.
Filling out these forms can be time-consuming. If you're doing it often, you should consider using Amazon seller tools like inventory templates to speed up the process.
Win the Amazon Buy Box and sell more. Sign up for a 14-day trial today. No credit card needed.